First-year engineering students learn reverse engineering with NX CAD
University of Cincinnati Siemens Simulation Technology Center
The University of Cincinnati Siemens Simulation Technology Center was established in 2016 for modernizing Engineering Education and Research by taking full advantage of modern simulation and computing power. The entire Xcelerator suite of Siemens Digital Industries Software solutions are available to the University of Cincinnati, and there are multiple courses dedicated to teaching engineering students AMESIM, NX Additive Manufacturing, Mindsphere, NX Graphics, NX Nastran, and Star-CCM+.
Engineering Design Graphics course
One class for learning NX for Design is the introductory first-year class, Engineering Design Graphics. In this course, various tools within NX are introduced throughout the semester with weekly assignments on the content covered. Midway through the semester, a reverse engineering project is assigned to the students so that they can implement their knowledge of NX into hands-on execution of modeling different parts and assembling the final object.
For the final project, students were able to choose an object of their choice to work with and physically take apart to examine the part components. This year, Professor Salehpour's mechanical engineering student-teams reverse engineered several common items including an Oster blender, a gumball machine, a handheld jigsaw, a vacuum cleaner dust collector, a power drill, a DASH mini toaster oven, a weedwhacker, and skis.
Students first presented their research on the physical part containing information like where it came from and how it was first engineered — did you know that the first jigsaw came from attaching a blade to a sewing machine? How nifty! Then, teams went into the details of how each student on the team sketched and built the 3D design model of their most complicated and detailed part, how the parts were assembled to fit together and any complications, and finally presented conclusions on their learnings and recommendations for future teams.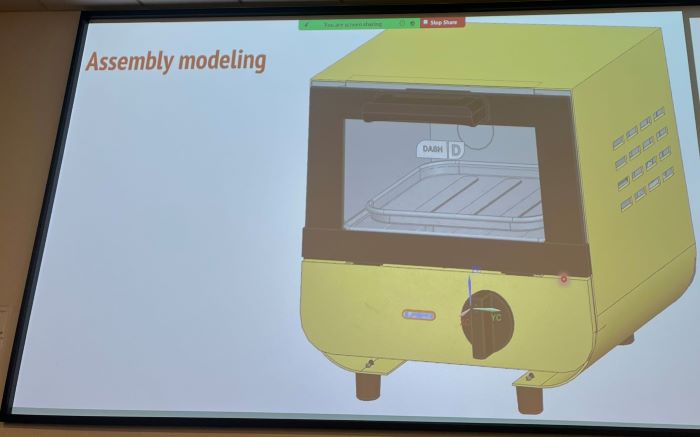 Engineering students' lessons learned from NX
Every student team emphasized the importance of collaboration and communicating throughout a design project. They quickly learned how lack of communicating early on added time to the design process when they tried to do the final assembly of parts that did not share the same dimensions on pieces that needed to fit together.
A common theme throughout their presentations of lessons learned included, of course, technical knowledge and understanding of how to use NX CAD for design and reverse engineering using tools such as sketching, pattern, sweeping, dimensions, and drawing. They also highlighted that project management skills were important to succeeding in putting together the final design and that working with a team will be a necessary skill for the rest of their careers.
Through learning NX early on in their careers, mechanical engineering students at the University of Cincinnati are better prepared to work in the industry and can also hit the ground running when they begin their mandatory co-op rotations — something the university pioneered. The Siemens DISW partnership with the University of Cincinnati continues to have a positive impact on students and working toward Industry 4.0.
The University of Cincinnati is part of the Siemens Digital Industries Software academic partner ecosystem, made up of over one million future engineers, that empowers the next generation of digital talent with the skills employers need to enable a digital enterprise where engineering, manufacturing and electronics design meet tomorrow.
This article first appeared on the Siemens Digital Industries Software blog at https://blogs.sw.siemens.com/nx-design/reverse-engineering-freshman-university-cincinnati-students-nx-cad/