NX on Amazon Appstream 2.0 Deployment Guide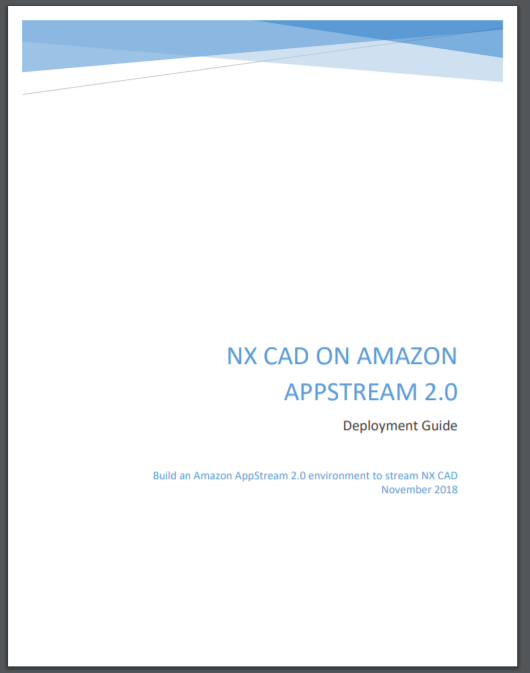 Late last year, Amazon Web Services (AWS) launched new graphics instances on AppStream 2.0.  To try out these instances, the NX Product Marketing team configured NX CAD on AppStream 2.0 and recorded a video to show the fluid and responsive experience of streaming NX CAD. You can read about it and watch the video here.
Since then it has generated a lot of enthusiasm in the user community and several NX CAD users have experimented with this setup. It has also been covered in dedicated sessions at user conferences such as PLM Connections, PLM Europe and Regional User Group meetings. Customers who have tried it had a very positive experience. Jonathan Gibney, Vice President of Engineering at Myotek had this to say:
"Myotek is a leading Tier 1 automotive supplier based in Irvine, CA. The highly-dedicated team of Design & Manufacturing engineers at Myotek use Siemens NX to develop its well-known innovative lighting solutions for the automotive industry.
In order to stay competitive in the automotive industry, lowering the IT infrastructure cost while enabling our team of engineers and contractors easy and secure access to our design software and CAD data is a top priority. Running NX CAD on AppStream 2.0 helps us provide the scalability & flexibility that come with running applications in the cloud. With this solution, we are benefiting from the latest advances in computing without the need to upgrade and maintain desktop workstations.
Siemens NX on AppStream 2.0 performs as if you were running the software locally on your machine. However, we get the added benefits of lower costs, increased accessibility and improved collaboration within our team. We know that our data is secure as it stays in a centrally managed environment and don't have to worry about managing installations and security on each user's computer."   
The benefits of running NX on AppStream 2.0 are numerous:
Reducing infrastructure costs by replacing high-end workstations with mobile workstations and paying only for what you use
Centrally manage NX installations and simplify roll out of software updates
Enhance collaboration by allowing access to more users and thus accelerating product development workflows
Give users a fluid and responsive experience with cloud installation of NX designed for their use cases
Strengthen security by keeping your data on AWS- only encrypted pixels are streamed to end users through a secure streaming gateway over HTTPS, making them firewall friendly.
After additional testing of NX on AppStream 2.0, we collaborated with the AWS team to develop a detailed step-by-step deployment guide for this setup so that users have the flexibility to install and run their existing licenses of NX from a cloud environment. The guide is attached to this post and is also available on the Amazon AppStream 2.0 resources page.
So if you are interested in trying it out, please download the guide and let us know your feedback.
This article first appeared on the Siemens Digital Industries Software blog at https://blogs.sw.siemens.com/nx-design/nx-on-amazon-appstream-2-0-deployment-guide/