Products
Improve productivity and usability with NX Core Architecture upgrades in latest release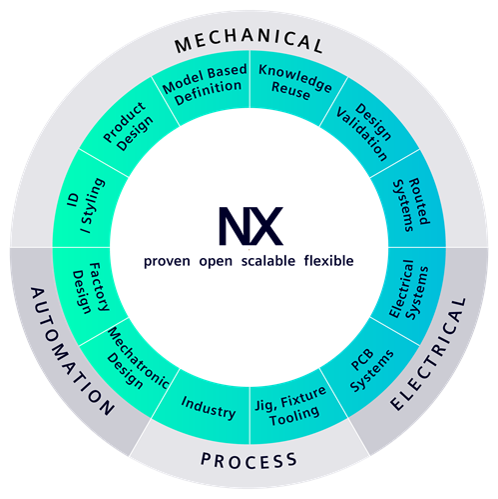 Following the latest NX release a few weeks ago we want to present more detailed enhancements into your NX software. Beginning with the updates to the core architecture.
With NX being built on an advanced and modern technology framework you are provided with consistent updates with continuous release every sixth months. Also consider that we were the first to get certified for our openness to customize and integrate with you existing IT systems. With this said, we always try to provide innovative upgrades to help you improve your productivity and usability. Please take a look below for updates to this latest release.
Artificial Intelligence enabled features
Select Similar Components:
Identify geometrically similar components with machine learning enabled shape recognition and perform component operations.
Selection Prediction:
The selection prediction inside NX predicts input selection entities. This is a standard feature in the Mach3 Product Design and Mach 3 Industrial Design bundles. You can preview and select predicted objects using current selection intent rules. You're also able to generate custom selection prediction machine learning models using in-house data.
NX Voice Command Assist:
With NX Voice Command Assist you are able to transform multiple levels of menus and clicks with easy-to-use single keyword expressions. Give it a try today! Watch our demonstration of this below.
Custom machine learning model generation by using your organizations existing infrastructure:
Available to you as an optional add-on module you now have the ability to gather, process and generate a custom machine learning model based upon your organizations infrastructure. Here's how it works:
Use processed data for training a domain specific machine learning model. Test the data extractor and submit the processed data for custom machine learning model generation. Documentation and breakout sessions on-demand for testing.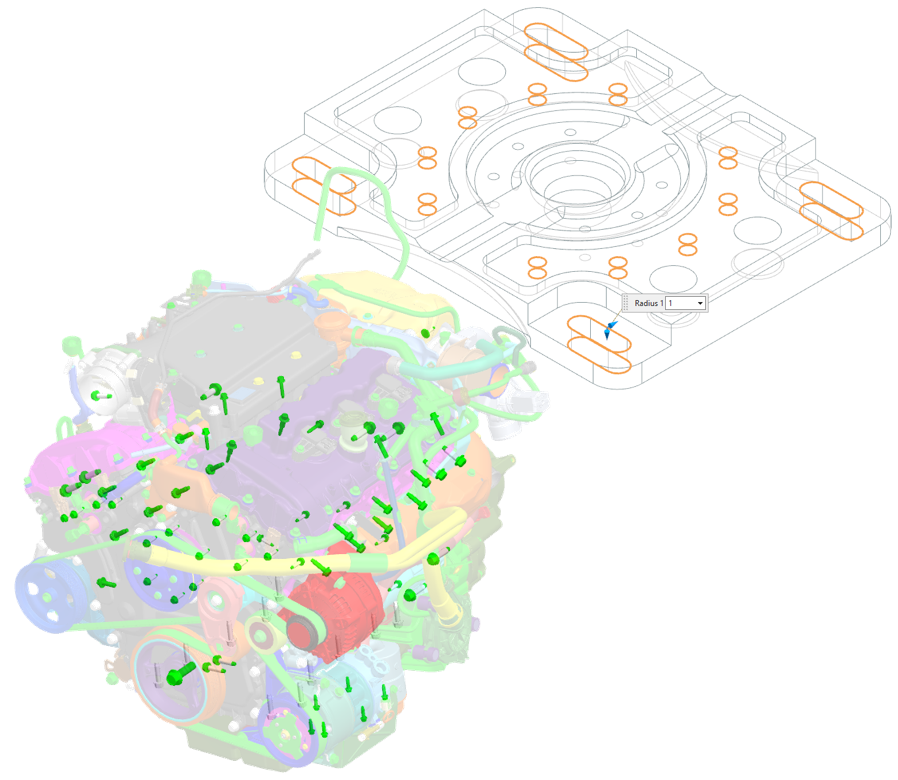 User Experience and Usability
Increase your productivity with an enhanced Discover NX
Discover NX has helped thousands learn specifics within NX and we want to help push this forward to become more helpful. We've introduced framework that reduces the overall learning curve and promotes industry best practices based on user's usage pattern and actions. With the enhanced Discover NX page you can start with fast videos, release highlights, tips and suggestions as well. The application will serve suggestions to you based on your usage and profile. If you are an admin you now have an option to content and trials.
Find what you're looking for with NX Search
A powerful solution for quick access to what you're looking for. Find what you are looking for in one place with NX Search! Utilize the search bar for common NX frameworks and UI across various applications. There will also be some auto-suggestions as you begin typing your searches. There is even a voice enabled NX search function if you need. Give it a look below!
NX Continuous Release Support
NX Open Reporter Tools
Speed up NX Open customization upgrade readiness and resource planning. With NX Open Reporter Tools you are able to identify the impact NX Open customizations will have based on planned NX upgrade releases.
•DotNetNXOpenReporter to find breaking changes in .Net NXOpen applications (Jun 2020)
•CPPNXOpenReporter to find breaking changes in C++ NXOpen applications (Dec 2020)
•PythonNXOpenReporter to find breaking changes in python applications (Jun 2021)
•JavaNXOpenReporter to find breaking changes in Java applications (Dec 2021)
NX Open API policies to speed up upgrade readiness activities
Functional releases may introduce API changes that may be binary incompatible. Use the NX Open Reporter Tool to determine the impact of these releases. There are also monthly updates that can have API changes that will be binary compatible that you are able to use the NX Open Reporter Tool. Deprecated API's will be removed only when there is a compiler change.
Platform
NX Interop Framework enhancements to support bi-directional data transfer workflows
Enhancements to the NX Interop Framework enhancements include:
•Significant performance improvements when importing foreign files e.g., IFC*
•Hidden object enhancement for converting certain hidden entities in a STEP file as NX blanked entities. These entities supported include Bodies, Construction Geometry and Assembly Occurrences.
Design in Context Mixed Units
No need to convert component units to work in design in context modes
NX-Mendix
Gain a competitive edge with insight into NX data through its new reporting app on desktop and mobile!
Get product visibility, manage risks, resolve impact and formulate design decisions. With the NX Reporting app we have new enhancements to allow you to take advantage of analytics. This is available as an optional add-on module.
•Easily track progress of your design at various levels
•Seamlessly review product reports in order to execute on strategic decisions
•Publish NX data to Mendix cloud, on-demand or in batch mode
•Ability to take and clear sections
•Upload attachments and images via the app
This article first appeared on the Siemens Digital Industries Software blog at https://blogs.sw.siemens.com/nx-design/improve-productivity-and-usability-with-nx-core-architecture-upgrades-in-latest-release/