Get Your NX Maple Free Trial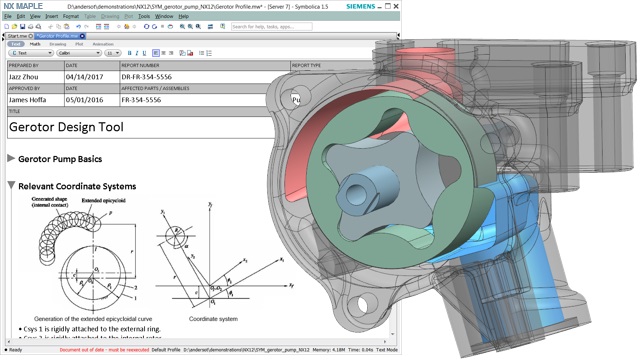 From the world's most robust math engine and live design documentation, to CAD connectivity and code generation, Symbolica supports all stages of the design lifecycle. Get your free trial here.
For a quick rundown on NX Maple please read below:
NX Maple is a powerful tool that simplifies your ability to integrate and access advanced math inside your design.


NX and NX Maple can easily exchange variables that are defined with algebraic functions, differential and integral calculus, differential equations, linear algebra, and much more.


These variables can either associatively link a design with its driving calculations, or to extract properties from the NX model for use in further calculations in NX Maple.


Either way, the intellectual property defined by NX Maple worksheets can easily remain managed within Teamcenter.


Here's some background information on NX Maple:
Since NX 7.5, Siemens has partnered with Maplesoft, Inc. to provide an integration to the "Maple" math software. Maple is a powerful math calculation tool that enables users to analyze, explore, visualize, and solve complex engineering math and computation problems. Maple also enables technical knowledge capture via an intuitive document-based interface.
Via an expanded partnership with Maplesoft, SPLM has created the first high-end math package integrated with PLM. Symbolica retains all of the math capability and computational power of Maple, while adding significant enhancements for use within a production PLM environment – specifically, an expression-based integration with NX, and the ability to run in "managed mode", interacting directly with Teamcenter for document storage and retrieval.
Symbolica can be used as a completely standalone product, independent of any other SPLM products, or can be used with NX and/or Teamcenter.
So if you're interested in what you've read or seen thus far on NX Maple, then please take this opportunity and take advantage of this free trial!
This article first appeared on the Siemens Digital Industries Software blog at https://blogs.sw.siemens.com/nx-design/get-your-nx-maple-free-trial/