Geolus Shape Search: "I need a part that looks like this…"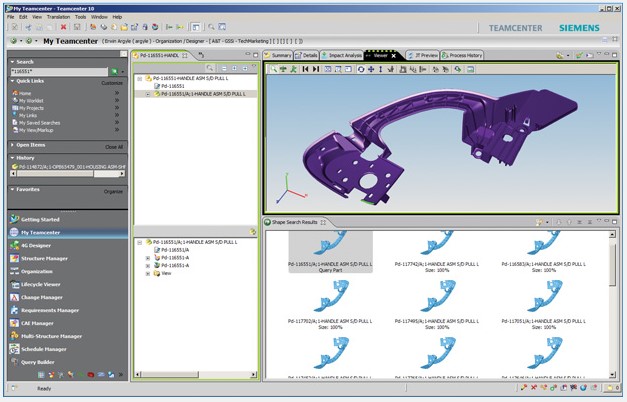 Independent studies show that over 80% of a designer's time in a CAD system is spent editing and creating geometry. The ability to maximize data re-use is of the utmost importance in efforts to design better products faster, but there is one caveat: You have to be able to find that data to reuse it.
You may already know that NX users can take advantage of integration with Teamcenter's classification capabilities from within NX. You can navigate in real time through a class hierarchy, view class attributes, and issue queries to search for class members based on ranges of class attribute values. However, if strict naming and classification standards are not followed, there is little chance of being able to find the data you need.
Conversely, how do you look for something whose existence you're not aware of? You wouldn't look for an object that you didn't know you could find in the archive.
"Inconsistent naming is typical. Common causes include growth through merger and acquisition, naming conventions that vary with department or project, different teams working in silos even though they are in the same company," says Erwin Argyle, PLM senior product manager for Siemens PLM Software. "Different groups frequently solve the same engineering problems without realizing it."
Geolus Shape Search quickly finds parts with similar geometry, regardless of how they are classified. With Geolus Shape Search, a clear view of all the data gives you the ability to control and re-use parts which provides savings in design time, cost estimating, procurement, manufacturing, and inventory.
For instance, early in the design cycle, an engineer may create a simplified design of a part (see image on the far left below). This is enough for Geolus to search for similar parts in the company library.
If there is a close enough match, the engineer can use the existing finished part rather than waste time and resources doing work that has been done before.
A search result can be opened as the new current part or inserted into the current assembly.
If this existing part exactly matches your needs, then you can use it. Or you can treat it as a template and adjust it to your requirements. This is much more efficient than designing a new part from scratch.
Geolus Shape Search is a true multi-CAD solution, reading the neutral file formats JT, VRML, and STL. Any of these can be read into the same Geolus instance. The originating source can be any tool capable of exporting 3D parts in one of these formats, so Geolus can search a dataset that is a mix of NX, SolidWorks, Creo, etc.
Geolus even returns Finite Element Models expressed as JT that are similar in shape to the originating/searched-for part. This enables engineers to cross-reference and reuse knowledge associated with FEMs of a similar shape.
Several important things to note about Geolus Shape Search:


Geolus Shape Search is integrated with Active Workspace


Similarity criteria: Shape and Size


Filter results with Teamcenter attributes


Search from a connected web browser


Nothing to download


While most of this blog post has addressed design efficiencies, it is important to note that there are potentially significant cost savings related to parts and inventory management, as well. Typically, for each new part designed (instead of re-used), the cost of adding this part to the inventory can be substantial. In addition to the obvious engineering and design of the part, additional costs associated with testing, manufacturing (or sourcing), purchasing, inventory, and logistics support can easily run into the thousands-of-dollars.
In summary, Geolus Shape Search is a 3D search engine which rapidly tracks down parts that have similar geometry. The key to promoting model re-use — and, thereby saving time and money — is finding the models through robust geometry search functions. Geolus Shape Search allows engineers to identify and repurpose the models that already exist.
This article first appeared on the Siemens Digital Industries Software blog at https://blogs.sw.siemens.com/nx-design/geolus-shape-search-i-need-a-part-that-looks-like-this/