Feature vs. Process-Based Training: Why Not Do Both?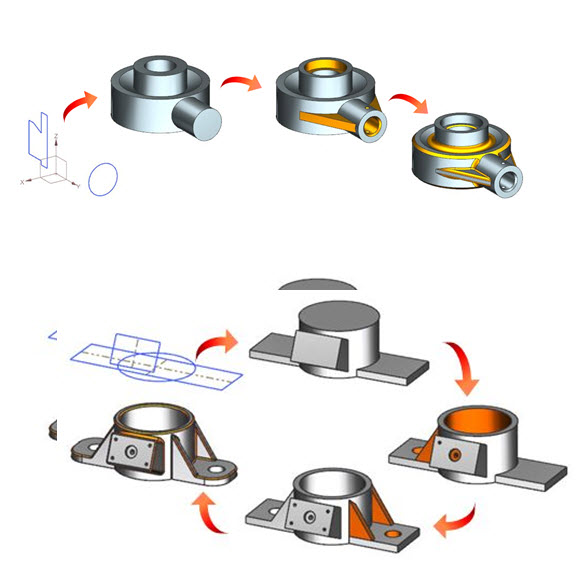 The debate between feature or role-based training and process based training is longstanding and doesn't seem to be going away anytime soon. Like any decision you must make, there are positives to either option, so how do you know which type of training to choose?
Luckily you don't have to, because starting with NX 10, Siemens has introduced new process-based training programs in addition to existing feature-based courses. If you're scratching your head wondering what the difference is, keep reading because I will explain exactly what the difference is between the two types, as well as highlight some of the pros of both options.
Process-Based Training
Process-based training is a program that offers a big picture view. While individual features and their corresponding syntax are covered, the emphasis is truly on how to execute a specific business process in the best, most efficient way possible.
A process-based class mimics the exact processes you will be expected to complete in your day-to-day job upon returning from training. This type of training requires you to ask questions like how do I reach a specific end goal? What am I trying to achieve? By answering these questions first, you can find the best process to use for the job at hand. For example, say you are going to create a part. The part has to be robust, because it will be used downstream by many other people on your team. A part such as this requires a different process than that of a part you're trying to quickly throw together for a one-time use as a concept.
Process-based training, in this way, offers some obvious benefits.
Pros:


Reduces learning curves


Enables you to perform your job


Connects the dots between commands


"Big picture" view leads to overall understanding


Increases efficiency


Feature-Based Training
Traditional feature-based training concentrates on the menus, forms and syntax of individual functions and commands. Often in a feature-based training program, you learn as much as possible about one command before moving on to the next. Commands are strung together, so you don't focus on a specific process, but rather learn each command individually on its own.
This type of training is great for students and beginners, because it allows you to focus solely on the commands you need to know to perform your immediate job, which makes for a more tailored and personalized experience.
Pros:


Deep dives into each command


Allows you to focus on specific commands you need to know


Works best for students or beginners


The new process-based training programs are now available in Siemens training centers across North America. These courses cost the same as our existing feature-based training programs. If you have already taken several of our feature-based courses, we recommend your next course be a process-based class! You can choose the track that best suits your role or experience level:
NX CAD Fast Start for Experienced 3D CAD Users
NX CAD Surface Modeling Processes
Regardless of the type of training you choose, you will gain new skills to help you perform your job more efficiently. The courses Siemens offers provide you with tips and techniques on not onlycommands, but also customization of the NX interface, CAD translators, hot keys and more.
To register for a course or for more information, please contact the Education Services team.
This article first appeared on the Siemens Digital Industries Software blog at https://blogs.sw.siemens.com/nx-design/feature-vs-process-based-training-why-not-do-both/