Products
A Valentines Day Special: NX Pairs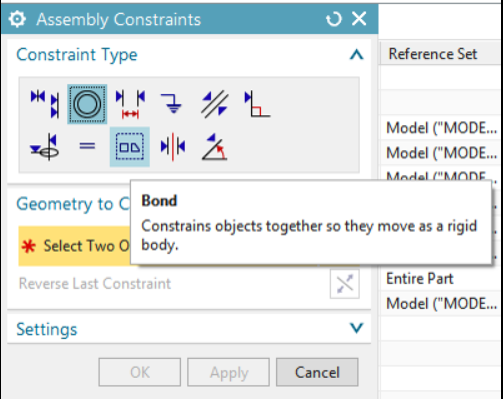 It's February, which means love is in the air! If your Valentine's Day is looking a bit lonelier than expected, or cupid's arrow seems to be directionally challenged, don't worry, you can live vicariously through NX.Some even say that the
alphabet should definitely be re-arranged to put N and X together, since they just have so much chemistry. While you may not know NX for being the romantic type of software, there are certainly pairs within NX that could give even the most passionate rom-com movie couples a run for their money.
We will take a look at the most noteworthy pairs within NX, and see just how well they compliment one another. While there are a lot of functional pairs within NX, some pairs "stick together" better than others… so we've included them in the list.
Our most noteworthy pairs include:
Mirror Feature (Left and Right Parts) – One part can't live without the other. The right and left parts tend to fight but the mirror feature always is there to let them realize that these two are symmetric. The mirror feature is great because it saves you time when creating symmetric geometry.

Blend and Chamfer for Edge Treatments – This knockout pair makes it so you get rid of sharp edges so you can actually make your parts. They're the pair that likes to cut through the crud, and get things done.

Holes and Bolts from the Machinery Library – You already know this pair. They're everywhere and the talk of the town. Everyone knows that these two are compatible and will work because they are standard and proven parts.

The Unite command that turns two bodies into one – The unite command actually isn't part of a pair, but is more so the marriage officiant. This is the tool that makes the two sets of bodies offical. Just look at the text description for the unite command. How much more official can it get?
Some "bonds" can't be broken, and some CAD software just can't be beat. All of these pairs work together to make NX the next generation design, simulation, and manufacturing tool that it is today. Our personal favorite pairing out of the above list HAS to be the unite command. While this isn't necessarily a pair in itself it is the unifier that makes a pair official.The unite command that turns two bodies into one, just as two people in love unite their lives. Think about it for a second. Could there be a better option? If so, let us know in the comments below!
This article first appeared on the Siemens Digital Industries Software blog at https://blogs.sw.siemens.com/nx-design/a-valentines-day-special-nx-pairs/