Industries
Improve process orchestration using PLM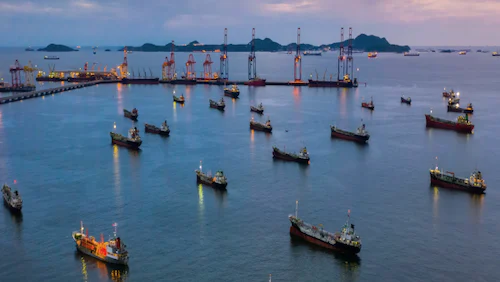 Product lifecycle management (PLM) solutions offer a plethora of ways to simplify the complexity of shipbuilding. From breaking down design silos to syncing multiple sources of product data, PLM helps shipbuilders improve product-related processes and bring better products to market faster. At a time when shipbuilding is becoming increasingly complex, making it more challenging to deliver projects on time and on budget, how can PLM be used to improve process orchestration? In this article, we'll explore the key benefits of PLM that can help shipbuilders streamline the shipbuilding process from concept to certification.
Enhance productivity with a centralized environment
PLM solutions provide shipbuilders with a centralized design and data management system that maintains a single source of truth across the ship lifecycle. Storing all project data in a single system ensures that all stakeholders are referencing the correct information they need, helping them to boost collaboration and minimize errors caused by miscommunication. As a result, globally distributed teams can easily share and manage data, define best practices and reuse data for future projects.
Reduce design time
By providing design and engineering teams with the same reliable, up-to-date data in an accessible source, PLM solutions eliminate time-consuming searches for information and the error-prone process of manually duplicating information between various applications. This approach reduces iteration and delays in the design and manufacturing phases while enabling teams to fluidly manage design changes and bring products to market faster.
Improve BOM management and change management
PLM can help shipbuilders easily manage a complete, multi-domain bill of materials (BOM). Modern PLM solutions automate BOM generation and synchronize multiple data sources from various design domains. These capabilities ensure that everyone works with the most accurate, up-to-date BOM with complete visibility to changes in real time. Better yet, PLM solutions provide impact assessments to ensure that everyone understands how changes will impact costs, processes and schedules. These capabilities allow all teams to stay informed and make better product decisions together.  
Accomplish more with Teamcenter
Siemens' PLM solution, Teamcenter, empowers teams to streamline product lifecycle processes and drive innovation. With Teamcenter PLM software, you can use digital twins to connect and optimize processes for designs, systems, software and more. Connect stakeholders across your business and provide everyone with the visibility they need to improve decision-making and resolve problems before they occur.
Check out this white paper to learn how to get started with PLM for shipbuilding and discover how it can help your business succeed with improved process orchestration and beyond.  
This article first appeared on the Siemens Digital Industries Software blog at https://blogs.sw.siemens.com/marine/2023/08/25/improve-process-orchestration-using-plm/