Article Roundup: AI Rewrites the Possibilities of Digital Twin, Automotive Industry On Course To Disruption & Evolution, Choosing an Embedded Operating System, Mythic takes Analog FASTSPICE and Symphony from Mentor for AI Design, Siemens on Challenges and Trends in the Electronics Industry
AI Rewrites the Possibilities of Digital Twin
DigitalEngineering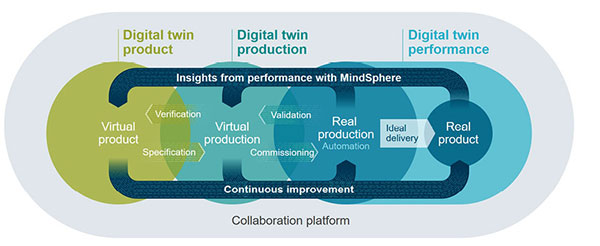 A digital twin simulates many different models, representing all aspects of the asset, ranging from CAD and model simulation to flow-dynamics and electrical-circuit simulations. Technology developers see AI as a way to accelerate design processes, allowing engineers to quickly evaluate many possible design alternatives. By changing design parameters and running AI algorithms, digital twin design software providers contend that engineers could quickly evaluate possible best fits based on the results of the algorithms.
Automotive Industry On Course To Disruption And Evolution
TechDesignForum
Today's vehicles contain up to one hundred electronic control units (ECUs) that are distributed around the vehicle to manage various functions and sub-systems. Automotive companies are faced with the challenge of integrating these new technologies into their vehicles to create unique and exciting offerings. This article talks about new business models such as the Xcelerator portfolio from Siemens, and how the market trends will push manufacturers to alter their organizational structure to best position them for the future automotive market.
Choosing an embedded operating system
TechDesignForum
For many embedded applications, an OS is needed especially if the application is complex and running on a high-end processor, it is almost certain that an OS would be beneficial. At the other end of the scale, simple software running on a low-end chip has no need of an OS at all. In this article, Colin Walls talks about the different technical factors needed to select an OS along with its commercial factors.
Mythic takes Analog FASTSPICE and Symphony from Mentor for AI design
TechDesignForum
Mythic an artificial intelligence (AI) processor company, has standardized on two of Mentor's tools namely Analog FastSPICE™ and Symphony Mixed Signal Platform for the design and verification of their Intelligent Processing Units (IPUs). The company's designs use analog testing computing techniques to perform calculations that fuel deep neural network inference within flash memory arrays.
Siemens on Challenges and Trends in the Electronics Industry
iConnect007
In this interview, Siemens' Fram Akiki, VP electronic and semiconductor industries talks about the biggest challenges in the electronics industry, as well as major trends, including smart connected devices as used in autonomous transportation and robotics which increased complexity, and reduced time to market.
This article first appeared on the Siemens Digital Industries Software blog at https://blogs.sw.siemens.com/expertinsights/2020/02/19/article-roundup-ai-rewrites-the-possibilities-of-digital-twin-automotive-industry-on-course-to-disruption-evolution-choosing-an-embedded-operating-system-mythic-takes-analog-fastspice-and-sy/