Article Roundup: Siemens Launches PAVE360 Pre-silicon Autonomous Validation Environment
On May 15 Siemens announced a new pre-silicon autonomous validation environment called PAVE360. PAVE360 provides a comprehensive environment for multi-supplier collaboration across the automotive ecosystem for the development of next-generation automotive chips. PAVE360 also extends digital twin simulation beyond processors to include automotive hardware and software sub-systems, full vehicle models, fusion of sensor data, traffic flows and even the simulation of smart cities through which self-driving cars will ultimately travel.
In this week's Expert Insights blog, we rounded up articles covering the launch of this revolutionary technology.
Robocar SoCs: Designers' Worst Nightmare
EE Times
SoC designs for highly automated vehicles are affected by countless variables, each of which can cause costly design re-spins. This iterative process is an SoC designer's worst nightmare. PAVE360 streamlines design iterations by providing a virtual environment for autonomous SoC verification and validation that supports virtual models of components, vehicles, and even cities.
"Paving" a New Way to Autonomous-Vehicle Validation
Electronic Design
In this article, author William G. Wong discusses the ability of PAVE360 to support various tools for different design stages. This flexibility enables designers to handle the complexity of autonomous vehicle systems.
Siemens Shows SOC Simulation Solution for Self-Driving Vehicles
SemiWiki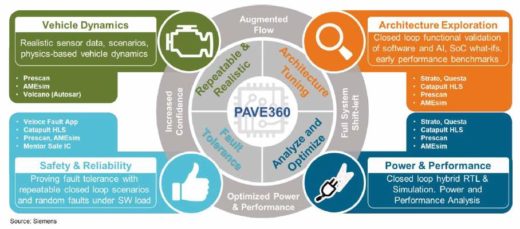 In addition to simulation every aspect of an autonomous vehicle, PAVE360 can accept custom SoC designs. With PAVE360, companies can investigate the performance of the entire system, from rubber to silicon.
How PAVE360 helps set a path toward the automotive digital twin
Tech Design Forum
PAVE360 reflects Siemens' vision of the digital twin as an enabler of multi-domain design and engineering. The result is a closed-loop solution that allows designers to develop silicon, test subsystems, and complete full vehicle validation.
This article first appeared on the Siemens Digital Industries Software blog at https://blogs.sw.siemens.com/expertinsights/2019/05/31/article-roundup-siemens-launches-pave360-pre-silicon-autonomous-validation-environment/