Thought Leadership
Article Roundup: Process Variation, Embedded Device Self-Test, Desktop IC Test, Next-Gen PCB Designers & Computer Vision
Process Variation Not A Solved Issue
SemiEngineering
Process variation is contributing to an overall increase in complexity for IC design, especially on advanced nodes, as the variations account for a greater portion of the total device size. This article features a conversation with three experts, including Juan Rey, vice president of engineering at Mentor, on the challenges of process variation, and the strategies teams are using to cope.
Device: Test Thyself
Embedded Computing Design
Self-test in embedded systems is an important technique for ensuring functionality and reliability. Embedded systems have four main areas of potential failures: CPU, peripherals, memory, and software, each with different likelihoods and behaviors of failure. In this article, Colin Walls examines each area of embedded systems, their failure modes, and how self-test can help prevent and resolve problems.
Digital IC Bring-Up With A Bench-Top Environment
SemiEngineering
Test pattern bring-up, debug, and device characterization for complex AI IC designs is ripe for improvement. A desktop-based test system can greatly reduce the need for expensive testing equipment and enables teams to perform debug and device characterization anywhere. The result is significantly reduced cycle time, better management of cross-functional teams, and more efficient failure diagnosis.
Mentor Preparing for Next-Gen PCB Designers
I-Connect 007
The PCB design and layout workforce is undergoing a transition. First, many experienced PCB design specialists are retiring, or nearing retirement. Secondly, electrical engineers are taking over the tasks of PCB design and layout as complexity increases and trade-level training programs fade. This article features excerpts of a conversation with Paul Musto, director of marketing for Mentor's Board Systems Division, about the changing industry.
Computer Vision Design with HLS
SemiWiki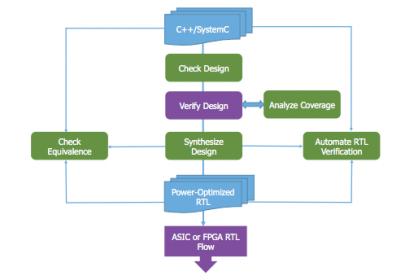 Computer vision algorithms employ machine learning to analyze and recognize visual information. These algorithms must be highly sophisticated as they frequently process images with over one million pixels that each contain at least twenty-four bits for color. High-level synthesis is critical for engineers creating these algorithms as it enables quick and expansive design exploration to arrive at optimal solutions.
This article first appeared on the Siemens Digital Industries Software blog at https://blogs.sw.siemens.com/expertinsights/2018/09/13/article-roundup-process-variation-embedded-device-self-test-desktop-ic-test-next-gen-pcb-designers-computer-vision/