Thought Leadership
Article Roundup: Verification & Validation, ISO 26262 2nd ed., EDA in the Cloud, IoT Worries & Open-Source Home Automation!
Verification And Validation Brothers
SemiEngineering
The increasing amount of software in modern systems makes them much more complicated to verify and validate , especially in areas related to power, security, and safety. As a result, engineers are incorporating more validation technology into their flows. But, what exactly is the difference between verification and validation? This article recaps a presentation by Mentor's Doug Amos on the similarities and differences between verification and validation, and the effects Portable Stimulus will have on this separation.
ISO 26262 – The Second Edition: what's in it… and what isn't
Tech Design Forum
The second edition of ISO 26262 will extend the standard to cover semiconductor design and implementation, including provisions for software vendors. Mentor's Joe Dailey and Juergen Schloeffel give a concise summary of what to expect when the update is released later this year. Specifically, the ISO will update the PMHF (Probabilistic Metric for Hardware Failure) equation, include vendor validation in software confidence assessments, and add guidelines for applying ISO 26262 to semiconductors. Guidelines for implementing autonomous drive technology, however, will continue to be absent from ISO 26262
EDA CEO Outlook 2018 Partly Cloudy
SemiWiki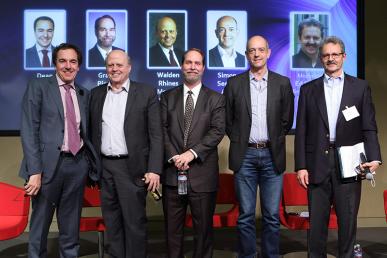 The 2018 ESD Alliance CEO Outlook discussion took an interesting turn to focus on the prospect of EDA software in the cloud. EDA companies are ready and willing to enable cloud-based solutions, but the impetus to do so lies with the customer. For EDA customers, reducing the number of vendors they interact with is generally preferred, making the addition of a cloud vendor a risky proposition.
Top Ten Reasons to Be Scared of IoT
EE Journal
A recent survey collected data from almost one-thousand executives and technical operations professionals on their concerns regarding IoT development. The responses indicate a theme of developer fear, uncertainty, and doubt surrounding IoT development, standards, and organizational aptitude for undertaking the task. This article examines and provides context for each of the top ten responses in the survey, including data privacy, security, infrastructure and more.
An open source home automation solution
Embedded Computing Design
Most home automation solutions are complex, custom designs that are physically embedded into the structure of the home. This article, by Sanjeev Sharma, proposes an open-source home automation platform that subverts the cost and complexity of current options by using modular components that are easy to install and modify without professional training.
This article first appeared on the Siemens Digital Industries Software blog at https://blogs.sw.siemens.com/expertinsights/2018/04/30/article-roundup-verification-validation-iso-26262-2nd-ed-eda-in-the-cloud-iot-worries-open-source-home-automation/