Highlights from Mentor at the 54th Design Automation Conference (DAC)
It was another successful Design Automation Conference (DAC) in Austin, Texas! Mentor experts were featured throughout the conference program with 8 paper presentations, 6 posters, 3 panels, and a tutorial.
Mentor hosted expert panels all three days on the DAC exhibit floor. Monday's panel featured experts from ARM, Sondrel, and Tanner EDA who discussed "Overcoming the Challenges of Creating Custom SoCs for IoT". When addressing IoT security, some key takeaways were: Create layers around your root of trust, compartmentalization, and plan for security threats at every design stage.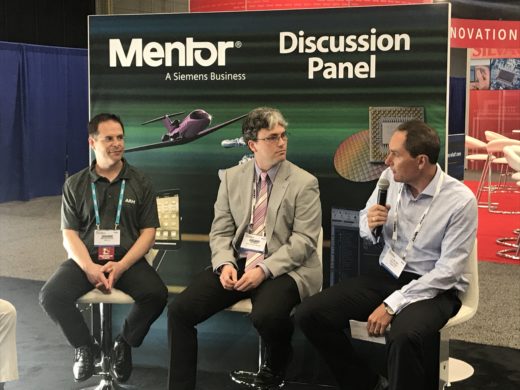 On Tuesday, Chuck Grindstaff, Executive Chairman of Siemens PLM Software, presented his keynote "The Age of Digital Transformation". Grindstaff emphasized that digital transformation requires a systems perspective – mechanical, electrical, software. Siemens and Mentor together are setting the vision for this new era of digital transformation.
On Wednesday, Wally Rhines sat down for a One-on-One with Ed Sperling from Semiconductor Engineering. Their conversation covered system design, digitalization, the Siemens merger, and his vision for EDA industry growth.
"EDA grows not by evolution, but by revolution" – Wally Rhines
Mentor ended the conference on a high note when the Designer Track Best Presentation was awarded to our own Kunihiro Yanagida (Mentor Japan), along with Shuichi Teramoto and Hisato Inaba from Renesas.
We'll see you next year at the 55th Design Automation Conference in San Francisco, CA June 24-28!
This article first appeared on the Siemens Digital Industries Software blog at https://blogs.sw.siemens.com/expertinsights/2017/06/27/highlights-from-mentor-at-the-54th-design-automation-conference-dac/