Thought Leadership
Article Roundup: Emulation, Automotive at DAC, Thermal Models, Concurrent PCB Design, CAD for the Medical Industry
Listening to Veloce Customers: Emulation is Thriving
SemiWiki
Emulation is going through a fundamental shift in usage, scope of the tasks, deployment, enterprise level, and vertical market focus. Mentor customers like Cavium, Palo Alto, Samsung, Starblaze, and Spreadtrum shared their experiences with emulation at this year's User2User conference and Mentor/ARM Summit. This article reviews those presentations.
Automotive Features Prominently At DAC 2017
Semiconductor Engineering
Automotive content at the 54th Design Automation Conference (DAC) offers a forum for engineering topics from embedded systems, security, and EDA. The big automotive themes you hear from the conference will be echoed in the Mentor booth (947), with a stellar lineup of technical sessions.
Huawei Delivers Outstandingly Accurate Models
Semiconductor Engineering
Ensuring SoC packages achieve 'as-designed' thermal performance is a key challenge for both manufacturers and system integrators. These multi-heat source devices require very careful thermal design frontloaded in the design process. Huawei achieved a high degree of confidence in the fidelity of their model results using Mentor's FloTHERM auto-calibration technology coupled with T3Ster.
How Mentor Realized Concurrent Engineering for PCB Design
Tech Design Forum
Concurrent engineering for PCB design promises to shorten projects and help companies meet time-to-market. To reap these benefits, designers must have the right tools and flows set in place. This article reviews key concepts and best practices for realizing a successful concurrent engineering strategy.
Life on the Edge: CAD Design at the Musculoskeletal Transplant Foundation
Engineering.com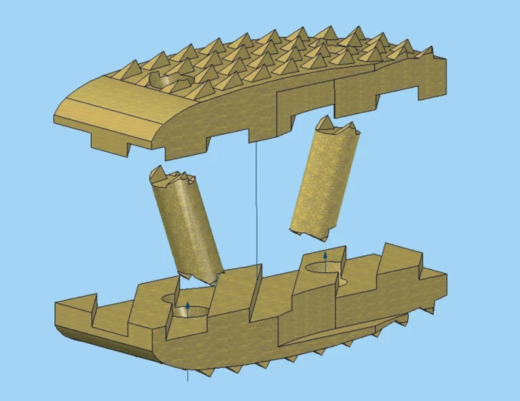 Siemens Solid Edge, the 3D CAD platform, has allowed the Musculoskeletal Transplant Foundation (MTF) to do the design, simulations, setup, and analysis of musculoskeletal tissue donations for patients in need. By using all of the capabilities within SolidEdge, the MTF can achieve their goal of making the most use of each donation.
This article first appeared on the Siemens Digital Industries Software blog at https://blogs.sw.siemens.com/expertinsights/2017/06/09/article-roundup-emulation-automotive-at-dac-thermal-models-concurrent-pcb-design-cad-for-the-medical-industry/