Corporate
Daniel Scuzzarello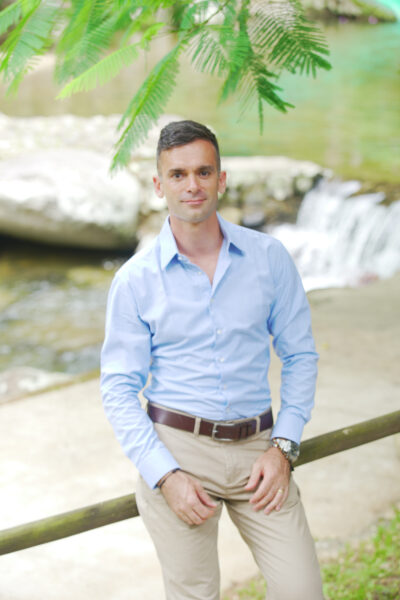 Brazil brings to mind Neymar and Pelé, the Amazon Rainforest and Christ the Redeemer Statue in Rio de Janeiro, and, perhaps especially if you're plodding through another chilly February in the Northern Hemisphere, beaches like Copacabana and Ipanema, where the average February highs exceed 30 degrees Celsius. Daniel Scuzzarello moved to Brazil from Sweden in 2010 as a relatively young consulting engineer focused mostly on computer-aided engineering (CAE) for automotive. Today, a few job changes and several promotions later, he's VP and country manager for all of South America, among the more dynamic markets on the planet with customers in nearly every industry segment and users of the breadth of the Siemens Xcelerator portfolio. It's been a transformative journey in many ways, including one that, while not in a standard LinkedIn bio, may be most important of all.
What were your early experiences with technology?
Daniel: My dad got a 286 computer in the mid 1980s. Of course, it ran DOS, no GUIs, so I had to learn some programming. I loved it and would be on the computer as much as I could. Later as a teenager, I moved from Italy to Sweden. It was early internet days and I started interacting with a group of Italians online that were building blogs, before blogs were a thing. I learned some HTML and PHP, and created a blog of my own which luckily has been offline for ages. All my adolescent thoughts were there. I think it's saved on a CD back in Sweden. My kids will have a laugh when they find it.
You have two technical degrees but have spent most of your career in sales and sales leadership. Was there a moment you knew you wanted to make the shift?
Daniel: I found out that I wasn't a hundred percent developer when I was doing a back-end programming course at Lund University. It was during a test or midterm. There were maybe 20 people in this dark room all writing code on Unix machines. There was no sound, just the tick-ticking of the keyboards. I looked up and thought, 'Is this going to be my life? I don't think so.' Even though country managers rarely have highly technical conversations, Siemens is a technology company, so while I don't remember how to find the third derivative of a function by hand – it's been ages – all the resilience that comes from engineering
school and those early career jobs is worth gold in a management position.
If I can be an inspiration for one person to be a more humane leader, who still delivers a number and gets results, why not?

-Daniel Scuzzarello
Talk about reinvention because you've done a lot of that, not only from engineering to sales leadership, but also from Northern Europe to South America.
Daniel: About 15 years ago I was on vacation in Italy. I met a beautiful woman at a nightclub who changed my life. That's my Brazilian wife, Marina. We spent two years in a long-distance relationship then it was 'Either we end this or somebody has to move.' She's a physician with a local practice and I was a bit tired of Sweden. So that was that. I was working for a Swedish engineering consulting company. I didn't get transferred but they had an operation here in Brazil. I basically knocked on their door and said, 'Look, I'm coming over. So either you hire me or I go to the competition, and by the way, I can build a team of CAE engineers and then we can sell their services and make money.' Later I got recruited to be country manager for CD-adapco, which was acquired by Siemens in 2016. My background is finite element analysis in CAE but CD-adapco did CFD, which is very different, dealing with fluids and not solid structures, and more rigorous mathematically and computationally. The hiring executive said, 'We're not hiring you to run the simulations, but rather to run the team.' So here and in other cases, it's been about a little bit of vision, a little bit of courage.
What are the prospects for South America and Brazil specifically?
Daniel: Strong relative to many other regions of the world, which are facing problems we all know about – inflation and high labor costs, war and energy independence, and some geopolitical instability and rethinking of dependencies in the supply chain. South America should be top of mind. We have good schools (including in engineering) a manufacturing base and cheap labor. The Brazilian real has been devalued by half since COVID and it's staying at those levels, and salaries haven't accordingly doubled. I say Brazil is set up to be country of the year, but I'm an optimist by nature.
You're not shy in talking about your focus on health, also your personal and even spiritual development. This is still relatively rare for a leader. Why do you do this and what can you say about your life outside of work?
Daniel: I had lots of back pain and physical discomfort. I was harsh on my team, harsh on myself, setting an impossible standard, while other parts of life suffered. My wife and I had our first son at the time and I couldn't remember being with him without a phone in my hand. I started with my health and going to the gym because I'm an engineer and wanted to see results, which I did, and it's led to much else – yoga, meditation, breathwork, neuro-linguistic programming – all of which I'm open about online. If I can be an inspiration for one person to be a more humane leader, who still delivers a number and gets results, why not? For a while I was private about it. I published stuff on social media though in locked accounts. Eventually, I decided there is no separation between me at work and me, say, in a barefoot shamanic ceremony. Not that I talk about everything, everywhere. I don't publish about these practices on LinkedIn – it doesn't belong there! – though it's not hard to find my writing and photos elsewhere. Since starting down this path I have become more productive and acted with more clarity and usefulness with customers…also a better husband, father and person. If asked I will sometimes mentor work colleagues though I'm always cautious about imposing any of my own beliefs or practices. I do push people to look to the bigger questions, which has been a good investment for me.
QUICK TAKES
Anything about you that might surprise colleagues?
I'm a follower of the red path, which comes from Native American traditions. It's not a religion…more a set of practices about a right path in life. I've done a vision quest too…four days and nights with just a tarp, sleeping bag and myself. No food or water. I'm going on my second in three weeks.
Book recommendation?
"Can't Hurt Me," by David Goggins.
Advice for taking care of oneself and doing personal development stuff?
Believe that you can. All these New Year's resolutions about going to the gym that are abandoned because of the belief that 'Oh, it's too hard.' Challenge and change this belief…it's possible. Neuroplasticity is real and you can create new neural pathways throughout life. The brain is like a muscle that builds up with use. And changing your mind changes everything.
This article first appeared on the Siemens Digital Industries Software blog at https://blogs.sw.siemens.com/employee-spotlight/2023/02/07/daniel-scuzzarello/