Thought Leadership
Responding to the Rapid Advancement of Cockpit Domain Controllers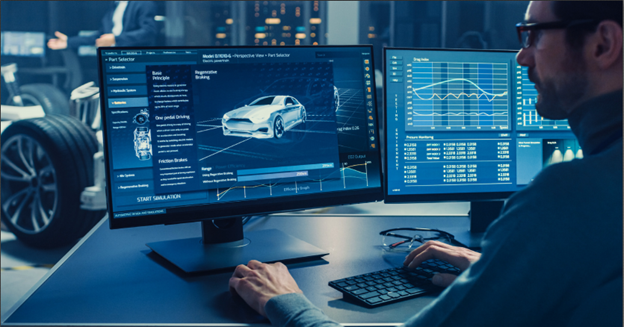 In today's automotive industry, the marketability of a car is largely based on its technical capabilities versus its mechanical capabilities. Technical capabilities like an interface between the driver and the machine that controls every aspect of the vehicle's performance. The "cockpit domain." An automobile's cockpit domain comprises several digital displays, continually changing in size and capability, across the entire dashboard, with the result being something like an advanced smartphone operating the cockpit domain.
Four Major Automotive Industry Trends
Four major trends are pushing advancement in the automotive industry.
Autonomous driving features, such as automatic braking to avoid a collision, have become standard in many of today's vehicles. The volume of data moving through the increasingly autonomous car can add up to 4 terabytes daily.
Increased connectivity, with the emerging 5G network technology. While increased connectivity provides opportunities for new features, additional security and privacy issues have to be addressed.
Shift to electric cars. London-based sustainability consultancy firm ERM for the Environmental Defense Fund (EDF) reports that global automakers are projected to spend more than $515 billion (USD) by 2030 to develop and build electric vehicles, with 55% of new electric car sales by that year. For the electric vehicle, space and weight are of primary concern.
Shared mobility, such as the use of a single vehicle by several users, either at the same time or in succession.
All of these automotive industry trends are reliant on embedded software development.
Why Cockpit Domain Trends are Critical Today
The cockpit domain controller (CDC) provides a more efficient way of presenting additional information and entertainment to the driver. The trend is for infotainment and instrument cluster functionality to be contained within a single electronic control unit (ECU). Therefore, driver monitoring systems, camera support, GPS, acoustics, voice control, over-the-air (OTA) updates utilizing Wi-Fi to check for software updates, downloading and applying them automatically, are all moving through the CDC.
The ambitious and creative embedded designer in cockpit domain control has never been in a better position with access to available embedded technologies. However, the embedded design team must address mixed-safety criticality, detect and prevent failures, isolate critical functions for multicore systems enablement, and manage secure and safe software updates, design requirements, and standards compliance. Competition is fierce in this space. To learn more about what it takes to maintain a competitive edge in automotive cockpit domains, read the Siemens Digital Industries white paper, "Responding to the Rapid Advancements of Domain Controllers." Download the paper now: https://resources.sw.siemens.com/en-US/white-paper-embedded-cockpit-domain-controllers
This article first appeared on the Siemens Digital Industries Software blog at https://blogs.sw.siemens.com/embedded-software/2022/09/08/cockpit-domain-controller/