Thought Leadership
Same old drill
This week, I saw a movie [Seberg], which was set in the late 1960s. It was, IMHO, a well made film, even though the story made me sad, as we really do not seem to have moved on with regard to racial prejudice etc. in the ensuing 50 years. With a well made film, I enjoy looking at the details – how well is [in this case] the world on 1969 depicted? There were social things like fashion and the fact that everyone was smoking most of the time, but the thing that always makes an impression on me is technology …
In this movie, all the technology looked antique: the phones, the computers, surveillance equipment, typewriters … I clearly recall that era, when all of these things seemed cool, but we have moved on. Some new technology seems to appear suddenly – GPS was a good example. Others have gradually evolved, getting better and better over the years – computers being one. Yet other things seem to stay the same for ever and then suddenly they are updated. Cars are like this – they have been much the same all my life and, all of a sudden, they are filled with electronics and/or are fully electric. TVs were like this. I have lately been pondering another example …
My Dad used to be something of a handyman. He would fix and make things around the house. I spent a lot of time with him, "helping" him with jobs when I was a kid. He was keen that I should learn and would often encourage me to try various tools. One thing was out of bounds though: his electric drill. This machine was vintage circa 1960 and I guess it was state of the art in DIY kit. I recall it being big and heavy, with a long curling lead to an electric mains socket. It was very noisy, vibrated a lot, got very warm and caused an odd acrid smell when used for a while [I would later know that this was ozone created by sparks in the motor]. If I recall correctly, he used this drill up until the end of his DIY days.
When I was married and my late wife and I bought our first place, I acquired some tools so I could emulate my Dad's household skills. I am not sure that I was ever as good with my hands as he was, but I had no terrible disasters. One of the key tools that I bought was an electric drill and the one I got, which was fairly standard, was almost identical to my Dad's, albeit a newer model by 20 years. It may have been slightly quieter, but essentially the same. 20 or so years later, I replaced the drill with a newer model, as I wanted "hammer" capability to make drilling into bricks etc. an easier job. In most other respects, the machine was unchanged: still heavy, noisy and tethered by the mains cable.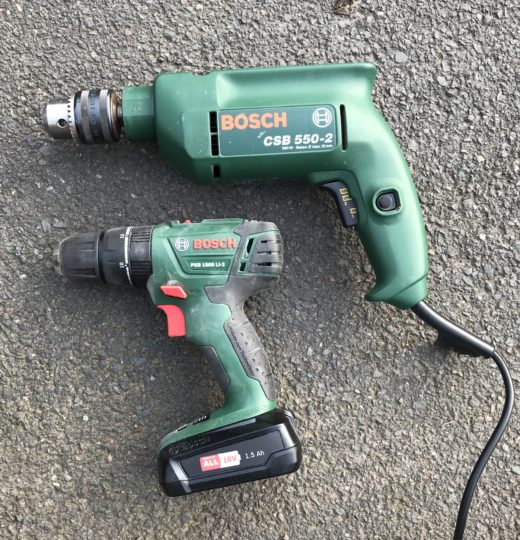 Another dozen years passed and technology actually moved on. The ready availability of Lithium-ion batteries meant that cordless power tools we really viable. I got a new drill which featured continuously variable speed, a keyless chuck, torque control, workplace illumination and no tether. The batteries [it came with a spare] were so good that the tool could remain in its box between jobs [and that might be weeks or months] and be ready for immediate use. I really enjoyed using this drill, so you can imagine my sadness when it was stolen recently. Fortunately it was one of only two things taken and the other item was junk. I set out to order a replacement and found that the same model had been updated. I was quite shocked by the new one. It has exactly the same functionality, but is much smaller, lighter and quieter. It seems that drill technology has really surged forward. I used the drill for a job at the weekend and it all went well – I'm sure that we will get along just fine, even if I miss its predecessor.
This was an example of a sudden improvement in a technology that has truly resulted in an improved user experience, not just some novel features that nobody wanted. Before long, we will be buying an electric car. I wonder whether I will have the perspective on that technology step?
This article first appeared on the Siemens Digital Industries Software blog at https://blogs.sw.siemens.com/embedded-software/2020/02/13/same-old-drill/