As I wrote about a while ago, I think that the world is divided into two kinds of people: engineers and those who believe in magic. I am an engineer, so I am programmed to understand things. I need to know how things work. So, when I encounter something that clearly does work, but I cannot figure out how, I am disconcerted …
I recently returned from my first vacation-only visit to the US. We were in Seattle, where we were staying with family. There are advantages and disadvantages of staying in someone's home instead of a hotel. Our family were very welcoming, which emphasized the pros of staying with them. The obvious advantage is experiencing something of how people live their everyday lives. Another was the fact that they live in a suburban area, not downtown [where a hotel would typically be located]. Again this is a glimpse into another world. Walking around their neighborhood, I really felt that I could live there quite comfortably.
Towards the end of our trip, we did spend one night at an Airbnb in downtown Seattle. [No. We were not thrown out – it was all planned!] This gave us the chance to explore the city a little bit. I enjoyed taking lots of photographs – urban photography is very much my style. We did not go to any particular landmarks or tourist attractions – just enjoyed the city environment. Although we do not really do much shopping [I am at a loss to understand how, for many people, shopping is now a recreational activity], we do enjoy looking in local supermarkets, as the range of products says a lot about the society. Seattle offered a unique [for us] opportunity: Amazon Go.
I have been an Amazon customer for many years – since the late 1990s – so I was interested to learn more about their new venture into retail stores with no checkouts. I read up on how the stores work, downloaded the app and set up my account. It was just a matter of locating the nearest store. The app should help, but when I asked for a nearby store, it said there was not one in the vicinity. I asked for all the stores in the city and there was one just a few blocks away – clearly further than Amazon feel is "nearby" [which I guess means walking distance].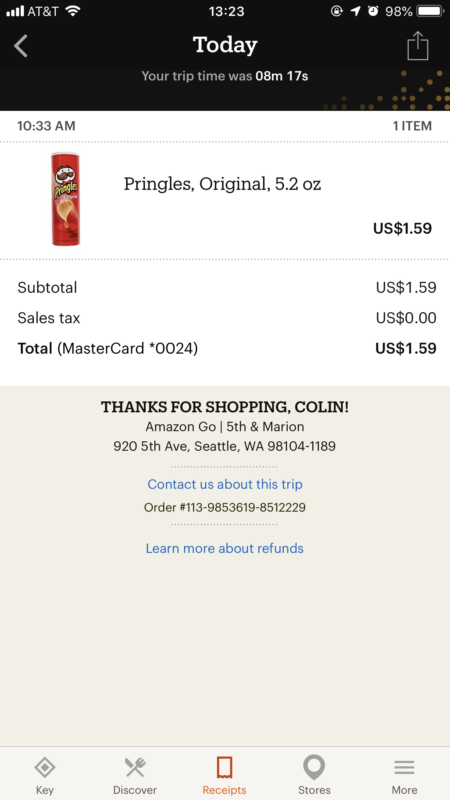 To enter the store, you need to pass through a kind of barrier. This requires a key [a QR code displayed by the app] to be scanned. This links you to the account registered in the app. If you have a companion [I had Libby with me], you scan them through first and they, too, are linked to the account while in the store. Shopping is then easy: just grab the things you want and put them in your bag [or backpack in my case]. If you take something of the shelf and put it back, you are not charged. When you have everything, you just leave the store. You can immediately see your purchases on the app. [Maybe you can while you're shopping too – I am unsure.] A while later, an receipt is also sent by email.
We did not buy very much, but the system seemed to work beautifully. There were some members of staff around, who were very friendly and helpful, but were unable to answer my somewhat technical questions about how it actually works:
How exactly did it recognize that it was me that grabbed the tub of Pringles?
How did it know that it was Libby who grabbed a jar of sauce, inspected it and returned it to the shelf?
How does it know when you have left the store?
What happens if you put an item back on the wrong shelf [or leave it on the floor]?
What would happen if you got into the store without scanning a key [could you?] and grabbed some stuff and left?
Much as I enjoyed the visit, I am an engineer and I need to know …
There was one small disappointment. I have a certain amount of credit on my Amazon US account. Normally, I might use this by having things shipped to a US address before I visit or someone comes over here. I had hoped that it could be used to pay for my Amazon Go purchases, but it seems not; it is necessary to tie a specific credit card to the Amazon Go app. Overall, I would certainly say that using the store was an interesting an interesting and positive experience.
This article first appeared on the Siemens Digital Industries Software blog at https://blogs.sw.siemens.com/embedded-software/2019/05/09/legal-shoplifting/