As I contemplate my upcoming brief vacation [I am away next week], I have been pondering the mood – the aggregate emotions – of people around me and considering what factors have an influence. As I write, there is much coverage of the rescue of the boys from flooded caves in Thailand. The outcome was so much better than many feared, even though the joy is marred by the tragic death of one of the rescue workers – a true hero.
But it is not all good news just now …
Another news story is the very worrying infection of a couple by a nerve agent in Salisbury, one of whom has sadly died. This is a tale that you might expect on the pages of a sensationalist spy thriller, where it would be set in a big bad city, not in sleepy, rural Wiltshire. The other bad/worrying news at the moment is all about politics …
I do not normally express much in the way of political opinions here and today is no exception. But it is clear to anyone that the whole Brexit situation is a shambles [someone described it as "trying to extract an egg from an omelette" – I liked that] and our government is in turmoil. People are divided by their opinions and this has led to much hard feeling. Donald Trump is due to visit and mass protests are planned in London. I cannot recall such a big negative reaction to a visit from any western leader, let alone the POTUS.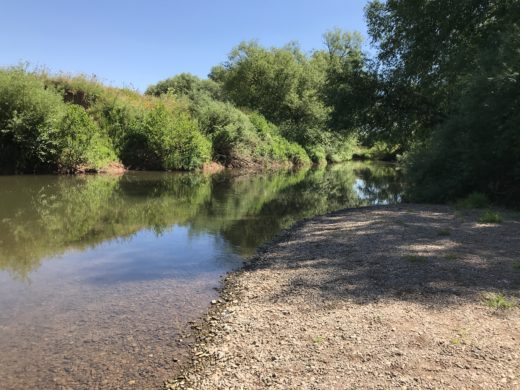 I am cheered up by the weather. We have been having a heatwave – some of the most consistently glorious summer weather for many years. Although I was raised near the sea and love to be on the coast, I live about as far from the ocean as you can get in England. But we have rivers and they have beaches for sunning and pleasant cooling water. Life is good. Brits have a natural inclination to complain about the weather and lots of people are saying "When will is all end?" and "We need rain." Many people just enjoy complaining.
I am not a football fan. I do not really have much interest in sport at all, but I observe that it has the potential to engender a feel-good atmosphere. We were in Dubrovnik on the night when Croatia played and won their first match of the World Cup. We were just enjoying the cool of the evening when a big cheer resounded across the city. I did not need to consult the news to ascertain the outcome of the match.
I was pleased that England were doing so well in the World Cup. Although they not make it to the final, they got the closest that they have been for over 30 years. Their success has certainly resulted in a buzz. I think, for many people, this has been a great mood lifter. I find it hard to imagine whether there will be much excitement about "our boys" playing in the third place play-off or for the actual final on Sunday. All I know for sure, is that I will be otherwise engaged. The last football match I watched from beginning to end was the World Cup final in 1966. I said that I would watch if England were playing in this final, but I seem to be off the hook.
This article first appeared on the Siemens Digital Industries Software blog at https://blogs.sw.siemens.com/embedded-software/2018/07/12/catching-the-mood/