After my last posting of 2017 was on a light note [at least I hope that it was read that way!], it would have been good to start 2018 in the same vein. However, it seems that this is not to be the case. A few days ago, I heard of the death, just before Christmas, of my old friend and colleague, Jim Ready …
It is fair to say the Jim essentially invented the commercial real time operating system [RTOS]. This technology has been a cornerstone of my career, so his death, apart from being a cause of sadness, also marks the end of an era in embedded systems.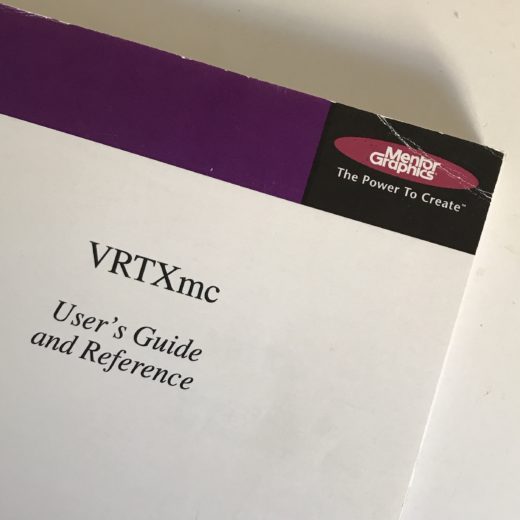 In the 1980s, Jim was co-founder of Hunter & Ready, the developers of VRTX – the first commercially available RTOS. This was initially available for 8-bit processors, but was quickly implemented on 16- and 32-bit devices, as they became more popular. VRTX32 was available just as high-end microprocessors were becoming mainstream. In due course, the structure of the product changed and, instead of being distributed on a ROM chip, the software was supplied in a more conventional form as a library. This was VRTXsa. Other variants, like VRTXmc and VRTXoc, were developed subsequently. Unsurprisingly, it took me just a few moments to put my finger of a VRTX manual in my archive. In due course, Hunter & Ready became Ready Systems, with Jim as CEO.
I heard the sad news of Jim's death from my old friend Bob Monkman, who reminded me about another aspect of Jim's influence on the world of embedded software: "In the lates 80's, a small consulting concern, called Wind River, wrapped a BSD TCP/IP stack and some tools around VRTX and called it VxWorks [i.e. VRTX Works]. There was a thin shim layer of APIs on top of VRTX. Due to a business disagreement at a technology crossroads, Wind River designed out VRTX with their own wind kernel, written by John Fogelin, and the suite evolved into Tornado. So, you could say that Jim inspired VxWorks and Tornado in this way."
Another significant RTOS of the 1990s was pSOS. There were rumors that this OS has some technical "relationship" with VRTX. However, rumors are rumors and this was 20+ years ago, but, again, we see Jim's influence is manifest.
In the early 1990s, Ready Systems was acquired by Microtec Research, where I worked, which is how I got to know Jim. We were acquired a couple of years later by Mentor Graphics, which leads to where I am right now. I always found Jim to be interesting and, often, inspirational company. I clearly recall sitting in his office as he explained that Linux was the future for embedded systems. Not so long after that, he left to found Montavista, which pioneered embedded Linux.
Jim moved on eventually to become a senior technical advisor on embedded software at Cadence. The last time I met him was in his office there, where he was excitedly talking about new technologies that would change the world.
The world of embedded software – or actually the world as a whole – needs more innovators like Jim Ready. I think that they broke the mold when they made him. RIP Jim.
This article first appeared on the Siemens Digital Industries Software blog at https://blogs.sw.siemens.com/embedded-software/2018/01/04/james-f-ready-rip/