Thought Leadership
Getting "in the zone" to take pictures
I seem to be in "photography mode" just now. I did a post last week and I have been doing some other writing elsewhere. Although I have enjoyed photography for most of my life, my enthusiasm ebbs and flows, which is quite natural. Lately I have been doing a number of talks and competition judging at camera clubs and I suspect that this may have been the spark …
Sometimes I go out with my camera and come home with few pictures or maybe none at all. On other occasions, I do start seeing images and get clicking. Often, I will take a picture of something unexciting just to start myself off – the sound of the shutter somehow triggers the need to hear it some. On some, rather rare occasions, I find myself surrounded by images – where ever I look there is a possible picture. That inspired feeling is very pleasurable and I have often tried to really understand what triggers it. And I think I may have found the answer …
A while ago I was on business in the US, staying in San Jose, CA. It is an OK city, but not really very inspiring photographically, particularly when compared with, say, San Francisco, New York or Boston. However, that is where I was and I had a bit of free time. I spotted a small photography exhibition just along the street and went to investigate. Frankly, it was not to my taste. The images were all "Photoshop masterpieces" – very weird pictures, constructed in the computer. This is quite a fashionable style at the moment, but, even though I can fully appreciate the amount of time, skill and creativity needed, it does not do it for me. But I was glad to have the chance to take a look, as I knew that all photographers should be open to viewing images at every opportunity.
When I stepped outside into the sunny afternoon, I had a slightly odd feeling. I can only describe it as a feeling of being inspired. Everywhere I looked there was a picture. I the next couple of hours, as I wandered the streets of the usually uninspiring city, I took around 200 photos. Looking at them later, they were not all amazing pictures that I would want to hang on the wall. However, there were a dozen or so that I was quite pleased with and this is what I regard to be a very good "hit rate". Here are a few examples [click on the thumbnail to see a bigger version]: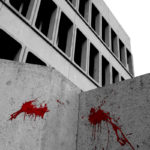 More recently, the same thing happened. We were much closer to home in Bristol, a city about an hour from my home. It is a place where I have done quite a lot of photography over the years. We went to a Grayson Perry exhibition. He is a very well-known artist, who mainly creates ceramics [large pots] and very big, very detailed tapestries. He is not to everyone's taste, but I really enjoyed seeing his work. When we left the gallery, I was "in the zone" and found myself seeing lots of images. Sadly, it was pouring with rain and I did not want to hang around getting wet for too long. But I did take a few shots, a couple of which I am delighted with. Fortunately, I was shooting with my iPhone 7 Plus, which is more or less waterproof, and did not drown my camera.
So I have the answer. To get photographically inspired, I just need to spend some time looking at pictures and they do not necessarily have to be photos. Somehow this viewing experience switches on something in my brain …
<<<>>>
This article first appeared on the Siemens Digital Industries Software blog at https://blogs.sw.siemens.com/embedded-software/2017/11/02/getting-in-the-zone-to-take-pictures/