Music festivals were very big back in the 1960s, though I was too young to have much awareness. Of course, Woodstock is the most well known, but there were certainly quite a few on my side of the pond. I do not really know why they died out; I am sure there were some in the '70s, '80s and '90s, but they were not so high profile. I equally do not know what stimulated their revival in the early years of this century, but they are certainly a big thing nowadays. Modern technology is part of the answer – the idea of a shared experience is becoming part of normal culture, both virtually and in real life.
I guess that everyone has their own reasons for going to festivals – I have a few …
I know a few people who seem to spend their entire summer going to festivals. Typically, they enjoy camping [I do not!], so maybe it gives them a structure to this kind of lifestyle. The most well-known festival in the UK nowadays is Glastonbury, which is enormous; the attendance far exceeds the population of the town in which I live. I have never been and think that I would be totally phased by the scale. If nothing else, I would be convinced that I was missing all the good stuff by being in the wrong place at any moment. So, I definitely have a preference for small scale events.
I usually attend a tiny festival in the town where I live. I have never paid to get in, as I volunteer. For a couple of hours' work, I get the free entry and a beer. Also, I normally work on the bar, so I spend my time making people happy!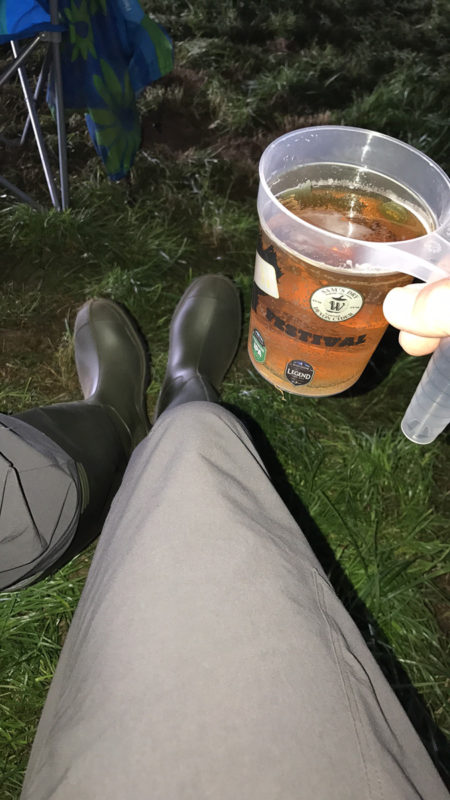 As I have written about before, Libby and I make an annual pilgrimage to a small festival [5000 people max] in Devon in the West of England. Last week, we were attending our 10th Chagstock. We normally spend a few days in the area before the festival – a sort of mini-vacation – and stay at a family holiday home that is about 40 minutes drive from the festival site. Every year we hope for good weather and often we get just that. The climate here is always a challenge. We can have great weather, but it is unreliable and very unpredictable! This year, we wondered whether we would get to attend Chagstock at all.
The festival runs on the Friday evening and noon to midnight on Saturday. On Friday morning it was raining. A lot! I read somewhere that parts of Devon had nearly a month's rain in a few hours. The lane to our house was flooded, but not enough to stop us passing. I was monitoring Chagstock's Facebook page and, mid-morning, they were saying that they still planned to go ahead, but "stay tuned". By the end of the afternoon, they said "We are going for it!". We headed off to join the fun. It was muddy, but not too bad. Festivals are known for mud [Glasto especially], but we had never really experienced this problem. It was not too much of an issue while we were at the festival, but then it was time to head home. We walked into the parking lot and the steward said "No 4-wheel drive? Just get up some speed before you hit the mud and you will be OK." He was right. The car went all over the place, but emerged on the other side and we were soon on the road.
I was pondering the motivations – musically – for folks to attend festivals. With the bigger events, I guess the famous, headline bands are the big draw. Although smaller festivals do sometimes feature famous acts – and Chagstock has had a few over the years – they are dominated by lesser-known performers. We realized that, for us, this is a strong attraction. Every year we come away with a few bands or individuals, who were previously unknown to us, but whom we would happily see again. Often we have gone to other gigs to see them in the months/years after the festival. This year's "catch" included: Cut Capers, Buster Shuffle and Raghu Dixit.
Sometimes a well-known band is not all that it seems. This year, the only band on the line-up, that I recognized, was Dr Feelgood. They go back a great many years and originated not far from where I was raised. I was looking forward to seeing them again. I think that I last saw them in a bar in Lund, Sweden around 20 years ago. On this occasion, they were entertaining. Libby was surprised by the lead singer's accent [distinctly Northern] and did some research. It seems that none of the band members were originals. This begs an interesting philosophical question: if all the members of a band are replaced, is it still the same band? In other words, can a band have an independent existence beyond its members?
This article first appeared on the Siemens Digital Industries Software blog at https://blogs.sw.siemens.com/embedded-software/2017/07/27/festival-philosophy/