As I frequently mention here and elsewhere, one of my big interests away from work is photography. I have been taking pictures all my adult life – over 40 years. My enthusiasm waxes and wanes, of course, but overall I take [have taken] a lot of pictures. My Lightroom catalog contains about 21,000 pictures, which span about 15 years. I delete a lot of pictures, that are not up to scratch, as digital clutter can be as annoying as the physical kind. So, I guess I must have shot something over 50,000 images over that time.
Someone recently asked me an interesting question: What do you do with all those pictures? I needed to ponder before I could answer that question …
Years ago, most photographs were delivered as prints and everyone cheerfully filled albums with them. Of course, some photographers used slide film and could "entertain" their friends and family with long presentations of their favorite few hundred images. Some years before getting a digital camera made sense [financially and technically] I used slide film. I would get prints from the slides sometimes, but mostly I would scan them into my computer and work on the image from there. Hence, I claim 20 years of Photoshop experience!
In 2003, I bought my first digital cameras [a serious one and a pocket point-and-shoot] and have not touched a roll of film since. Digital photography did nothing to stem rate of snapping – quite the reverse. I am unsurprised by the statistic that more photos are taken [in the world] each day than were the previous day – and this fact has been almost constant for the last 100+ years. So, back to the question of what I do with my images:
I do make prints, but not very many. A few are displayed around the house.
I have made albums. I found a good online supplier and made large, hardcover books that show 30 or so of my favorite images for each year. I did a couple of years, but I now have a backlog.
In 2014, I started a project to post a picture every day for a year, figuring that would be a good way to share 365 pictures. The resulting website is still live: www.drawingwithlight.com
I have been attempting to attain a qualification from the Royal Photographic Society – I will just say that this project is ongoing …
I do various things with my own camera club, like entering competitions etc. and discussing work with other members.
I visit other clubs and do talks, illustrated with my images, on photographic techniques.
I sometimes enter international exhibitions and salons.
It is #7 that particularly interests me at the moment. Last week I saw a presentation of images that had been accepted or had awards from a recent salon, organized by one of the larger camera clubs in the UK. A salon is a kind of "virtual exhibition" to which photographers may enter images for consideration. Typically, it is possible to enter up to 4 images into a number of categories, which may be "open" or specialized topics like "travel", "creative" or "nature". A fee is payable for each category that is entered. A team of judges assesses each image. They see each picture for only a very short period of time [as they normally have a lot to get through – thousands] and each give it a score between 2 and 5, where: 5 = really want it in the salon; 4 = would quite like it in the salon; 3 = probably not; 2 = reject. Commonly a score of 12 or better gains an image acceptance. It is possible to accumulate acceptances from accredited salons and exhibitions to gain international qualifications [but you need to be very keen!].
The presentation included one of my images, as I had been lucky enough to have two accepted:
The first image was "grab shot" that I took in Birmingham [UK, not AL] a little while ago. It is titled "Asking for directions".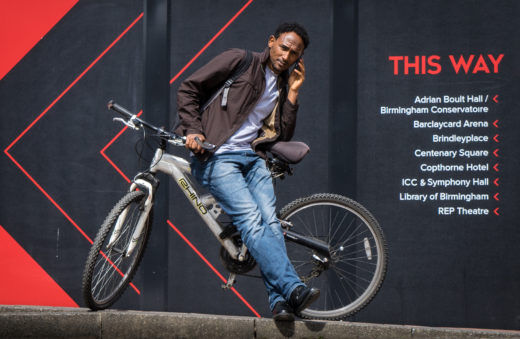 I particularly like the the way his shape echoes the lines on the wall behind him. I like doing street photography, which is normally candid portraits. Snapping people when they are using their phone is perfect, as they are blissfully unaware of anything going on around them.
The second image was taken nearer home and is titled "Intimate dining".
This picture was, again, just luck. We were visiting our local theatre and having lunch in the restaurant. As members of the theatre, we get a free bottle of wine with a meal and nobody else was really interested in it … Inevitably, I needed to head off to the restroom. On the way back, I approached the glazed wall of the restaurant. It was very unusual for me to be in the building during daylight hours, so I was surprised by the back-lighting. I immediately saw the potential for an image, but, of course, I did not have a camera with me. However, I did have my iPhone, which did the job satisfactorily. The picture went on to win a club competition and be accepted in a couple of salons/exhibitions. I learned two things from this experience:
you do not need a fancy camera to get a good picture
photography should not be attempted while sober
I hear good things about the new iPhone 7 Plus camera – I think that I can feel an upgrade coming on…
<<<>>>
This article first appeared on the Siemens Digital Industries Software blog at https://blogs.sw.siemens.com/embedded-software/2016/10/06/getting-the-picture/