Although I can and do enjoy traveling – indeed, as I write this text, I have just checked in for flights the following day, as we are off on a short jaunt. However, there are so many times when I wonder why I go to such trouble, as we are fortunate enough to live in a beautiful place. The English countryside, on a good day, is truly idyllic. By "on a good day", I mean when the weather is pleasant and this brings me back to one reason why travel elsewhere can be attractive – our weather can be wonderful, but it is not reliable of predictable.
The weekend before last, we unexpectedly found ourselves with very few commitments and very nice weather. So, we went off exploring …
My wife and I enjoy being in the sunshine and going swimming. As we live just about as far as you can get from the coast in England, we look for alternatives. Although swimming pools can be nice, it is so much better to be in a natural environment. So we seek out places – rivers and lakes – for "wild swimming". I should say that "wild" refers to the place – natural, not manicured and sanitized – not the swimming activity itself. ? Typical locations are a bit [or maybe a lot] off the beaten track.
We have a favorite swimming place, that we have used for a couple of years, but it is 45 minutes drive and 15 minutes walk away – so a useful visit takes half a day. OK, if you want to use that much time, but no good for a brief outing. So, with a "free" weekend at our disposal, we resolved to locate some different places that might be a little closer to home. Over the two days, we visited three lovely locations.
Finding #1 was a little challenging. We were on the correct road, knowing the river was off to our left. The instructions said to find the footpath sign and follow it. There were about five such signs, all pointing in the right kind of direction. We chose one near the middle and set off across a field in the general direction of the river, then started following the river along. Although we knew the water was there, thick vegetation separated us from the bank. In due course, we could see an area ahead where the trees cleared. At the top of the bank was a bench, on which was sitting reading. We did not really want company, but we exchanged greetings and looked down the bank to the water, where a woman, who turned out to be his wife, was sunbathing. We had a dip in the water and, in due course, chatted with the couple. It seems that they were doing exactly the same kind of exploring as us and had been to one of the other locations that we had in mind. We said our goodbyes and departed, wondering if we would cross paths again.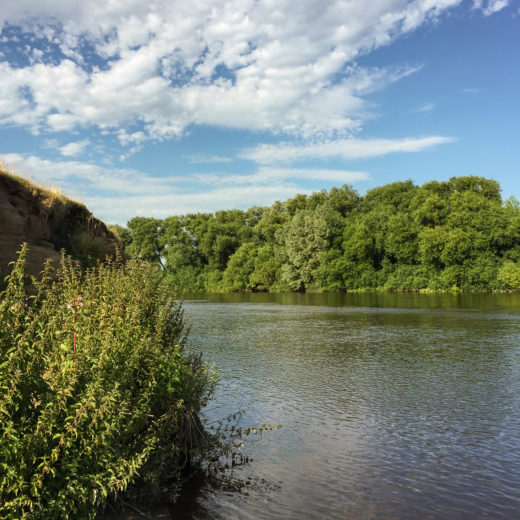 The #2 location was further downstream on the same river, quite a lot closer to where we live. The instructions told us where to park and how to follow the river along, which was quite straightforward. We arrived at an area where there was a sign saying that the land was private, but access was OK if it was treated with respect – no litter, fires etc. It seems that the area is considered sacred in a spiritual, rather than religious, way and I admit that there was an atmosphere of peace and calm. The river had a nice bend at this point, which resulted in a small gravel beach. A woman was sitting there reading. My wife chatted with her briefly and then a few more people showed up. In due course, there were seven people and two dogs enjoying the cool of the water and the warmth of the late afternoon sun.
The next day we went to find #3. This time directions were very clear: get on the right road, look out for the footpath with metal gates just before the houses, follow the path to the bridge, cross it and bear left along the river. The guide said that there would be various bathing places, but the best one was 30 or so minutes walk. We found it on a sharp meander in the river, which had resulted in the formation of a stretch of beach. We spent some time here, enjoying the sunshine and the water. As we were heading back later, we realized that we had not seen another human being since we had left the car and, indeed, we still saw nobody until, just before the road, we observed someone asleep on the opposite river bank. This was amazing as it was a beautiful summer's day – a Sunday – and we were in very accessible, amazing countryside. As I said at the beginning: who needs to travel?
This article first appeared on the Siemens Digital Industries Software blog at https://blogs.sw.siemens.com/embedded-software/2016/08/18/going-wild/