I am sure that most people, like me, enjoy doing Good Things – helping others in one way or another. I am not sure that such activity is true altruism, which would imply no reward, because the pleasure one can gain is immense and unique. However, I have often felt that I do not really make a difference in the world; maybe the odd person's life is changed a little, but nothing particularly noteworthy. Once in a while I come across somebody who really does change lives. That is interesting when I read about it, but much more exciting when it is someone that I know in person.
Today, the person whom I have in mind is Martine. Her husband, Roger, is my wife's mother's cousin, so I can just about claim to be related! Martine and Roger live in Vancouver in Canada – a country I really must get around to visiting. I have met them quite a few times and enjoy their company. In numerical terms, they are not young people – they are in their 70s, but they are living examples of the philosophy that age is a state of mind and I find them quite inspiring. I would have said that before Martine's latest venture, but now words almost fail me …
A while ago Martine received a legacy. Although they are not millionaires and some extra money is always welcome, she decided that she wanted to spend it on something truly worthwhile. Martine had read about the situation in the Middle East and seen all the news stories on TV and found some of the human situations heartbreaking. Having been to Syria myself, I know where she was coming from. She eventually identified a situation where she might help. There is a flood of refugees from Syria into Jordan. Their plight is awful, regardless of the government endeavoring to help. Their future is very uncertain, but, of course, their real investment in the future is their children – children who are not getting an education, which, in the 21st Century, is a passport to lifetime poverty. Martine realized that she might be able to help.
I heard about her plans many months ago. I was skeptical. I knew that her intentions were totally genuine and well meaning, but what difference could be made by one woman from a prosperous western country? It seems that I was comprehensively mistaken. I do not normally enjoy being wrong, but, in this case, I am delighted and humbled.
The rest of this posting is in Martine's own words:
For those of you not familiar with what I am doing in Jordan, herewith a brief outline. I will separate the more detailed progress report which those of you with further interest can read but which many of you might like to skip.
Last May I went to Jordan to scout out the feasibility of using an inheritance to do something for the education of the many Syrian refugee children I was reading about who were not in school. One of the reasons cited was lack of capacity in Jordan's overcrowded schools.
I received a negative or more often no response from the many NGOs I wrote to except HRJ [Helping Refugees in Jordan] whose founder, Catherine Ashcroft, responded at once and very positively. So in order to scout out possibilities further, I went to Amman, Jordan, where Catherine runs a very active distribution and coordination center for the refugees, and engages the legion of individuals, like myself, wanting to do something useful.Together with Catherine we put together some ideas for a project and before I left in early June she put me in contact with a friend of hers, Julie Delaire from France but living in Amman, who has done a masters in International Relations and who herself had already set up a project here for the Syrian refugees, so knew the ropes. This marvelous young woman became the manager of our small effort and her partner, a Syrian refugee also volunteering with Catherine became our tireless helper, driver and translator, for me as well as for Julie when her Arabic proves insufficient. As Catherine is loosely associated with Mercy Corps, and as we are a project of HRJ although not funded by them [nor by any other charity or organization] we are therefore also loosely associated with Mercy Corps. Moreover in the town where we work we receive practical assistance from, and work out of the premises of, the South Azraq Women's Association which does receive funds from Mercy Corps, as well Mercy Corps remains generally very supportive of our effort.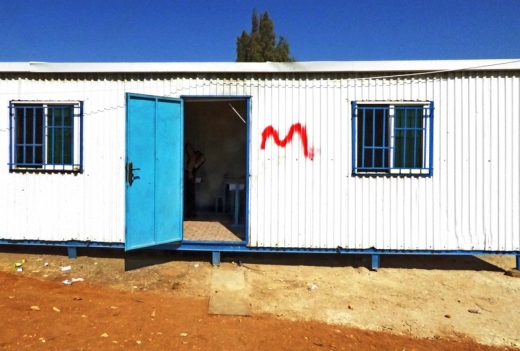 Thus was born our small project, working in Azraq town, [not in the refugee camp] as 80% of refugees actually live outside the camps and the bulk of the NGOs work within the camps. Azraq is a poor town 100 kms east of Amman. Our intent is roughly twofold:-
Provide extra capacity for some of the local Azraq schools so they can take more, mostly Syrian, kids who are presently on a wait list for entry. We provided 2 portables with desks etc for the local girl's school increasing capacity by 60 persons and the Govt provided 2 extra teachers for the portables. However, currently there are again 103 boys and girls combined on the wait list to enter school. We are now providing a Catch-Up-Class for some 20 kids who are too far behind to be admissible in the regular schools. [Like the 10 year old we saw, 3 years out of school and now virtually back in grade 1]
We are also starting some workshops as well as English and IT classes for Syrian refugee and poor Jordanian youth and young adults, thus hoping to give them a better chance of eventually finding work when they return to Syria and in the hope of enhancing the quality of their lives. Any job related training for Syrians is not permitted by the government as they are forbidden to work here and it is even forbidden to enter any sort of vocational training. Thus we cannot, for example, provide funding to apprentice them somewhere.
That is in essence what we are doing. For those of you interested the rest is a more detailed account of where we are at:-
At the end of September I returned to Jordan [and my husband joined me a month later to do volunteer work on water resources here].
Our project is coming along well, after a slow but steady pace several programs are now starting up.
We decided to start a Catch-Up School from Gr1 to Gr 5 for kids who are not admitted to a regular Jordanian school because they are too far behind. We will also include a few youngsters who are not admitted for lack of room until the continuing lack of space in the first few grades has been addressed. It would be easy enough to add more portables but we had trouble getting the 2 extra teachers for the 2 portables we already put up at the local girl's school to increase capacity; it is lack of teachers that poses the problem. Azraq, is a small, poor town, not too much choice where teachers are concerned and the trip from Amman, taken by some, makes those teachers often late or absent.This district does not double up on school sessions, as in many places elsewhere, where there is schooling for Jordanians in the morning and for Syrians in the afternoon. As our project capacity is limited we are mainly concentrating on catch-up schooling in the hope of eventually getting those kids admitted to a regular school in the appropriate class if there is more space in time. But we are not a regular school and cannot give out certificates at the end of the day.
We have hired a teacher, have a room and bought desks and school supplies as well as laptops, the latter a mostly non existent item in the schools of Azraq. School will start on Sunday, Inshallah!!
They are totally unused to libraries here so when we bought and collected some books for the younger grades and displayed them attractively, the women of the Women's Center where we have our project, all came and took photographs of the cheery books on the shelves!!
We ran a very successful Syrian jewelry making course for both Jordanians and Syrians and finished it with having a session about display and bookkeeping. We will hopefully also have the ILO [International Labor Organization, a UN body] come and hold a course on setting up and running a small business, they like to focus on women's empowerment and are keen to come if their headquarters and the government give them the green light. Sewing classes have started and next week we hope to launch English and IT classes.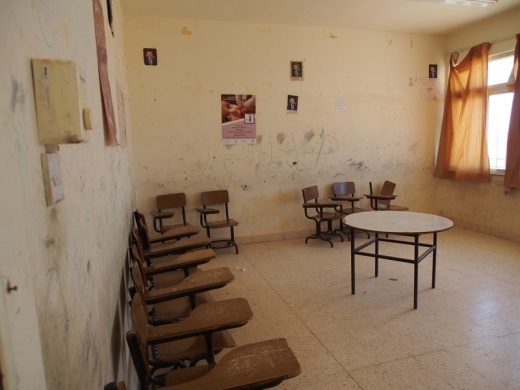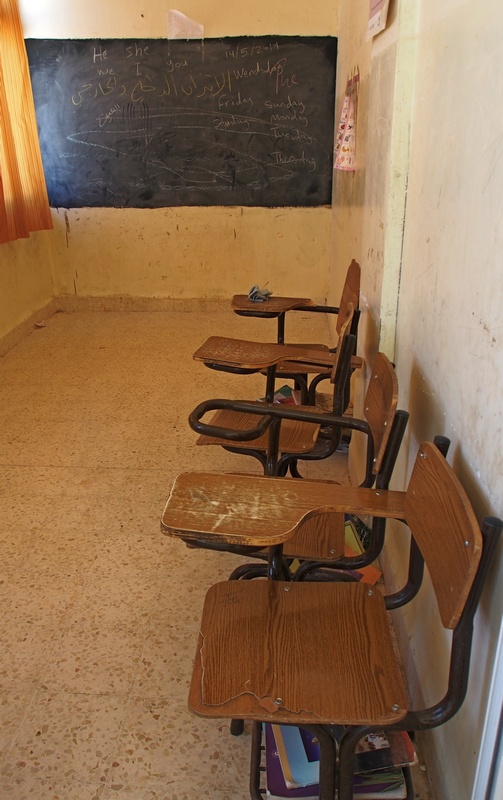 A young Iraqi doctor who literally ran out of Mosul because he found out in the nick of time his name was on an ISIS hit list, will teach our English classes for now, as the English teacher at the local school whom we interviewed to hire had so little English we needed a translator to obtain even the simplest information!! We hope in part to use the free internet program called Duolingo which has English for Arabic speakers! [As well as many other languages for English speakers]. We bought ten laptops for the purpose. He will also set up some classes teaching health and maybe first aid.
We will also start IT classes next week, with the program coordinator we hired and who seems to be working out really well. Two weeks ago the organization, CARE, came with a whole entourage to the Women's Center in Azraq planning to set up an identical program to ours so we suggested we collaborate and so far that looks very promising. As we both have hired program coordinators who are computer literate we will share space, equipment and teachers for the IT course. They will set up cooking and soap-making classes, we will provide a volunteer who is a dietitian willing to teach the basics of food science and healthy eating. We will set up a barber shop and photography classes for the boys.
So it all seems to be working out. The local minister of education poked his nose in the other day[ unannounced] and told me to "tell the Canadian people to thank them very much" and we could ask him for "anything we needed"…of course I immediately asked him for more space and teachers in the Azraq schools and of course they were "working on it"! Poor Jordan, it is an impossible situation for them, more [probably way more] than 600,000 Syrians and now Iraqis as well, when they already had Palestinian and Iraqi refugees from other conflicts! In a poor country, with insufficient water and a preexisting big unemployment problem.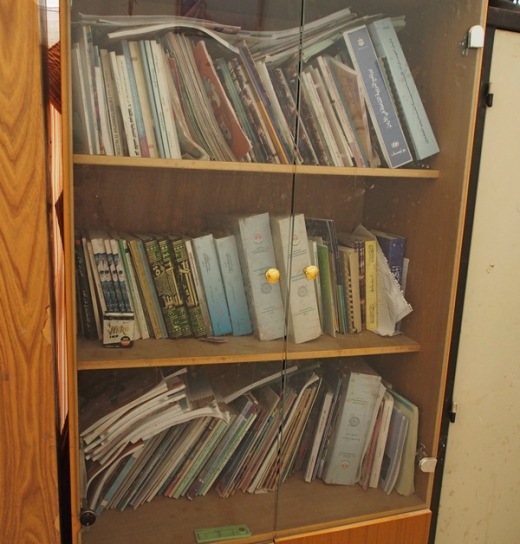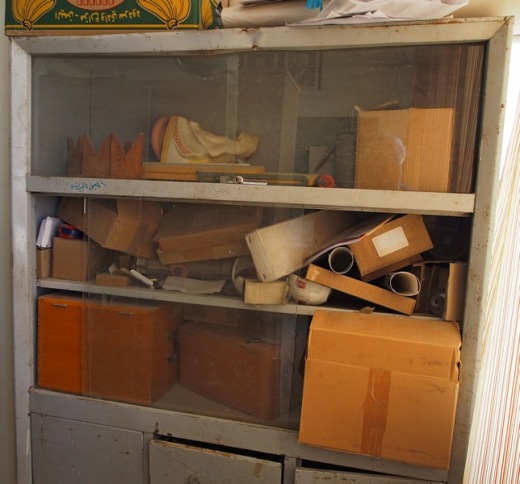 Julie Delaire, still manages my project, together with her partner, who helps Catherine Ashcroft. Julie is marvelous, had set up and still runs a very successful program for refugees in the village near Zaatari refugee camp so she is experienced, she speaks some Arabic and her partner some English, so between the 4 of us [with Catherine who is also marvelous], it is actually working out and taking shape; I couldn't have struck it luckier!!
It is a pitifully small effort of course, when the need is huge, but each little bit helps. Maybe later we will have funds to expand. Lots of other NGOs, after looking after immediate needs, are now beginning to focus on education and a variety of workshops but so far their focus is within the camps. However there are some formidable road blocks, the biggest being the very understandable reluctance of the Jordanian government to allow Syrians to work or gain work skills as they would compete in a country where unemployment was already high, and as many Syrians do work illegally, they are competing with the host population, causing hardship and resentment.
That's all we are engaged in for now but we are thinking of other programs as well, however we will focus on this lot first.
Thanking you all for your interest and encouragement,
Martine
PS The little school has now started, the teacher, a Syrian refugee herself, broke down and cried as she told us how pleased she is to teach thirteen and fourteen year olds who can barely read a word but are so keen to learn! She already has 27 kids in our 20 spaces and asked if she could admit more! We will have to provide another portable if the Women's Association can cope with so many on their premises.
[If you would like to send a message to Martine or even help in some way, please email me and I will connect you.]
This article first appeared on the Siemens Digital Industries Software blog at https://blogs.sw.siemens.com/embedded-software/2014/12/18/making-a-difference-3/