I always liked Lou Reed's song "Perfect Day". I was a teenager when it was first released and, even then, I appreciated the message that the good things in life – things that might contribute to a perfect day – may be simple and free. And it is just a great song. I think that, at that time, I believed in perfection. As I have got older, my views have changed to the extent that I regard imperfection as being the key factor in what makes us human. Hence my love of live musical performances, of which more shortly.
Having dismissed the idea of perfection, I recently had a day which was as near perfect as I could really hope for. I think I will call it a "pretty darned good day" and I wanted to share it with you …
For many years I have wanted to fly in a balloon. Eventually, I realized that I was just procrastinating and there was no reason why I should not have this experience if I made the effort. So I booked a flight. I paid the extra to have a small balloon – just Libby and I and the pilot. That was quite a while back – nearly 2 years ago to be precise. We then made a number of attempts to take the flight, which were cancelled as a result of the weather. So, when I booked a flight for last Saturday morning, I had little faith that it would actually take place.
The flight was due to leave from Bath [Victoria Park, to be precise] which is a city about 1 hour's drive from my home. As it was going to be an early start, I decided to book accommodation for the Friday night at our favourite B&B.
We arrived in Bath in the late afternoon and went for an early supper to a restaurant that Libby wanted to try: Jamie's Italian [owned by the celebrity chef Jamie Oliver]. I was sceptical, fearing that it was just going to be a place cashing in on his name. It was certainly popular. They do not take bookings and we were very lucky to get a table. The food was excellent, the service friendly and attentive and the price very acceptable. I was particularly impressed by the response to my request for some water: "Still, sparkling or tap?" As I regard bottled water as complete madness, I always request tap water, but rarely have it offered.
We then went on to a musical performance, which I had booked, so that, if the balloon flight did not happen, our visit would have been worthwhile anyway. It was in the Ustinov Theatre, which is a small place behind the Theatre Royal. It is very nice, seating, I guess, no more than about 100. The performers were a folk [sort of] band called MAWKIN:CAUSLEY. I had never heard of them before, but I would certainly go see them again. They were full of energy, engaging the audience straight away, and very good musicians. They made me smile and tap my foot – what more can you ask?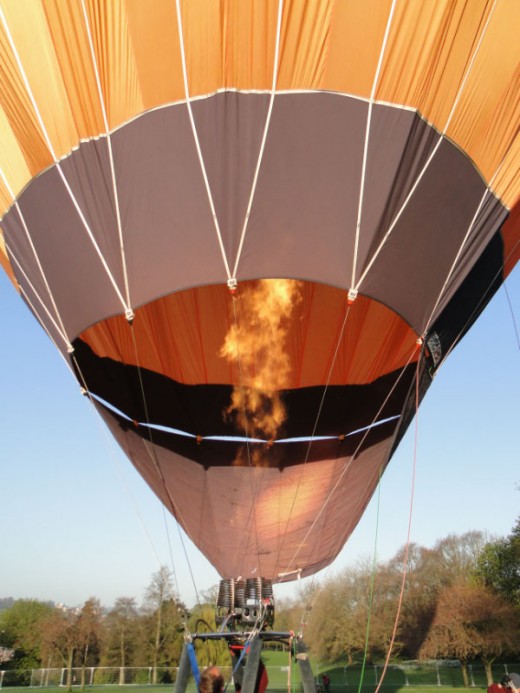 On the way back to the B&B I had a phone call: the flight was on!
So, we got up rather early and headed to the meeting point. The pilot [who we later learned was the owner of the small ballooning company] and recovery vehicle driver quickly got everything set up and we were the first balloon in the air.
The flight lasted about an hour, slowly drifting West towards Bristol. The sky was clear and, because of the grounding of all commercial aircraft at that time, the air traffic guys seemed to have little else to do than talk with balloon pilots. I confess that, as we took off, I did wonder what I was doing hundreds of feet off the ground in a laundry basket, but after a while I felt quite relaxed and could just enjoy the amazing views. I took 100 photographs, which I think capture everything I recall about the experience. We landed [very gently] in a rugby field in Keynsham. A glass of Champagne [hic!] and they drove us back to Bath.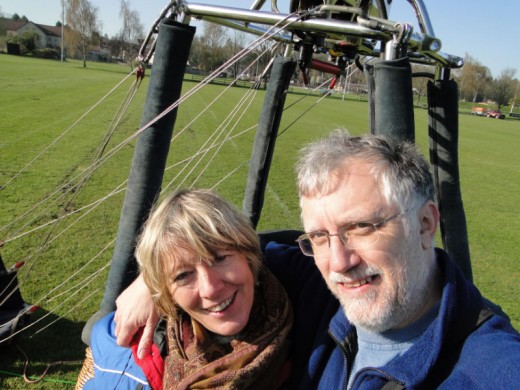 After a little breakfast, we did some light shopping and had lunch at another favorite place [Say Cafe] and then headed home.
It really was a great 24 hours. If only the people who were viewing my house that morning had wanted to buy it, it might have really been a Perfect Day.
This article first appeared on the Siemens Digital Industries Software blog at https://blogs.sw.siemens.com/embedded-software/2010/04/22/the-perfect-day/