I am very interested in business success stories. In particular, I am fascinated by the contributions that individuals make to the success of a large company. I wrote about that here, for example. I am also very interested in small – even one person – businesses and how they succeed. One of my favourites is a guy called Kurt, who is well known to many of my colleagues and operates a one-man taxi firm in Munich. Having used his services many times over the years, I have given a lot of thought to why I see him as so successful …
First off, Kurt is totally reliable. This is, in my opinion, the foremost requirement in such a service provider. If I book a pick-up at the airport, when I emerge from Customs, Kurt is there. If he has been delayed a few minutes, I will get a text. If it is more than a few minutes or he has another booking, he will ensure that another taxi driver is there with a card with my name on it. Delays in flights etc. are handled automatically, as he requests the flight number on booking and checks the status.
One night I was flying into Munich at the beginning of Winter and my flight was cancelled, then the replacement was cancelled, then its replacement was delayed and so on. But, when I finally arrived, late and very hassled, there was Kurt.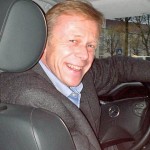 He is also "user friendly". You can make a booking with him via a simple, dedicated website [in English!] and get an email confirmation. He accepts credit cards [though prefers cash!] and receipts are, of course, no problem.
Kurt's particular talent is self-marketing.
He always addresses me by name and remembers a little about me. That helps me to feel "bonded" with him. Whenever he drops me at the office or hotel, he will never fail to ask if I need transport the following day – follow-on business is critical. If he collects me from the office, he will always be in reception waiting at the appointed time. Ostensibly, this is to help me with my bags. In reality, he is chatting with the receptionist so that she feels that she knows him and knows who to call when a taxi is needed.
One of Kurt's regular customers was in Germany with his family and was passing through Munich when his car broke down. He did not know anybody in the city – except Kurt. One phone call and the crisis was over. Kurt contacted the car dealer, found his customer a hotel and took him there. This guy will recommend Kurt to anyone who will listen.
This article first appeared on the Siemens Digital Industries Software blog at https://blogs.sw.siemens.com/embedded-software/2010/02/25/a-taxi-in-munich/