Here's What's New in PADS Standard and Standard Plus
PADS VX.2.3 release many performance and quality enhancements for PADS Standard and PADS Standard Plus including:
3D model handling
Dynamic copper healing
Enhanced verification and database integrity checks
Ability to change a default via net class on-the-fly
Easily remove redundant central library partitions
Simplified migration from netlist projects
MCAD Collaborator included in core product
PADS Logic added to the standard flow release
Support for legacy product options
And more…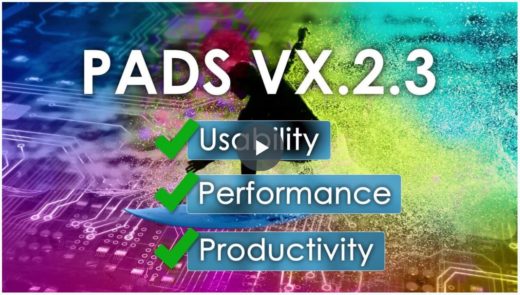 This new PADS release delivers significant usability, performance and productivity enhancements to the PADS core technology.  As the 3D layout environment continues to be the graphical interface of choice in PCB design, PADS simplifies and speeds-up the process used to assign, place, align and rotate surface mount and through-hole 3D component models.
Today's mixed technology PCB designs are requiring more copper pours and split planes than ever. As such, we've enhanced dynamic copper healing and regeneration functionality and performance in the PADS router.
In order to optimize today's tight form-factors in electronic product design – collaboration between ECAD and MCAD teams is more necessary that ever. To facilitate electro-mechanical co-design, the MCAD Collaborator is now included FREE in both PADS Standard and PADS Standard Plus.
PADS VX.2.3 includes a substantial number of usability improvements including requests and ideas submitted by our users.
This article first appeared on the Siemens Digital Industries Software blog at https://blogs.sw.siemens.com/electronic-systems-design/2018/04/10/heres-whats-new-in-pads-standard-and-standard-plus/