Behind the TLA Winners: Coriant Oy
This is the eighth in a series of blog posts showcasing the winning designs from the 27th Annual PCB Technology Leadership Awards.
The 2nd place winner in the Telecom, Network Controllers and Line Cards category is Coriant Oy, from Espoo Finland.
This compact and power-efficient 8625 Smart Router is a high-speed IP/MPLS Router for 3G, 4G and 5G networks. This node has two line units and a total capacity of 400 Gbps.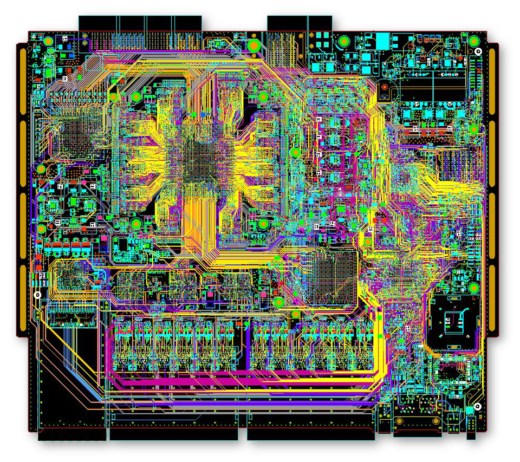 Design team:
Sauli Kunnas, Peter Kokko, Hannu Saarikoski, Paavo Perälä, Sami Jokinen, Juha Sarapelto, Jyrki Vuorinen, Jycke Sulka-aho, Matti Pulkkinen, Jyrki Nyyssönen, Päivi Vallin and Juha Ahvenainen
 Design flow used:
Xpedition® Enterprise (HyperLynx, FloTHERM, Valor)
 Design challenges:
Schedule: Team Layout (concurrent layout by multiple designers) was used to facilitate completion of the design within the required timeframe.
Technology: DDR4 was chosen vs. DDR3 to reduce total power consumption. Also, to control cost, micro vias, blind or buried via technologies were avoided in this design.
Power Integrity: Extensive power integrity analysis was required to explore side-to-side and side-to-back airflow options and extended temperature range up to +55 C.
Stack-up: Design adhered to very tight requirements regarding high-speed signals while using only traditional PCB technologies (no microvias, FR4 is used).
Judge's comments:
"Dense back to back DDR placement with only through vias on a large board"
"Awesome board with great use of concurrent Team Layout"
"Impressive layout and use of design reuse blocks from previous design to reduce the design schedule"
About the Technology Leadership Awards
Started in 1988, this program is the longest running competition of its kind in the EDA industry. In fact it is the industry's only award where design teams using Mentor's solutions receive recognition by an independent panel of experts for overcoming the most extreme challenges facing PCB design teams today. Just look at the winning designs from previous years to get a sense of the types of technologies and industry segments that are represented in this program. A listing of all of this years winners along with a Technology Leadership Awards webinar are both available for more in-depth information.
Please check back for the next blog in this TLA winner series for a closer look at the 1st place winner in the Transportation  & Automotive category.
This article first appeared on the Siemens Digital Industries Software blog at https://blogs.sw.siemens.com/electronic-systems-design/2018/01/16/behind-the-tla-winners-coriant-oy/