Products
Behind the TLA Winners: Aselsan
This is the third in a series of blog posts showcasing the winning designs from the 27th Annual PCB Technology Leadership Awards.
The runner-up in the Computers, Blade & Servers, Memory Systems category is Aselsan from Turkey.
Their design for a high-performance multi-processor computer for cloud computing, data centers and supercomputers included:
32 lanes of 19Gpbs connections between CPUs and GPUs across the board
Sockets for 2 CPUs, 4 GPUs, and 32 DDR4 DIMMs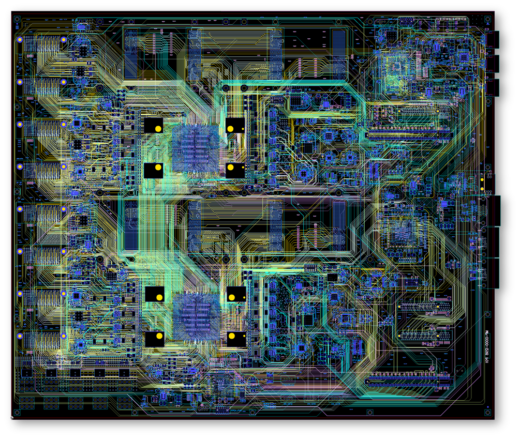 Design team:
Ahmet Erol, Fulya Ağirnas, Fatih Say, Emine Özer Türkay, Mustafa Algan
Design flow used:
Design challenges:
Power requirements: Design had to be capable of supplying power up to 3000W. The Power Distribution Networks included high currents up to 250A
Power integrity: Extensive power integrity analysis was required to validate the Power Distribution Networks (PDN's)
Schedule: Team Layout (concurrent layout by multiple designers) was used to facilitate completion of the design within the required timeframe
Judge's comments:
"BIG board! Short schedule!"
"3000 Watt power nightmare"
"Well done! A lot of layers "
About the Technology Leadership Awards
Started in 1988, this program is the longest running competition of its kind in the EDA industry. In fact it is the industry's only award where design teams using Mentor's solutions receive recognition by an independent panel of experts for overcoming the most extreme challenges facing PCB design teams today. Just look at the winning designs from previous years to get a sense of the types of technologies and industry segments that are represented in this program. A listing of all of this years winners along with a Technology Leadership Awards webinar are both available for more in-depth information.
Please check back next week for a closer look at the winner in the Industrial Control, Instrumentation & Medical category.
This article first appeared on the Siemens Digital Industries Software blog at https://blogs.sw.siemens.com/electronic-systems-design/2017/12/12/behind-the-tla-winners-aselsan/