Products
Behind the TLA Winners: Adcom
This is the second in a series of blog posts showcasing the winning designs from the 27th Annual PCB Technology Leadership Awards.
The first place winner in the Computers, Blade & Servers, Memory Systems category is Adcom from Israel.
Their FPGA-based hardware acceleration card uses two Xilinx UltraScale FPGAs as the main compute components, served by two 4Gb hybrid memory cubes connected by 15Gbps lines (total 480Gbps).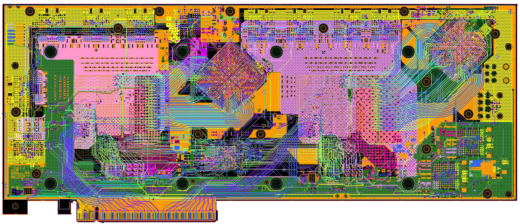 Design team:
Moshe Frid, Alon Kukuliansky, Nitzan Habler, Eli Moshe, Haim Anava, Doron K'Eliyahu, Lior Elgazar
 Design flow used:
 Design challenges:
Constraints: Tight constraint of just 28mV noise margin on supply rails at 0.95V and a target impedance on the PDN of just 0.28mOhms
Technology: New FPGAs required tight collaboration with the Xilinx design team since specs were unfinished and there weren't reference boards yet
Electro-mechanical: Thermal requirements – Server chassis had to house 8 identical PCIe cards pulling 300W each
Stack-up: Needed to carry a lot of current so needed a lot of copper – used thin cores with low dielectric constants (3.00 DK, 2.5mil thick), allowing them to still achieve 50&100ohm impedances on critical lines
Judge's comments:
"This is an awesome board! Great power distribution on layers 2 and 3"
"Innovative heat sinks, high routing density, complex FPGA"
"Awesome FPGA at 2577 pins"
About the Technology Leadership Awards
Started in 1988, this program is the longest running competition of its kind in the EDA industry. In fact it is the industry's only award where design teams using Mentor's solutions receive recognition by an independent panel of experts for overcoming the most extreme challenges facing PCB design teams today. Just look at the winning designs from previous years to get a sense of the types of technologies and industry segments that are represented in this program. A listing of all of this years winners along with a Technology Leadership Awards webinar are both available for more in-depth information.
Please check back next week for a closer look at the runner-up in the Computers, Blade & Servers, Memory Systems category.
This article first appeared on the Siemens Digital Industries Software blog at https://blogs.sw.siemens.com/electronic-systems-design/2017/11/30/behind-the-tla-winners-adcom/