Is Rigid-flex on Your Résumé?
A colleague of mine who manages a PCB design service bureau called recently asking if I knew of any rigid-flex designers who were available for a short-term contract. I did not—however, the request prompted me to research the demand for rigid-flex designers. A quick internet search of PCB design job descriptions revealed numerous opportunities that contained rigid-flex within the required skill set. For example:
Multi-layer, High Density Interconnect, flex, rigid-flex, and fine pitch BGA design experience
Prior to the advent of rigid-flex, when a multi-board product included a flex PCB (or multiple flex PCBs), the flex was usually assigned to a flex design specialist. The flex PCB was designed separately from the rigid PCBs, with physical connectors used to assemble the rigid and flex boards into a product-level design. The flex designer was familiar with stackup and material options along with the best practices for stiffeners and bends. There is after all a certain science to flex design that, when properly applied, can help ensure first-pass success. So how can a traditional rigid board designer who is not familiar with flex terminology, processes, and requirements ensure a high probability for first-pass success when assigned to a rigid-flex design?
As with any new skill, education on terminology and best practices along with access to tools that facilitate and ensure process compliance are key. For rigid-flex design, some of the fundamental best practices and guidelines include:
Stackup management – The stackups for the rigid and flex PCBs will vary; as such, the designer needs to manage them efficiently and ensure they are properly conveyed to the fabricator. A PCB design tool that supports region-specific stackups (not ideal) or board-specific stackups (preferred) will help simplify this complex task.
Board outline management – The multiple boards in a rigid-flex design need to be properly configured and managed throughout the design process. The ability to import and create multiple (and potentially complex) board outlines from mechanical CAD data automatically will both save time and reduce the potential for errors.
Supplier interaction – This aspect of rigid-flex design cannot be stressed enough. Feedback from the supplier on stackup, material, keepout regions, stiffener requirements, etc. will help ensure the design can be properly fabricated with high reliability.
3D design and verification – The ability to define the bend parameters, edit the design in 3D, view the bent state in the context of the enclosure, and perform 3D DRC greatly reduces the potential for a form or fit issue.
The above are just a sample of best practices and guidelines that a rigid-flex designer will need to become familiar with and adhere to in order to be successful. In a prior blog post entitled "Changing the Focus," I noted that ECAD tools are evolving to allow the PCB designer to work at the product level as opposed to just the PCB level. Design of a rigid-flex product requires both electrical and mechanical experience, and the ability to work with the ECAD data in the context of the product is essential.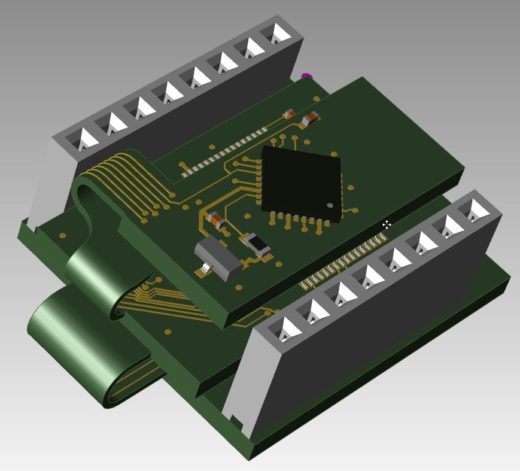 So is rigid-flex design experience a skill listed on your résumé? Have you recently been involved with a product that required a rigid-flex design? If so, was your first pass a success? Finally, do you have any advice to pass along to designers about to embark on their first rigid-flex design?
This article first appeared on the Siemens Digital Industries Software blog at https://blogs.sw.siemens.com/electronic-systems-design/2016/12/12/is-rigid-flex-on-your-resume/