Change management enhanced with advanced collaboration capabilities
Modern cars are vastly more sophisticated than even their recent predecessors. An explosion of electrical, electronic and software enabled features over the last ten years has driven automotive complexity to new heights. Electrical and electronic (E/E) systems and embedded software are responsible for or involved in nearly every vehicle feature and function, including everything from acceleration, braking and steering to infotainment and advanced safety systems. The E/E systems and embedded software have grown enormously complex as they have become more and more critical to vehicle functionality.
Raw complexity growth, however, is also being compounded by the increasing cross-domain nature of vehicle systems. A growing number of vehicle features and functions rely on a combination of domains, including the E/E, embedded software and mechanical domains. As a result, engineers are tasked with managing both highly sophisticated systems and their complex interrelations throughout the vehicle.
The immense growth in E/E systems complexity means that engineering teams must track and manage hundreds of thousands of components, from electrical wiring to ECUs and software applications, to ensure design progress and deliver quality results on time. As systems continue to integrate across domains, tracing these designs and managing changes becomes even more difficult. Design changes can be initiated from any one of a multitude of design teams across engineering domains. And each of these changes can have wide-ranging effects on system and vehicle functionality, altering or even invalidating implementations in related domains.
Maintaining a robust change management methodology is crucial to the development of high-quality, sophisticated vehicles at the pace required in the industry today. A robust change management methodology should be able to track and manage changes as they are propagated across all affected vehicle systems and domains. Furthermore, it should be able to track the implementation of changes in these various systems and domains, and check that the changes were implemented correctly. Finally, a change management methodology needs to help manage the verification and validation of updated designs after changes have been implemented.
Change management through automation and the digital thread
The Capital flow is built on a robust digital backbone that enables model-based engineering (MBE) throughout product definition, design, production and maintenance (figure 1). This backbone, or digital thread, manages electrical and electronic (E/E) design data and models, and provides a platform for electrical design. As engineers progress through E/E development, the robust digital thread stores and maintains the various models that are created, such as architectural or network models, as well as other assets including libraries, design rules, manufacturing patterns and more. This digital thread can supply this information back to design applications when needed, and integrate with adjacent engineering disciplines and the supply chain to manage the end-to-end electrical flow. This ensures that engineers throughout development work from the same source of truth that is constantly updated.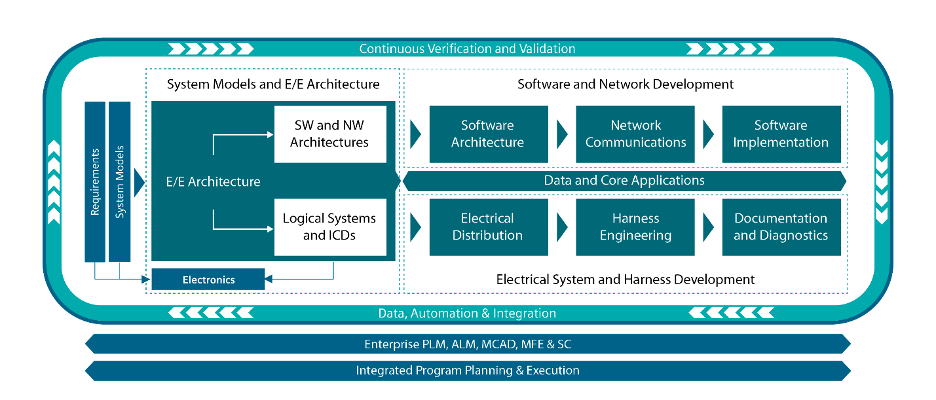 The recent addition of comments, notes, checklists and notifications into Capital's design environment further improves change management processes by providing structured and traceable communications between engineers. Rather than relying on emails, phone calls, spreadsheets and other ad hoc methods of communicating design changes, integrating comments, notes, checklists and notifications into the design environment ensures that important information is organized and easy to find, thus reducing feedback loops. Furthermore, integrated communications are captured in data, allowing automated checks for open comments or incomplete checklists before a design can be released.
In sum, these new collaboration features enhance the benefits of the automation and digital thread capabilities already present in modern electrical systems and wire harness engineering software. Frequent collaboration and communication among engineers will only become more important as complexity continues to grow in the vehicles of tomorrow. ADAS, electrification, autonomy and connectivity will all bring unique challenges to vehicle development. As engineers work to overcome these challenges, consistent and effective communication will be critical to their success.
To learn more about Capital's new change management capabilities, download our whitepaper Transform electrical change management with advanced collaboration capabilities.
You might also be interested in:
This article first appeared on the Siemens Digital Industries Software blog at https://blogs.sw.siemens.com/ee-systems/2021/02/12/change-management-collaboration-capabilities/