Products
Accelerate Your Digital Transformation In Sourcing and Supply Chain Management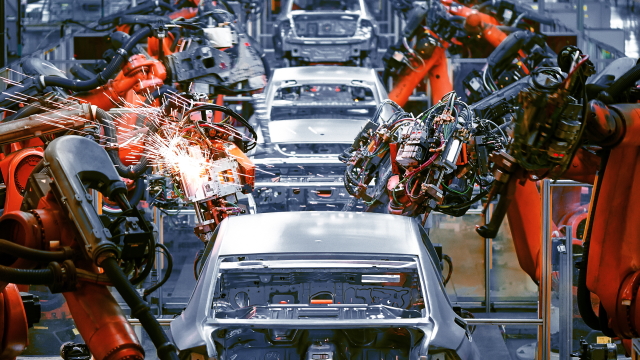 Today's supply chains are incredibly complex, each one containing a digital thread of information, data, and established processes. The global landscape is ever-changing, and organizations can no longer react to emerging trends. They must digitally transform to become proactive in their approach to risk.
Discussions around digital transformation and supply chain resilience are common, but reaching these goals is a unique journey for each organization. Read on to discover how innovations in digital twin technology and real-time intelligence are paving the way forward.
Cross- organization Collaboration and Transparency in Global Supply Chains
Today's digital technology is redefining visibility in logistics. It simplifies the interaction of all the players in the process chain: suppliers, carriers, service providers, and customers. And digital technology is what makes end-to-end supply chain visibility possible in the first place.
The modern automotive industry is transitioning from traditional combustion vehicles to electric, autonomous designs. This evolution creates its own unique challenges and adds unparalleled complexity to both product designs and global supply chains to support them.
Cloud-based supply chain control tower solutions offer the digital infrastructure for cross-enterprise collaboration in logistics. They create the framework for processes that sync perfectly, regardless of the systems and solutions that are already in use in house. Siemens control tower solutions offer supply chain management and real-time monitoring features that can help organizations avoid unplanned changes or disruptions in their shipping processes.
Realizing Efficiency, Cost Reduction and Sustainability in Digital Logistics
Another example is a digital twin. It allows for the precise replication of physical assets and processes, providing the opportunity to test and validate real-world concepts in the digital space.
This mirrored form of the real world provides unparalleled insights that allow teams to make precise adjustments with reliable expectations of the outcomes. Today's organizations who leverage the comprehensive digital twin from Siemens in product, production, and logistics, are able to anticipate issues before they arise and proactively address them.
These applies to multiple areas within digital logistics as well:
Product Design and Validation
Production Design and Optimization
Manufacturing
Supply Chain and Logistics
Today, supply chain and logistics teams are not involved in discussions about product viability, operability, and Design for X (DfX). But at this point in time, during the product design phase, 80% of a products environmental impact is determined.
A digital twin allows organizations to "Shift-Left", meaning include analysis and full visibility into all the supply chain implications already in the product design phase. This way, all parties get the same understanding of potential downstream costs, know with certainty that components will be available when and where needed, and achieve their sustainability goals.
In conjunction with digital twin technology from Siemens, Supplyframe also offers access to real-time intelligence that leads to better decision making as well. Whether organizations are seeking to enhance and streamline their BOM validation, or identify alternate parts based on risk factors like pricing and lead times, Supplyframe's DSI solutions connect sourcing and engineering professionals to the intelligence they need.
These solutions also encourage cross-functional collaboration, with the ability to work form a single source of truth, track changes within a BOM, and send messages within the platform.
The Modern Design-to-Source Ecosystem
Today's consumer products are more complex than ever, creating highly sophisticated supply chains. As complexity increases, so does the risk associated with factors ranging from lead times to pricing, geopolitical uncertainty, and more.
Supplyframe's Design-to-Source Intelligence (DSI) solutions leverage a global network of over 12 million sourcing and engineering professionals whose daily activities fuel commodity and component-level insights through an AI-powered DSI Platform.
According to Supplyframe data, 80% of a product's lifetime risk is "locked in" during the design phase of a product, creating a significant opportunity for organizations to mitigate all issues proactively by choosing better components from the beginning.
Organizations with access to real-time intelligence and reliable forecasts will reap the rewards of a more stable, efficient, and sustainable supply chain, thanks to better decision-making across the entire product lifecycle.
These advantages are part of a broader ecosystem facilitated by Siemens Xcelerator, an open digital business platform. As a recent addition to this, Supplyframe offers real-time intelligence to make better decisions and proactively mitigate risk from the beginning of the product lifecycle.
To learn more, visit our booth at the Automotive Logistics & Supply Chain Digital Strategies Conference in Munich from November 6-7th. You can find us at the SZ Tower in Booth #7. We look forward to seeing you there!
This article first appeared on the Siemens Digital Industries Software blog at https://blogs.sw.siemens.com/digital-logistics/2023/10/31/accelerate-your-digital-transformation-in-sourcing-and-supply-chain-management/