Products
Highlights from AWS Re: Invent 2022 – Siemens and AWS collaboration for "you dream it, we make it"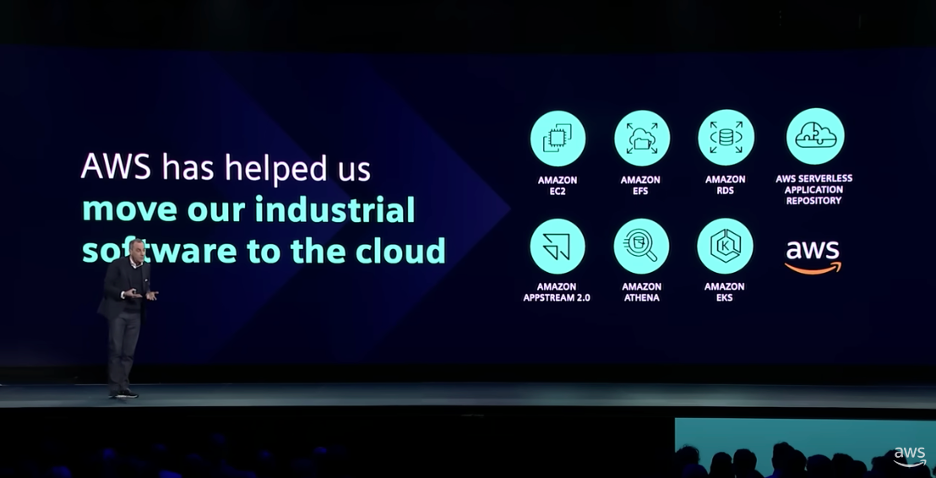 Source: AWS Re:Invent 2022
A fortnight ago, over 50,000 technologists and business leaders joined AWS for their annual gathering of users at AWS re:Invent 2022 conference in Las Vegas to discuss and learn about the latest innovations in the cloud computing world. I was one of the 300,000 registrants that attended virtually. The virtual sessions were rich in content and thought leadership. To register for the on-demand version, go here.
The common theme across the re: Invent sessions was sustainability, cost reduction, flexibility, harnessing the power of data and innovating faster.
One of the conference's highlights was the Keynote by Adam Selipsky, CEO of Amazon Web Services (AWS), featuring Cedrik Nieke, CEO of Siemens Digital industries. Adam talked about the pressing issues, including economic uncertainty, chip shortages and energy prices and the latest AWS innovations primed to address them. He said, "At AWS, we also are taking a leading stance on sustainability, personally to me, I think it is an issue of our generation". I could not agree more. Adam shared AWS' commitment to powering its operations with 100% renewable energy and committing to becoming water positive by 2030.
In addition, what came across is AWS's long-term investment on behalf of our mutual customers. Their optimization and innovation on compute, storage and networking infrastructure services support the various workflows. Flexibility is offered through the 600 EC2 types from which customers can select the most optimal combination of computing resources for their workflows. For example, Hpc6a EC2 is optimized for compute-intensive workflows like circuit simulation. Also discussed was the Hpc7g EC2 powered by the Arm-based Gravition3E processor, providing an improved price and performance ratio.
Exciting talk by Cedrik about how Siemens works with our customers to shape the next industrial revolution 4.0. And this revolution needs to be more environmentally sustainable and socially responsible. He also said, "Siemens working with AWS is helping scale our customer's ideas – you dream it, and we make it". The three salient points he made: First, collaborating with AWS, we have taken Siemens software (simulation, planning, collaboration…etc.) into the cloud and made it available so that everyone can use it, including enterprises, startups and system integrators. Second is enabling our customers to unlock and tap into vast data to unleash value using Siemens Xcelerator. And the third point was helping our customers to build and scale their ideas by making it easier and faster to build an application using Mendix low-code Platform. 
Connecting the dots from the various talks I attended: chip companies can mitigate the impact of chip shortage by maximizing their organizational efficiencies and improving productivity. One way is for chip design and verification teams to use on-demand cloud computing infrastructure customized to their exact workflow and performance needs. Any misconfiguration may result in excess costs or painfully long simulation runtimes, impacting time to market (TTM). A second way is to leverage high-performance compute tools that are easy to use, so design teams can spend more time experimenting, innovating, and catching design issues and less time managing their on-prem compute infrastructure. AWS provides a complete set of HPC (High-Performance Computing) capabilities, from job orchestration and compute cluster management to file systems that scale to millions of IOPS. Chip design and verification teams can create a high-performance, cost-effective, optimized compute environment with these AWS resources. In collaboration with Amazon Web Services (AWS), Siemens has made cloud-ready AMS verification solutions available. For example, learn how cloud-ready Analog FastSPICE on Amazon Web Services (AWS), a component of Siemens Xcelerator, helps chip design teams accelerate their SOC verification to enable design innovation and achieve optimal PPA (Power, Performance and Area).
Some recommended sessions:
This article first appeared on the Siemens Digital Industries Software blog at https://blogs.sw.siemens.com/cicv/2022/12/23/highlights-from-aws-re-invent-2022-siemens-and-aws-collaboration-for-you-dream-it-we-make-it/