Corporate
Take the free Simcenter Amesim Certification today!
This certification provides you with the opportunity to earn an industry-recognized credential in Simcenter Amesim, the leading scalable system simulation software for design analysis and system performance optimization.
Help build your resume and demonstrate your knowledge of core system simulation skills with this online exam, once passed it gives you a certification and digital badge that can be displayed on your LinkedIn and resume. The certification distinguishes you within the system simulation community and helps market Amesim skills to advance your career.
To take advantage of this free certification, head to https://cadcertification.sw.siemens.com/simcenter-amesim/ and follow the instructions below.
If you don't already have an account, watch this video below for help with registration. After registration follow the directions below the video to continue on to the exam.
Head to https://cadcertification.sw.siemens.com/simcenter-amesim/ . The information on this page will help you get prepared for the exam, including where to download the latest version of the Simcenter Amesim software, the Simcenter community where you can ask experts for help, and the Simcenter blog where you can read articles that highlight tips and techniques.
Once you're ready, under the certifications tab click on the Simcenter Amesim Certification link.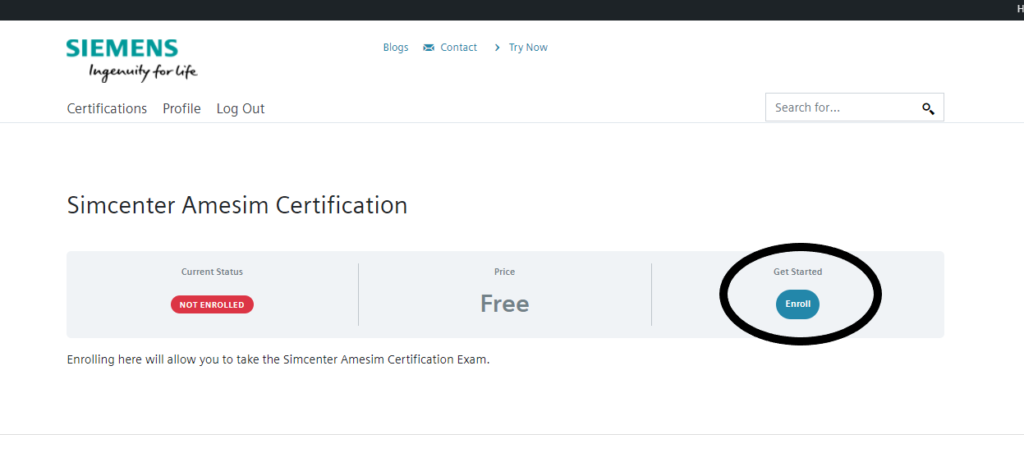 From here, click the enroll button.
After enrolling, click on the information section and read the information in the below screenshot.
Clicking continue will take you to the exam.
Siemens also offers NX and Solid Edge certifications, which can be found here, and will be offering Model Based Systems Engineering and Digital Transformation certifications soon as well!
This article first appeared on the Siemens Digital Industries Software blog at https://blogs.sw.siemens.com/academic/take-the-free-simcenter-amesim-certification-today/