Student Interns Beyond the Classroom: Izzy Thalman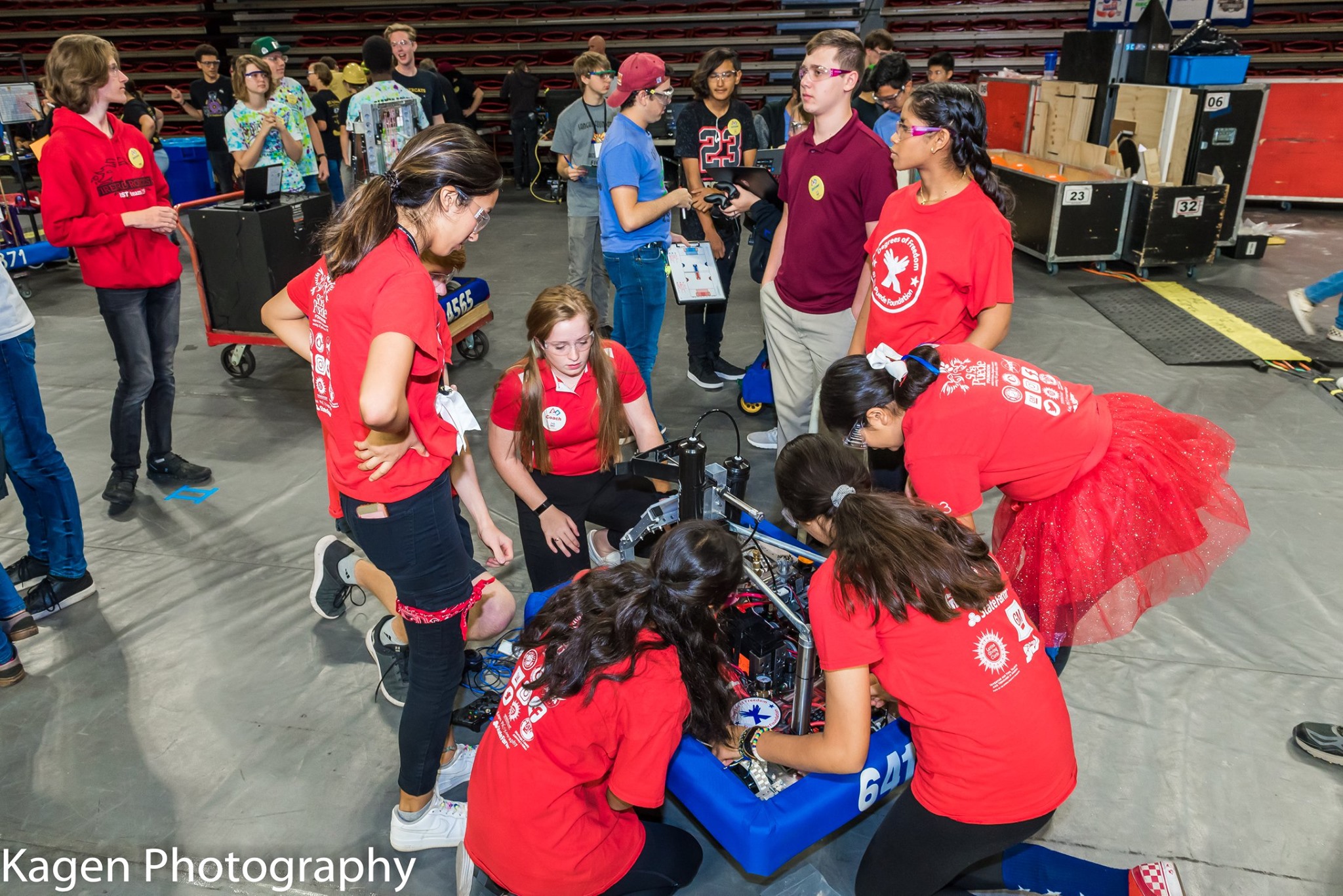 Izzy Thalman, who was once a young girl interested in STEM and attending Introduce a Girl to Engineering day in west Chicago, is now an intern with Siemens in mechanical engineering. She is a catalyst for women in STEM, as she is mentor to FIRST Robotics team #6413, Degrees of Freedom as well as being a full time robotics engineering student at Arizona State University. Izzy is passionate, forward-thinking, and a perfect example of student success from classroom to industry. Read on to learn a little more about her:
Where did you attend college, what was your major, and how did you become interested in your field of study?
I currently am attending Arizona State University as a Sophomore studying Robotics Engineering. My interest in robotics stems from participating on a competitive robotics team in high school and the desire to be a versatile engineer. I do not necessarily want to use my career to build robots, but I do want to have a solid understanding of electrical-mechanical design and programming.
What drew you to Siemens?
I was drawn to Siemens when I was a kid, as I had the opportunity to attend a Introduce a Girl to Engineering Day in West Chicago. It definitely sparked an interest in engineering that I did not previously have. I visited Siemens a couple times while in high school and one of my mom's managers always said, "As long as you learn how to do NX and CAD you have a very good chance at getting to work here." My intern position was actually in mechanical engineering. In my everyday life I do competitive robotics, and I wanted to originally do Robotics so I could understand a wide breadth of programming, mechanical, chemical, and industrial engineering. I enjoy CAD a lot!
What are 2 or 3 key things you learned while interning for Siemens?
A couple of things I learned while interning for Siemens: 1) Ask a lot of questions. 2) Any opportunity to use PLM software as a young student in college is a priceless experience. Getting to learn how to use SAP, Teamcenter, and Salesforce so early in my education is definitely what sets me apart from my classmates.
What brought you to the decision to stay with the company and is what you are doing now different from what you did as an intern? Is it similar?
I am still an intern, or hopefully I will still be an intern. I am currently still looking for a summer internship position with Siemens and have my eyes on the Engineering Leadership Development Program in Georgia. I really enjoyed my last summer with Siemens and was so thrilled with everything I learned. I hope I have the chance to continue to learn and grow as an engineer with Siemens.
What is the most impactful/ rewarding part of working in your specific field and for Siemens?
I am a bit of a nerd when it comes to being efficient and making things more efficient so when I was working on a project last summer and was able to modify my process to shave approximately 10 minutes off of it, there was a little part of me that was extremely satisfied. That was another moment that really sparked some interest for me to investigate system process engineering as a potential job path.
Tell us more about what interests you about Women in STEM.
Siemens is a very female forward-thinking company. My boss was a woman, and there were many women on my team. I enjoyed that environment and getting to work with strong and smart women! I do mentor an all-girls robotics team, ranging from 8th -12th grade, with FIRST Robotics! We are working on building a robot and all the girls are sponsored by Siemens! They've all worked so hard and I couldn't be prouder of them. My view of women in STEM has changed as I've gotten older, and I've learned how important it is to work together as women. There's still a lot of work to be done, though.
To learn even more about Izzy's work with FIRST Robotics, click here.
This article first appeared on the Siemens Digital Industries Software blog at https://blogs.sw.siemens.com/academic/student-interns-beyond-the-classroom-izzy-thalman/