Corporate
Spaceport America Cup Student Competition Soars to 30,000 Feet, Now with Siemens Software Partnering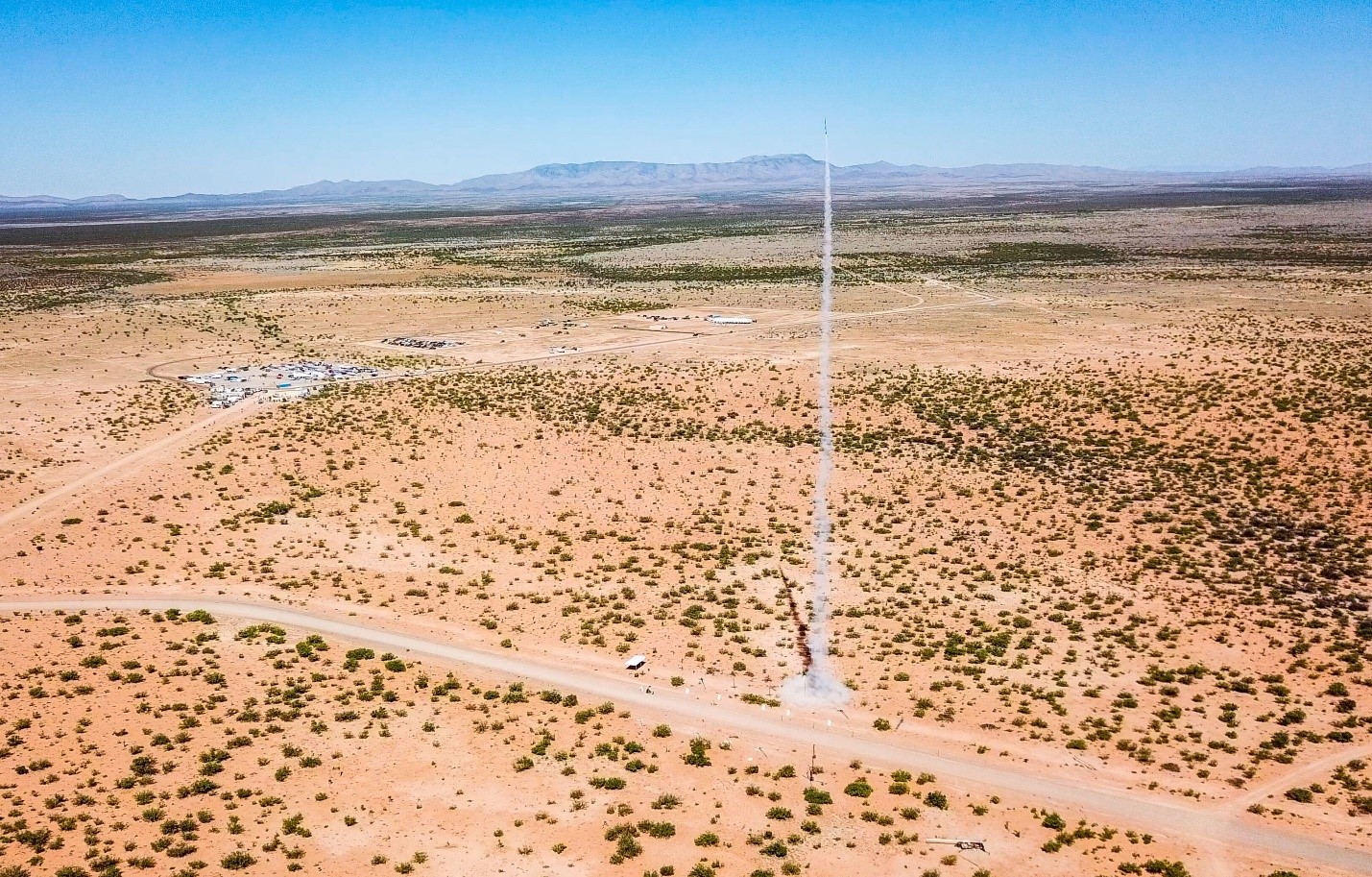 Here we'll discuss:
Spaceport America Cup 2019 teams group photo, with a 'forest of rockets'.
Siemens commitment to workforce development
Siemens Digital Industries Software's academic partnering staff recently attended the Spaceport America Cup (SA Cup) for the first time as a sponsor. We are very excited to be working with these teams to provide software and training grants to help team excel in the design and manufacturing of their rockets. Leigh Anderson from the global academic team and Chris Penny from the US academic team met with virtually every team of 120 teams from 14 countries, and Chris gave two workshops on Siemens software featuring demonstrations in STAR-CCM+ for aerodynamic analysis.
Chris Penny (Siemens DI) demonstrating STAR-CCM+ rocket simulation during a breakout session at Spaceport America.
Selfie of Dan Hicks (CEO of Spaceport America) with Leigh Anderson (Siemens Digital Industries Software, Manager of Global Academic Competitions), discussing a stronger partnership for 2020 and beyond.
We selected this competition to sponsor due to the sophistication of the student challenge, the opportunity to engage with and support these students, and the high level of industry support (many of which use Siemens software).
Siemens Software is pleased to co-sponsor this inspiring talent-development event with the other sponsors, many of which are also Siemens software customers in the aerospace industry.
The aerospace industry makes a substantial effort to recruit the excellent engineering talent the competition – the 1st day is for technical/safety inspections, poster-design booths, design-presentation judging, and recruiting booths – at the Las Cruces Convention Center. The remaining days of the event are at the Spaceport America launch site which also include recruiting.
A great example of how this competition prepares students for the workforce could be seen when James Ferrese (University of Washington) who led the development of an advanced plasma actuator payload obtained on-the-spot job offers from Raytheon and Northrup Grumman after their design presentation.
Competition overview and results
The Spaceport America Cup is designed around IREC rules – the Intercollegiate Rocket Engineering Competition for student rocketry teams from around the world. Students design, build, present to judges, and launch their solid, liquid, and hybrid-fuel rockets to target altitudes of 10,000 feet (~3,000 meters) or 30,000 feet (~9,000 meters). There are several different classes of rocketry in the competition with the common metric of hitting their target altitude as closely as possible, with extra awards for the most creative and effective payloads.
The six altitude-accuracy competition categories are:


10,000 foot Commercial Off The Shelf Components


10,000 foot Solid Rocket-Student Researched and Developed Components


10,000 foot Hybrid/Liquid Rocket-Student Researched and Developed Components


30,000 foot Commercial Off The Shelf Components


30,000 foot Solid Rocket-Student Researched and Developed Components – a very sophisticated and challenging category


30,000 foot Hybrid/Liquid Rocket-Student Researched and Developed Components – the most sophisticated and challenging category


The commercial spaceport facility, Spaceport America, hosts the competition, near the U.S. government's White Sands Missile Range. Sharing this unique controlled airspace allows student rocketeers to send their rockets to heights that simply can't be permitted in many areas of the world such as densely populated Europe or much of the U.S. For an overview video about the competition, see this video about SA Cup 2018.This university aerospace competition goes far beyond typical low-altitude model rocketry competitions, literally, and regards design-engineering skills required.
The sudden acceleration and sound of these powerful student-built rockets ripping through the air skyward is stunning to see and hear in person!
The 2019 Spaceport America Cup Judge's Choice and Overall Winner Award went to the U. of Washington from Seattle in the U.S. competing in the 30,000 feet custom-engineered category, with 2nd place in the same most sophisticated category going to the U. of Waterloo from Waterloo Canada. University of Minnesota Twin Cities won the next most sophisticated category, for 30,000 foot solid-fuel, custom-built rockets.The special payload award was won by the U. of Louisville from Louisville Kentucky for their folding-wing UAV aircraft payload.The special Charles Hoult Award for Modeling & Simulation went to the Georgia Institute of Technology which is a Siemens Software strategic partner school.
The U. of Washington team celebrating their Overall Winner Award success – here on the stage are a subset of the 150 active team members.
As evidence of the sophistication of student rocketry, a special recognition goes to the University of Southern California team's record-breaking rocket launch on April 21, 2019, arranged separately before the SA Cup event. USC's team is the first university team to launch a rocket that was estimated to have reached the Kármán Line, the edge of space! The estimated altitude reached was an amazing 103 km (64 miles, ~338,000 feet).
More pictures from the event can be seen below (skip to this).
Why students are turning to Siemens Digital Industries
During our discussions with teams, students agreed that there were numerous ways.
For example, with such short design cycles, Computational Fluid Dynamics (CFD) analysis has always been a challenge as students need to understand CFD theory and principles, the subject of the design, learn the CFD software, learn how to build a simulation and appropriate mesh, build the sim, and check that the setup (mesh, boundary conditions, models used, etc) is correct. This can be a massive time investment and if you don't have capable, intuitive software with access to training or relevant technical resources. CFD can be extremely difficult for students new to the discipline. With this in mind, Siemens' Chris Penny developed a pre-built rocket simulation template in STAR-CCM+ that takes care of many, if not all these issues.
Screen captures of the rocket template in action in STAR-CCM+. The upper screen showing external aerodynamic effects and the lower screen showing details of the exhaust plume behind the rocket.
This simulation connects a pre-built parameterized 3D CAD model of a Spaceport America Cup style rocket – that is connected to the meshing setup, models, boundary conditions, reports, and scenes. This means that the rocket geometry can be easily changed to match the team's own rocket. Then, it feeds through the rest of the simulation setup automatically. An adaptive mesh refinement is also used to automatically refine the mesh where aerodynamic shocks occur. A variety of atmospheric pressures, nozzle pressures, and external flow speeds can be used without the user needing to worry about changing mesh refinement zones.
Electrical system and wire-harness design can be improved with Vesys software due to its ability to handle harness drawings/schematics, specifications of connectors, clips, seals, etc., with integration into multiple CAD packages for calculation of 3D wire-lengths in the context of your rocket frame.
A student design printed circuit board for rocketry.
Printed Circuit Board (PCB) design is supported with PADS Professional with HyperLynx. PADS Pro handles schematic design, a powerful correct-by-design auto-router, and the ability to simulate, and analyze mixed-technology circuits. PADS' powerful auto-router, combined with many types of electrical integrity checks using the companion tool HyperLynx saves time and re-fabrications.
Composite construction time and material waste can be reduced through the use of Fibersim, as it can be used to design composites parts such as the ply stack and orientation for each ply.Uniquely, the software can highlight fabrication flaws using simulation before even making the parts. The software understands how carbon fiber drapes over complex surfaces, finding voids, folds or other problems to prevent by adding cuts or changing fiber orientation.) It can compute the flat pattern cut-outs needed even for complex curves such as found in rocket nosecones.
It was also found that many student teams are having problems with their existing 3D CAD software not being able to handle their entire CAD assemblies – NX has industrial-strength capability to interact with thousands of parts… even on a laptop. NX also allows students to easily move from CAD to Finite Element Analysis (FEA) within one software suite. Within NX SimCenter, NX Nastran is the premier finite element solver for performance, accuracy, reliability and scalability, with both linear and nonlinear structural methods. Having these capabilities is critical to enable students to explore more designs and find the right balance of weight and strength. Additionally, having the capabilities to handle both 3D printing and generative design is a huge differentiator.
A rocket falls in several pieces after a catastrophic failure just a few seconds after launch, illustrating the difficulty of the Spaceport America Cup challenge, and the necessity of using professional engineering software tools.
If your rocketry team is interested in obtaining Siemens software and access to training at no cost, please submit an application here. We look forward to working with you!
Closing remarks
In summary, we were very impressed with the high level of design challenge and the professionalism of the SA Cup organizers.Also, there's ample opportunity to improve students' engineering software skills and designs with the aid of Siemens software and training grants. We'll be supporting this excellent event going forward, at higher levels, with more training workshops and judge volunteers.
Additional Photos from the 2019 Spaceport America Cup















This article first appeared on the Siemens Digital Industries Software blog at https://blogs.sw.siemens.com/academic/spaceport-america-cup-student-competition-soars-to-30000-feet-now-with-siemens-software-partnering/