Corporate
Siemens Solid Edge Bootcamp: Developing creative concepts by working against the clock and using new tools
Designing new products should also consider how to bring these to market, what materials to use, aspects of sustainability, customer needs, and current trends. Siemens Digital Industries Software partnered with the University of Birmingham to host an engineering design competition that captured all these aspects. The presented projects and designs exceeded everyone's expectations.
The task for this years' Siemens Solid Edge Bootcamp at the University of Birmingham was to design a piece of garden furniture that should fit a certain purpose, e.g. a table that can withstand a 200kg load or an ornament that does not collapse when subject to wind, etc. At the same time, the designs should match today's market needs in terms of sustainability, limited space, cost-saving production, and flexible delivery. The Camp took place from 24th to 29th January, involving three days of face-to-face learning, and three days of independent study. Students had workshops on Design Thinking, Marketing, Solid Edge Software, and Presentation Skills – all joined up with team building activities and plenty of opportunities for questions.
Altogether 47 students worked together in 10 teams to present their ideas to a jury consisting of Siemens representatives. Students developed design skills, creativity, and teamwork skills for the chance to win £300. All participants had total freedom in the design of the product – it could be any shape, size, color, but needed to reasonably fit in a spacious garden (approx. 10m x 10m). In addition to modeling the concept in the Siemens 3D CAD software Solid Edge, the teams were to keep in mind the following criteria: Overall design (aesthetics), materials chosen, marketing plan (a social media campaign, leaflets, billboard poster), presentation skills and a go-to-market strategy (how do you plan to manufacture, build, and sell your products? Who is your target market?)
"All teams came up with really innovative and creative ideas, and we were blown away by the professionalism and presentation skills each team showed in their final videos," says Jodie Bird, Entrepreneurial Skills Officer at the University of Birmingham. The jury in the end decided that Team Capsule did the best job. The five students Ching Ng, Ka Mok, Siu Leung, Tim Lok Fong-Bennett, and Sarah Elizabeth Page coming from different faculties like mechanical engineering, nuclear science, and physiotherapy, not only came up with the most innovative design but also with a great product presentation by video.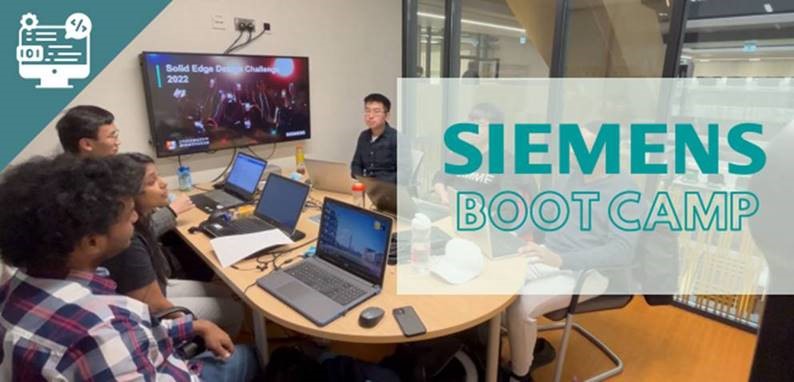 Digital tools like Solid Edge can help to come up with a solution faster
"Our idea consists of two recycled-plastic, low chairs and a coffee table with a compact parasol that could be neatly pieced together to form a sleek high table. It is aesthetic, durable, social, and compact — meeting the desired features we identified in our market research of consumer and housing market trends," Ching Ng summarized the concept. Fong-Bennett adds: "By using Synchronous Technology, a direct modeling technique being implemented directly into Solid Edge, we were able to create, refine, animate, and structurally test our design in a short time frame." From the BOM material and pricing lists that could be easily accessed in Solid Edge, the team was also able to calculate manufacturing costs to formulate a viable business model and eventually, a business growth plan.
And the winners are
Besides Team Capsule, also Team Deluxe Garden, and Team Wabi Sabi qualified as finalists, all were questioned on their ideas before the winner was chosen. Team Deluxe Garden created a timber gazebo that includes a sofa, fire pit, and detachable sides so it can be used year-round. Team Wabi Sabi created a floating foldable chair influenced by the Tensegrity design made from Bamboo. Team Capsule developed a strong, inexpensive marketing approach for a small start-up after listening to test customers. Their strategy involved using augmented reality, strategically located launch events for the public to interact with the furniture and to increase the social media presence of the brand. "Besides the quality of the Solid Edge design, I was quite impressed by the presentation skills of all teams", reports Ara Shikhalislami, Business Development Consultant at Siemens Digital Industries Software. "Also, the 8-minute pitch video was more than we expected, with delivered excellence."
Four days of hard and intensive work
When asking the teams about their biggest challenge, all of them answered: working against the clock and at the same time applying completely unfamiliar concepts or software tools. In true overall teamwork fashion, Team Capsule even worked with another team to learn how to use Solid Edge. This collaboration assisted in learning the software much faster than on their own. Siu leung from Team Capsule: "It was an invaluable experience, I learned so much having no prior experience with marketing, business models, and design technology. So, thanks to Siemens and Birmingham University for organizing the camp."
Paul Abbott, Business Development Consultant at Siemens IT Solutions and Services Ltd (UK) at Siemens: "We really tested their critical thinking and communication skill set, noticing of course the difficulties due to language barriers. As the week progressed, most of the teams got better at giving clear, constructive feedback to each other and delegating. This allowed everyone, in the end, to work through the given tasks faster."
The main takeaway for all participating students is the knowledge they have now gained on Siemens Solid Edge Software, along with a number of essential entrepreneurial skills such as teamwork, presentation skills, marketing, and video editing.
This article first appeared on the Siemens Digital Industries Software blog at https://blogs.sw.siemens.com/academic/siemens-solid-edge-bootcamp-developing-creative-concepts-by-working-against-the-clock-and-using-completely-unknown-tools/