Siemens Outreach Connects Thousands of Students to STEM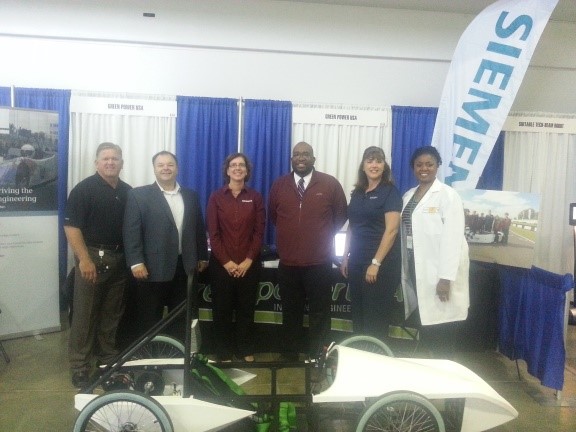 A day of Siemens Science Discovery was held in Memphis, Tennessee, on Tuesday, October 27, 2015.Through a collaborative effort of Siemens Building Technologies, the Siemens Foundation, Discovery Education and Shelby County Schools, industry and science exhibits were made accessible to K–12 students, inspiring students to explore science, technology, engineering and mathematics (STEM) as career paths.
Siemens PLM Software displayed a Greenpower Formula 24 electric car and its 3D Solid Edge CAD models.The students and teachers of Shelby County Schools were able to have a close look at what the Siemens sponsored Greenpower program can provide for hands-on education in science and engineering.
The Joint Leadership Development Conference (JDLC) is an annual Alabama event aimed at preparing students for college and career success.High school students who are involved with JROTC programs, Career Technical Student Organizations [DECA, FBLA, FCCLA, FFA, HOSA, SkillsUSA, and TSA], and the Jobs for Alabama's Graduates programs participated.
The conference is the largest non-athletic gathering of youth in that state with more than 6,800 middle school and high school students attending this year. Teachers and students engaged with Siemens on Greenpower, Solid Edge and CAD design and assembly.Using a tablet, students manipulated the Solid Edge Greenpower F24 car model.
Visit the Solid Edge Student Resource Page for free Solid Edge software and Greenpower training materials.
The Solid Edge team have also been busy with other groups of students, learn more below:
Solid Edge Streaming Pilot Reaching 5th Graders
Project-Based Learning – Shaping Futures
Also in the News
UGS College of Yancheng Institute of Technology (YCIT) a specially created college focusing on training students in the use NX & Teamcenter to serve the Chinese market is celebrating its 10 year anniversary.
We also have a new case study from Japan for Chuo University
University of Michigan The entirely student-run University of Michigan Solar Car Team is heading to the Outback for the 2015 Bridgestone World Solar Challenge. Learn about the story of Andy Swiecki – UM alumnus and member of the first solar car team's mechanical engineering team that ensured the vehicle's reliability.
Curriclum Materials
The last 6 months have seen a hive of activity in terms of new curriculum additions:
Tecnomatix Tutorials from TU Darmstadt in Germany
Mechanical Engineering Senior Capstone Design Course from Penn State University
Fewer students study STEM fields in college/university, and many graduate without industry experience and are underqualified for the professional world. Learn how Siemens' white paper addresses the STEM skills gap and propose practical solutions to overcome the challenges.
This article first appeared on the Siemens Digital Industries Software blog at https://blogs.sw.siemens.com/academic/siemens-outreach-connects-thousands-of-students-to-stem/