Corporate
Preparing for the Real-world with Industry Certification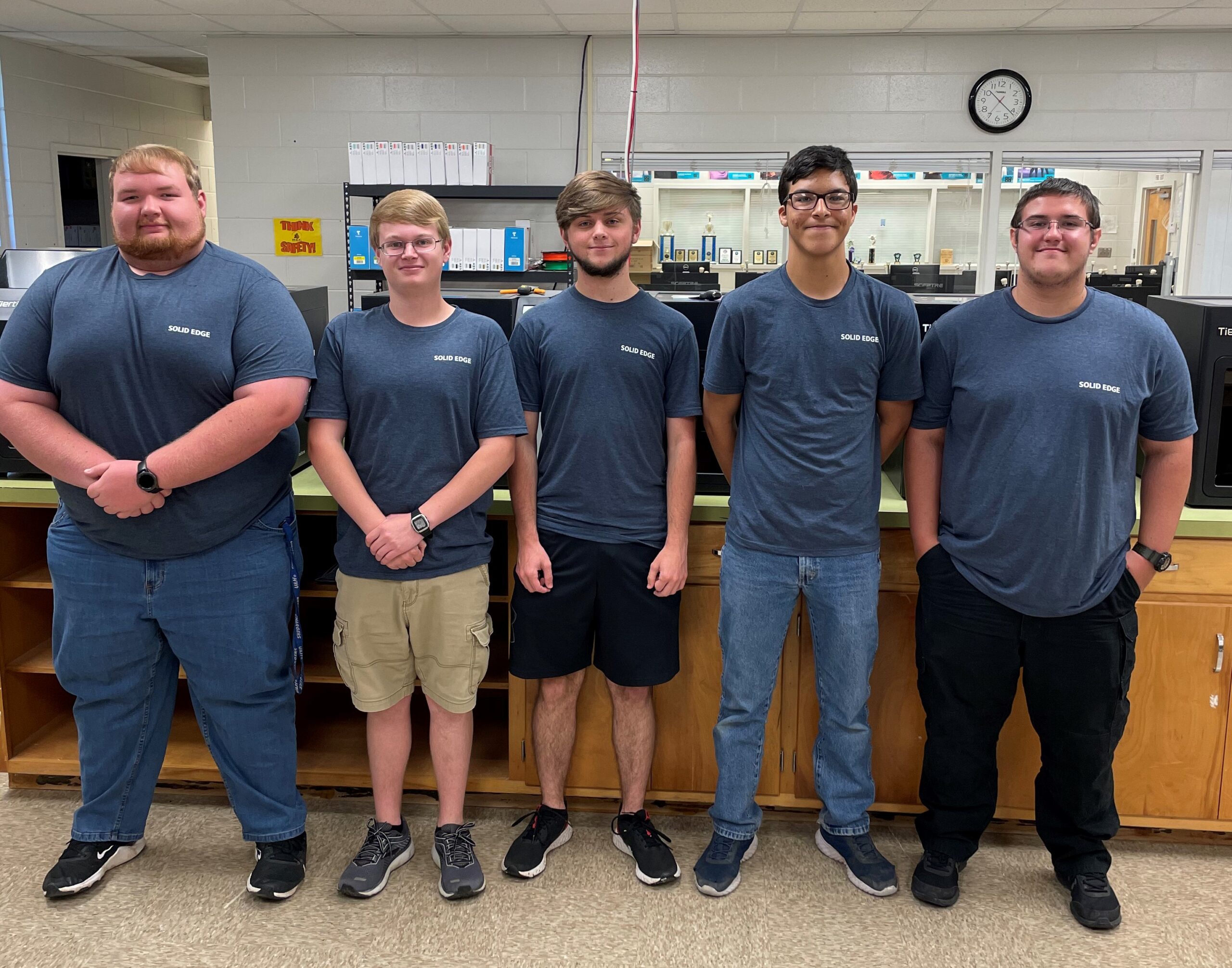 Recent graduates of CATA's Engineering Technology program and newly certified Solid Edge Mechanical Associates took some time to share their inspirations and aspirations for future careers in engineering. And they have graciously allowed us to summarize and share their responses in this blog post.
Andrew Hilburn,  Andrew Tucker and Mason Gay, graduated with honors from CATA just a few short weeks ago. They are all heading to the University of Alabama in Huntsville this fall to further their engineering education in electrical, mechanical and aerospace engineering, respectively. Like their former classmates, Austin Cadiere and Antonio Lopez entered CATA's Engineering Technology program while in the 10th grade to explore the world of engineering. Although they won't complete the program for another few years, they too have achieved Siemens industry certification.  A credential that validates proficiency with Solid Edge software and provides distinction within the engineering community.
The engineering technology class at CATA is an elective, but it does not have an open enrollment process; students must apply for a limited number of available spots. Having good grades is an important part of being accepted. However, according to CATA's engineering instructor, Mr. Mike Gay, "having a teachable attitude and good work ethic are even more important attributes."  Mr. Gay also shared with us his classroom motto: "Strive to be the best you can be. Don't settle for mediocrity!"
Perhaps that motto is why 13 out of 13 students in Mr. Gay's Engineering Technology class have successfully completed the class and achieved Siemens Solid Edge® Mechanical Associate certification this year. 
The Hallmarks of Student Success in Engineering
A variety of factors have helped these Cullman students to accomplish their goals and reach such an impressive milestone. We asked the students if they could share their thoughts about what those contributing factors might be.
Every student shared that they have been inspired by their parents and extended family members, some of whom are engineers—mechanical, civil engineers and nuclear engineers—and others who are not. Those parents who aren't engineers work in the manufacturing industry while others don't work in engineering but have exemplary problem-solving skills. Mason said he is inspired by his dad, "who can figure out just about anything." 
 "I was inspired by my friend, Austin," said Antonio "He described what he was doing in class and it sounded like fun – building stuff and working with 3D printers. I really liked the idea that engineers can make anything."
Another interesting commonality surfaced during our discussion. Each of the students shared that in one way or another they had explored engineering interests, in and out of school, some as early as their elementary school days.
"I participated in STEAM since the 8th grade," said Austin. "In that program we built bridges and worked on a lot of problem-solving. We also had to keep an A average in order to participate."
Andrew Tucker and Mason have also both been members of CATA's competitive rocketry team. "I have hopes of working for NASA or ULA one-day," said Mason.
These students clearly are not settling for mediocrity.
Each student also remarked about how they routinely practiced with Solid Edge in and out of class.  Andrew Tucker shared an anecdote about a 'ball-launcher' assignment, which elicited a reinforcing chorus of groans from his classmates.  "It was a six-week assignment, I hated it! I didn't do well at all—but I learned a ton from that project!," he jokingly explained.  
"The engineering technology class allows you to apply the math you learn elsewhere to your engineering project," Austin added. "It makes it real and solidifies the learning; sort of a hands-on 'smart dimension'".
As they approached the end of the term, CATA students embraced the opportunity to take Siemens' Solid Edge certification exam, which they had prepared for during the school year. Although, they did confess to being a bit nervous initially. "I don't always consider myself to be a fast learner," Lopez admitted. "I'll watch the [tutorial] videos a few times and practice every command. I'm very happy though, because the work I put in really helped."
Mr. Gay successfully led his students through the rigorous instruction, in what had to be one of the most challenging years of teaching. However, looking at the outcome it seems fair to conclude that both Mr. Gay and his students worked to do their very best this past year. "This group has been the best yet!," said Mr. Gay.
Certification: A Source of Pride, Confidence, and Savings!
Along with hands-on learning and problem-solving experience, each of these amazing high school students now takes Solid Edge certification with them on their journey toward becoming a professional engineer.
In conclusion, the students shared that they are very proud of their accomplishment and feel that their certification provides them with several advantages. On a personal level, certification provides them with confidence about what they learned and the skills they have developed. Professionally, certification offers a credible and valuable way to demonstrate their level of competency with Solid Edge if/when they want to apply for internships or jobs. And lastly, the CATA students shared that their hard work will also pay off because certified students entering colleges and universities are often permitted to waive requisite introductory CAD classes, which enables them to reduce tuition costs.
Congratulations to all the recently certified CATA students, including Nathan Drauch, Kobe Pitts, Jayden Hilton, Stephen Ratliff, Ayden Turner, Wyatt Scott, Xavier Wood, Brodie Fowler, who are not featured above, but also achieved certification this year.
We wish them the best of luck with the next steps in their journey!
For more information about Solid Edge Certification, visit Siemens certification site.
This article first appeared on the Siemens Digital Industries Software blog at https://blogs.sw.siemens.com/academic/preparing-for-the-real-world-with-industry-certification/