Oregon State University uses Siemens Software to Compete at Highest Levels of Global Formula Student Racing

By: Hannah Straub and Leigh Anderson
In the highly competitive world of Formula Student racing, Global Formula Racing team is exceptional on the world stage.
Global Formula Racing (GFR) is a partnership between Oregon State University and German university Duale Hochschule Baden-Württemberg (DHBW) Ravensburg in the town of Friedrichshafen in beautiful southwestern Germany. The team has a stellar track record, racking up many top-10 finishes since 2010, and winning the world championship for 4 years running. The team competes in combustion, electric and autonomous racecar classes. The team is still top-tier despite having a smaller cash budget and no major automaker support compared to other world-class teams. Their current ranking is 10th in the world for Formula Combustion and 31st in Formula Electric. With over 800 competing worldwide, GFR is still the only international Formula Student team in the world, with both America and Germany cheering their success.
"We split the work evenly, collaborate on resources and have a great international cooperation between the universities," says John Kittelman, graduate student at Oregon State and suspension lead for the GFR team. "We get great machines and electronics from Germany and we provide many resources and the carbon fiber composite car chassis plus knowledge. Just like many global companies in industry, we can work around the clock and make faster progress than a one-country team."
GFR was planning to attend the Formula Student/SAE competitions in California, plus in Germany and Spain in the electric and autonomous categories – however all Formula Student/SAE events have been canceled due to the corona virus pandemic.
"In late March when the Covid-19 impacts hit, the team was locked out of our workshop at the university and SAE canceled the physical event. SAE is changing the event to a virtual event so we can still present our design work, even if we can't compete on the tarmac. The team shifted focus from fabrication and event-logistics – to development of our next vehicle concept. The design developed for the 2020 season will be manufactured and completed when we can. However, we have yet to decide whether this car will be run at the 2021 competition," says Kittelman.
The team has kept a similar workflow with virtual weekly meetings and team members from the U.S. and Germany are staying active from home.
"The international collaboration platform and practices we've built up over years has made the transition to working at home seamless. We already managed our organization and information through a strict email structure, video conferencing as well as a multitude of other well-controlled data sharing processes. We are all disappointed with the inability to compete the racecars this season, but we are happy to keep our team members and community safe, and making progress, through this trying time," says Kittelman.
"We're currently working on two racecars going forward – one is an electric battery-powered formula style racecar, and the 2nd, our advanced autonomous racecar," says Kittelman. Combustion cars have been de-prioritized by the team.
Kittelman has been with the GFR team for more than 2 years, focusing on the 1st generation autonomous racecar design most recently, also helping mange the club-level team structure. Starting as a mechanical engineering undergraduate student, his interest in GFR peaked during his senior project, where he was tasked with leading the tuning of a combustion engine for GFR's combustion-class racecar.
"I knew I wanted to grow as an engineer, and with all of GFR's success in the past, I knew it was the right fit," reveals Kittelman.
He is one of 6 graduate student leaders, with a total of 120 different U.S.-based students working on the racecar development and fabrication, bringing the total team member count to 180 with the addition of 60 German team members.
Oregon State is a strategic university team for Siemens and Mentor Graphics, a Siemens Company, so GFR has no-cost software grants for virtually every automotive engineering and fabrication engineering software tool available.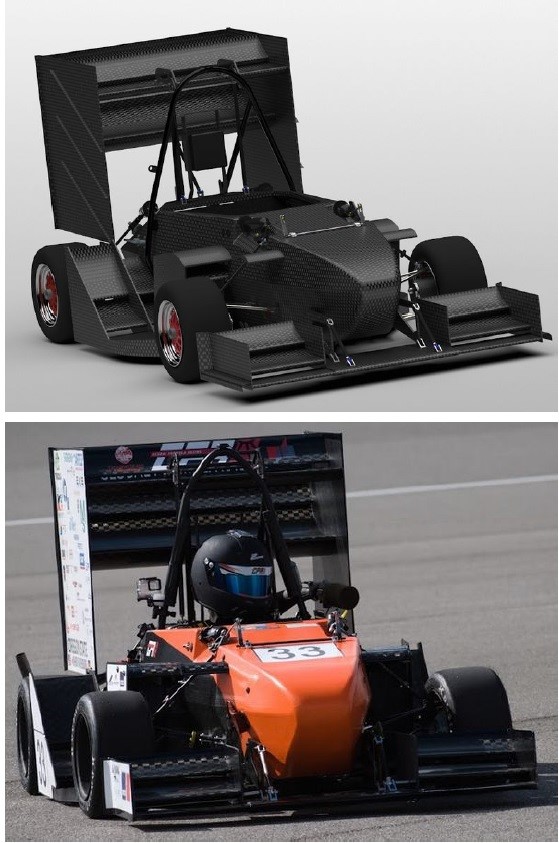 New members of the team are on-boarded to learn the Siemens software suite with self-developed tutorials plus Siemens' online courses. The team uses Siemens software for every process of designing their cars, including NX for computer-aided design (CAD/CAM/CAE, 3D-printing) as well as Star CCM+ for cooling and aerodynamic downforce analysis, among many other tools such as SimCenter Fibersim for composite fiber, and other mechanical routing tools.
Many top-tier autonomous and electric teams use a 'digital twin' methodology that guides students to use virtual models, simulation, and product data management, with ultimately every top-tier Formula Student team using Siemens' digital twin enabling engineering software. As GFR is the only international team, they make extensive use of Siemens design and simulation tools in all aspects of their racecar design, simulation, and fabrication. They coordinate this effort across the world, which is only achievable with digital twin methods.
GFR's philosophy is simplicity and reliability through simulation – validated by physical testing. Dedicating themselves to the digital twin design process as a team allows them to digitally model and simulate every component and process on the car and then close the loop by validating each performance metric.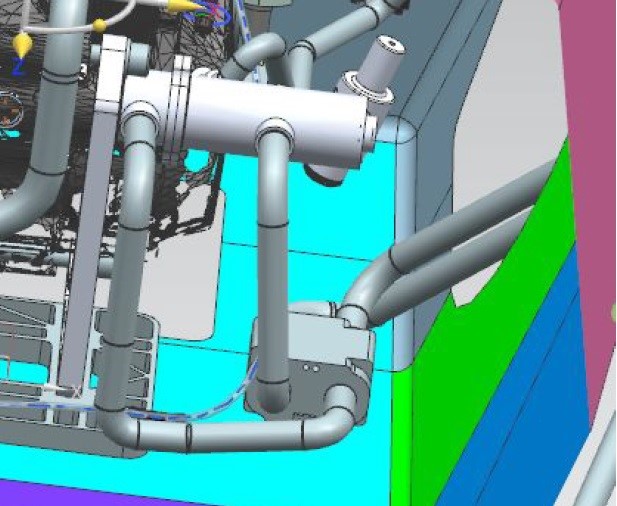 The design and fabrication of the driverless and electric vehicles is accomplished in a combined single model shared between the United States and Germany. The design assembly process makes a whole system that can be manufactured and assembled, and the NX software allows the international team a setting of permissions and sync system, allowing every engineer to be able to view components on the car while independently accessing and editing their own component.
"We would not be able to make such high-quality, reliable and highly competitive racecars without the help of the Siemens-enabled digital twin. We wouldn't be able to simulate and compare our car to anything, if it weren't for Siemens products," adds Kittelman.
Using the Capital software suite and the NX Routing Application, all electrical schematics can be created defining all electrical capability for the car, as well as routing the full harness of the car in the virtual chassis – and generating benchtop manufacturing diagrams to visually guide the rest of the manufacturing of each harness.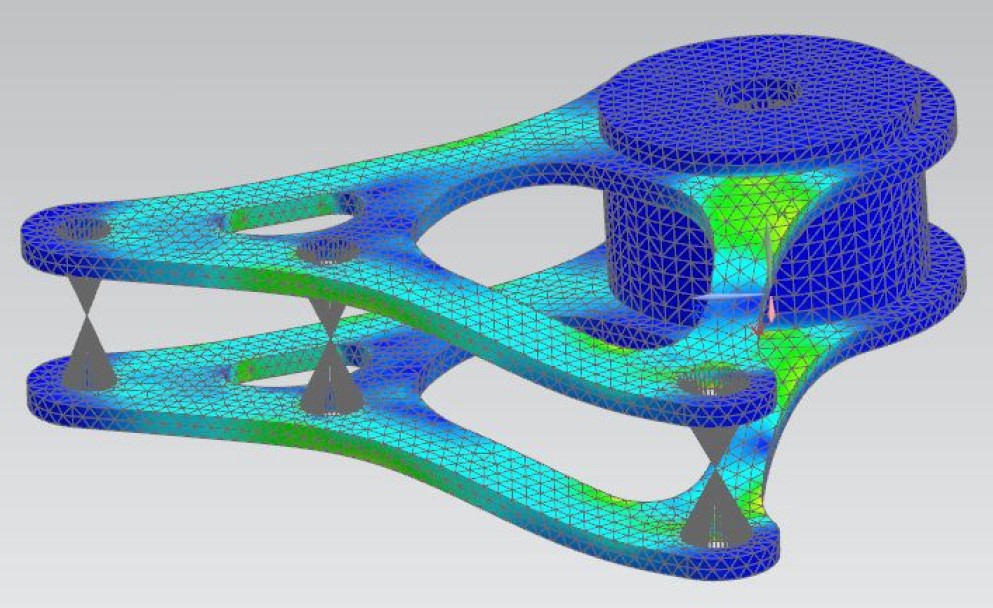 NX is also used to integrate motion simulation, motion ratios and loads into the design of the bell crank of each vehicle. NX's finite element analysis was used in parallel with their philosophy to create a lightweight component with high reliability.
Teams are turning to Siemens because they realize that every successful team uses Digital Twin methods and that Siemens can help them implement these methods with their software.
These products are especially useful to students planning on transitioning from classroom to industry where they can apply the skills learned in the classroom to the tools they may use in the future.
"A bunch of companies on the West coast of the U.S such as Space X and Daimler also use Siemens software products, and it's vital for GFR team members to be completely confident users by the time competition season hits, not only for the sake of the team, but also for their own future careers," says Kittelman.
When asked what he would want to move forward with after his days in GFR are over he responded:
"I'd love to work either in the aerospace industry or even in climatology. I feel as though I've prepared myself to be a high-quality engineer that can work effectively in a team and hit the ground running. I wouldn't have nearly the amount of skills from a technical or team standpoint had I not been involved with GFR and I now feel properly prepared to go into any industry," concludes Kittelman.
To learn more about Kittelman and his experience with GFR, take a listen to Siemens' new Innovation in the Classroom podcast, where we talk with remarkable students as they make the transition from classroom to industry.
This article first appeared on the Siemens Digital Industries Software blog at https://blogs.sw.siemens.com/academic/oregon-state-university-uses-siemens-software-to-compete-at-highest-levels-of-global-formula-student-racing/