NUS Engineering students built Singapore's first electric race car with Simcenter STAR-CCM+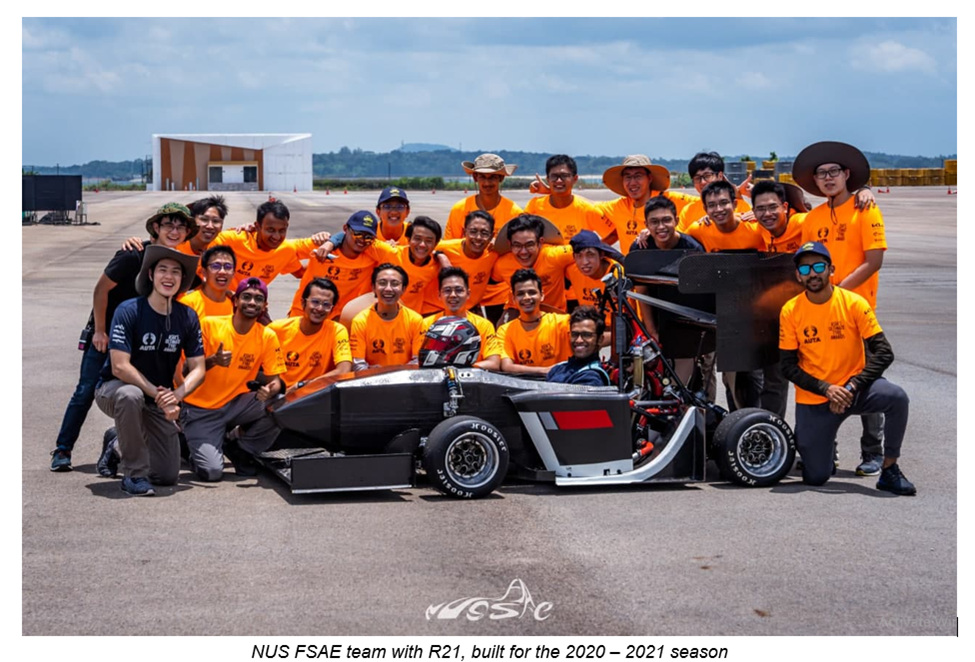 It goes from 0 to 100 kmh in 3.9 seconds.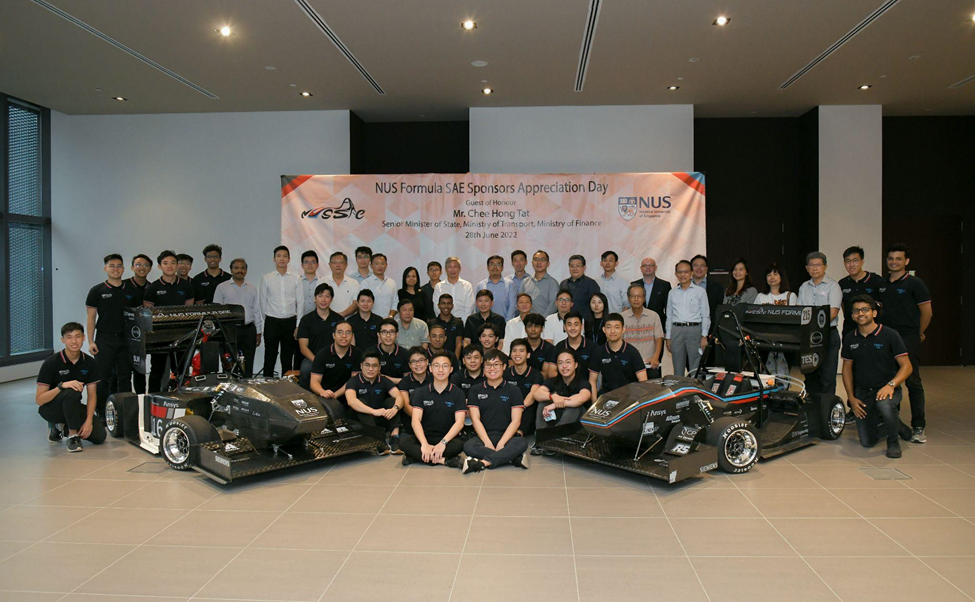 Engineering students from National University of Singapore's (NUS) Formula SAE team built Singapore's first electric race car, the R22e, which can go from 0kmh to 100kmh in 3.9 seconds, with the help of Simcenter STAR-CCM+.
Since the inauguration of the NUS Formula Society of Automotive Engineering (FSAE) Race Car Project in 2001, students from the college have been constructing formula-style race cars for the Formula SAE Michigan competition. The event is held annually in the United States. NUS FSAE competes against 100+ universities and academic institutions in engineering design competitions held annually in Michigan.
As part of its goal to innovate continuously, the team introduced its first aerodynamics package in the 2014 – 2015 season. Since then, the aerodynamics department has been seeking to improve the package, and an important part of the process is running Computational Fluid Dynamics (CFD) simulations using Simcenter STAR-CCM+ .
Simcenter STAR-CCM+ comes with an array of tools that proved to be convenient and useful in designing a Formula car's aerodynamics package. During the design phase, the department utilized a straight-line simulation to iterate through different ideas. Visualization tools such as pressure plots and streamlines aided in identifying areas of improvement by showing how different aerodynamic devices interact with one another.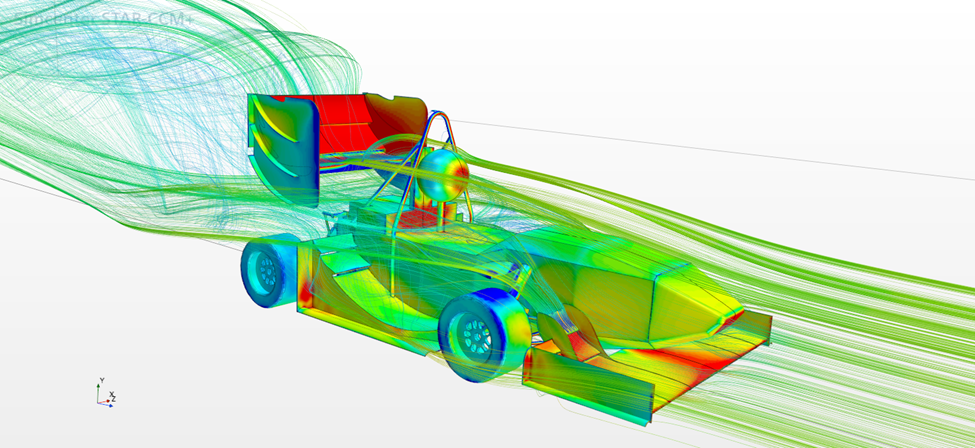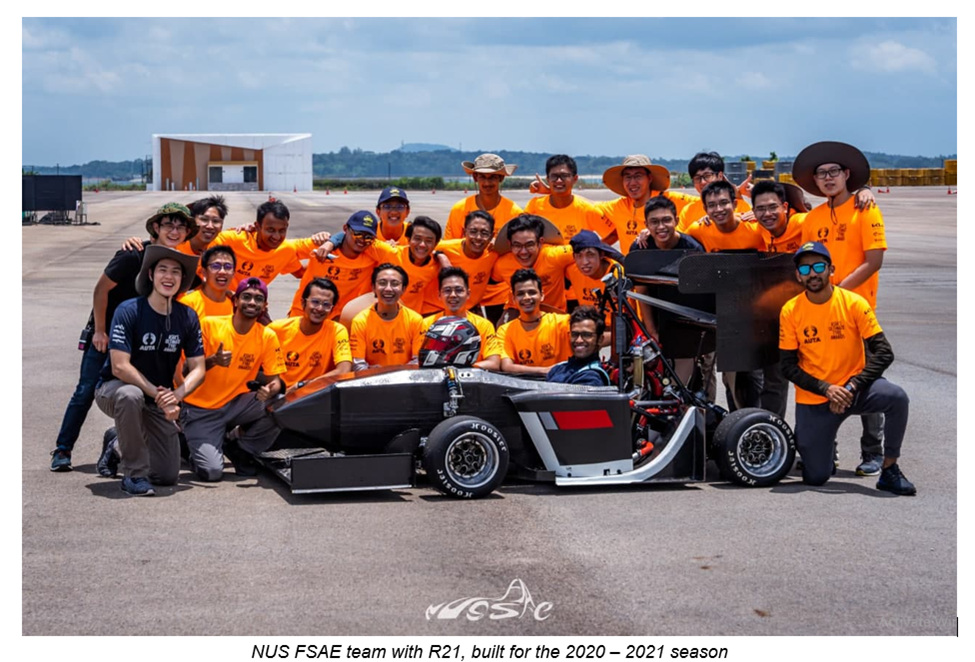 Simcenter STAR-CCM+ has certainly been an indispensable tool for the aerodynamics department, allowing the team to improve the car's aerodynamics design as well as letting students experience using a commercial simulation software.
Before developing Singapore's first ever electric race car, the R22e, the team had developed 19 prior race cars in preparation for the Formula SAE Michigan competition. The R22e now stands as a testament to that hard work: not only that it functions successfully, but also because it boasts better performance than the preceding R21 car. It was officially unveiled by Senior Minister of State for Transport Chee Hong Tat at the NUS Kent Ridge campus on Tuesday (June 28). The car can hit a maximum speed of 125.4kmh.
With 107bhp, the R22e has roughly the same raw power as a Toyota Vios (106bhp), propelled by 230Nm of peak torque. However, the race car weighs at just 208kg, compared to the Vios' portly 1,085kg. Its power-to-weight ratio is 514 hp/tonne – more than five times that of the Vios.
That results from students spending 18 months of hard work on R22e, their first EV race car.
"Many of our simulations and tests had to be created from scratch," said fourth-year mechanical engineering student Muhammad Nazrul Syahmi, who was part of the College of Design and Engineering team. "As we did not have experience with high-voltage systems and EV technologies, we approached companies in the local industry to conduct workshops for us and self-studied under the guidance of NUS teaching staff to learn how to handle electrical systems."
Professor Seah Kar Heng, the Formula SAE Project's Advisor who has been guiding the project since 2001, said that the rapidly growing global electric car market made it crucial for students to be equipped with knowledge about electric car technologies. "As a school, we have to be in sync with the direction that the world is heading in, to move towards clean and green energy," said Professor Seah.
"I wanted the students to be aware of that, and working on this electric race car is a very good start for them," Professor Seah noted. "Our transition to EVs will bring new and exciting opportunities in the new green economy. Engineering students can look forward to jobs and training in new areas, such as EV software diagnostics, battery and charging infrastructure."
The team was fully committed to moving to the next step, acknowledging that the world was taking this direction of sustainability. The team's value aligns with Siemens' core mission to create outstanding and high-performing technology and products that will revolutionize the world and change the perceptions of its users and customers.
We here at Siemens want to congratulate the team on achieving such success, and we are committed to helping teams like the Formula SAE team advance projects to the future.
This article first appeared on the Siemens Digital Industries Software blog at https://blogs.sw.siemens.com/academic/nus-engineering-students-built-singapores-first-electric-race-car-with-simcenter-star-ccm/