Model-Based Learning at University of Michigan Drives Innovation
When learning, are you more engaged with theory or working with your hands? What if you could learn theory and immediately apply that theory – while completing a project? A new lab sequence at the University of Michigan's Department of Aerospace Engineering enables students to do just that – learn theory and practice simultaneously, using a full PLM suite of technology from Siemens.
The initiative, led by George Halow and Anthony Waas, provided a shift in the traditional engineering curriculum through the creation of a lab sequence dedicated to Model-Based Systems Engineering (MBSE). The success of the course sequence prompted the Department of Aerospace to build the new Model-Based Systems Engineering Leadership Lab with support from Siemens and other corporate sponsors.
THE NEED
Aspiring engineers require a deep understanding of implementing real-world scenarios. A study of recent graduates conducted by the American Society for Engineering Education (ASEE) found that only 1 in 5 students felt very prepared in their critical thinking competency after graduation. A lack of confidence in critical thinking skills could be a predicament for young engineers in highly competitive job environments. The MBSE Leadership Lab's hands-on approach to learning theory and teamwork enables graduates to be better prepared for the world they will enter.
"The increasing pace of innovation in Advanced Air Mobility, high speed flight, new defense programs and space exploration will require engineers with Model-Based System Engineering skillsets, which is why we are excited to partner with the team at University of Michigan to develop this lab and curriculum,"

Dale Tutt Vice President of Aerospace and Defense,
Siemens Digital Industries Software
The need to provide a pathway for future generations of engineers has been recognized by leaders like Dale Tutt and this event showcases the potential in that mission by creating corporate partnerships with educational institutions. Creation of this lab marks another step in supporting engineering learners and ensuring the next generation will be equipped with tools and experiences to break down the skills gap before entering a professional work environment.
THE LAB
The 1,000 square foot MBSE Leadership Lab empowers learners to improve project management and business skills through project-based learning. The lab includes a wide-variety of electrical engineering equipment, such as oscilloscopes, multimeters, continuity testers, and every circuit component imaginable. Students will also have access to different types of engineering software within its new state-of-the-art computing machines, including computer aided design, simulation testing, and product manufacturing and assembly. These resources enable users of the lab to theorize, design, and implement any idea they can think of giving them professional work experience in an educational environment.
THE IMPACT
While students at the University of Michigan are eager to start innovating in the lab, a lucky few have had the whole summer to get their hands dirty. One of those students, Morgan Serra, a junior in the aerospace engineering program, praised the capabilities of the lab and what it means for all who will use it.

"It has been an honor to be a part of developing a lab with such astounding potential. This lab space—unique in its intersection of CAD workstations, manufacturing and assembly resources, and design presentation capabilities to take students through an entire product development process—is a gamechanger for Michigan's aerospace engineering curriculum and community. I can already see myself working in this lab outside of class, applying course concepts, and learning from and working side-by-side with the many project teams."

Morgan Serra, Junior in Aerospace Engineering
University of Michigan
Read the full case study at https://www.plm.automation.siemens.com/global/en/our-story/customers/university-of-michigan/95774/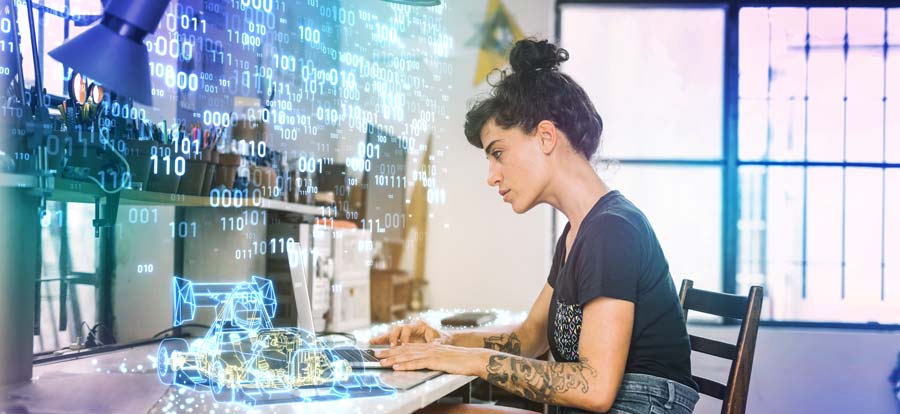 Global Academic Partner Program Home
Student-Exclusive LinkedIn Group – Network with industry professionals, educators and peers
Curriculum Hub  – Free classroom downloads (great for virtual classrooms, too!)
Academic Certifications and Digital Badges – Get certified in NX, Solid Edge, Simcenter Amesim, MBSE and more
Software Downloads – Free software for students and educators!
This article first appeared on the Siemens Digital Industries Software blog at https://blogs.sw.siemens.com/academic/model-based-learning-at-university-of-michigan-drives-innovation/