Learning Advantage Now Features Section Specifically for Students and Professors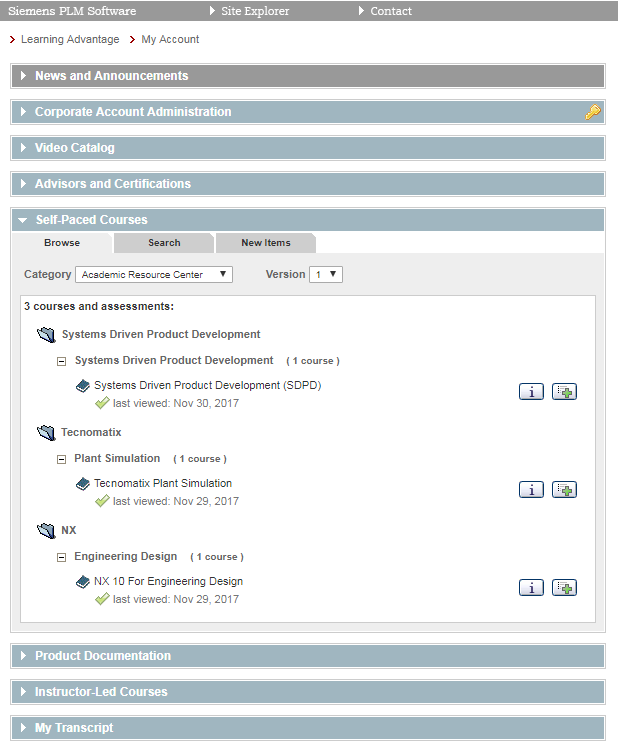 Learning Advantage, the comprehensive one-stop learning resource for all Siemens PLM customers with an annual subscription, is always free for our Academic users. Learning Advantage now features a section specifically geared toward our Academic audience. In addition to all of the awesome resources you've come to rely on in Learning Advantage, now, anyone with our free Academic Gold membership will see a special category selection within the Self-Paced Courses section called Academic Resource Center.
The Academic Resource Center in Learning Advantage currently has a small selection of resources with more coming soon. We'll also be compiling learning resources specific to particular competitions and projects that are sponsored by Siemens, as well as learning paths suitable to a particular field of study. Currently in development are resources focused on Amesim, NX 12, Teamcenter and Additive Manufacturing.
We'd love to hear from you! If you have feedback on any of the current resources in the Learning Advantage Academic Resource Center, suggestions for additional resources that you'd like to see, or if you're a professor and would like to develop materials for us, let us know in the "Collaborate and Contribute Curriculum" Forum in the Siemens PLM Community!
This article first appeared on the Siemens Digital Industries Software blog at https://blogs.sw.siemens.com/academic/learning-advantage-now-features-section-specifically-for-students-and-professors/