Hyperloop Design Challenge – a Glimpse into the Future of Transportation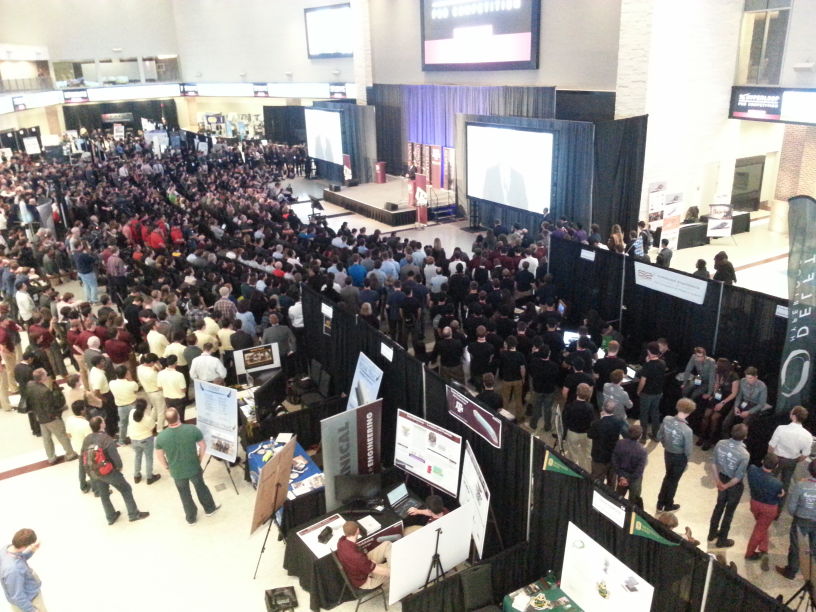 Trains, planes, automobiles, boats have been with us for some time but now the fifth fundamental mode of transportation is closer to becoming a reality. Thanks to the imaginations and designs of over 100 student teams from around the world, Hyperloop travel may be here sooner than we think. In the not too distant future, we may be traveling from San Francisco to Los Angeles in 35 minutes – passengers riding in an enclosed pod through a tube that would cover the 350-mile (560 km) route at an average speed of around 600 mph (970 km/h).The concept of the Hyperloop, a revolutionary high-speed transportation system, was originally put forward by entrepreneur Elon Musk.Hyperloop incorporates reduced-pressure tubes in which pressurized capsules ride on an air cushion driven by linear induction motors and air compressors.
Over 1000 students from 5 continents and 26 states converged on Texas A&M University the last weekend in January to present their design concepts and vie for an opportunity to advance to the Build phase of the competition.The event took place over a January weekend.The energy and enthusiasm was evident as students from around the world shared their designs and ideas with each other.Thirty student teams qualified to move forward to this summer's Build and Test phase.
UMD Hyperloop Team at Design Weekend
One of the successful teams moving forward is the University of Maryland.The design team is currently using NX for modeling.Kyle Kaplan, Team Captain of UMD Hyperloop explains, "NX has allowed our team to completely change how we view the design process. By using associative modeling we can make expansive dimension changes by only changing one number, thus saving us a lot of time. When asked what makes the UMD design stand above the rest, Kyle elaborates "We have designed passive magnetic systems which can levitate and control our pod without the need for power. This makes our pod inherently stable and safe when compared to the competition."

Illini Hyperloop Team
The University of Illinois Hyperloop team is also moving forward to the next competition milestone. Zak Lee-Richerson, team captain explains, "We have used NX for all CAD in the project.At the beginning, we made the decision to use the software for two reasons, multiple team members had experience with the software and because SpaceX uses NX.The software has also proven easy for members without prior NX experience to pick up, especially using the Command Finder.This has allowed many more of our team members to contribute to the model than would have been otherwise possible.Additionally, NX has allowed us to export formats easily usable with other software tools."
Rendered Model of University of Illinois Pod Design
The University of Illinois Hyperloop team is now working to finalize their design completely and raise funds for the Build phase of the project. They plan to join 29 other teams this summer at the test track in Hawthorne, CA.

More on Hyperloop teams using Siemens PLM Software… The University of Edinburgh Hyperloop team wins a Subsystem Design Award at the Hyperloop Competition.
This article first appeared on the Siemens Digital Industries Software blog at https://blogs.sw.siemens.com/academic/hyperloop-design-challenge-a-glimpse-into-the-future-of-transportation/