Coding&Robotik4Kids Introduces Youth to Digitization & New Technology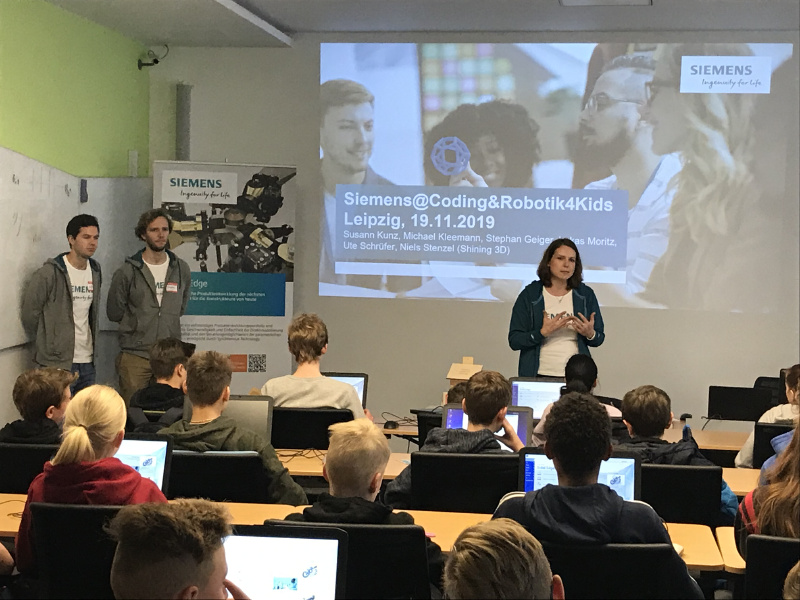 By Susann Kunz
Big companies like Siemens are not only contributing to the welfare of a society or a country, but they also have a responsibility beyond economical or financial aspects – we call this corporate social responsibility.
One of the big questions we are concerned with is: "What can we as a company do to get the next generation prepared for future challenges?"
The answer: Educate our youth the right way, excite them for STEM topics, teach them new technologies in a comprehensible way, enable them to really understand innovations and see the benefits for their lives. By giving the youth the right answers and information, they need here and now, we are preparing them to make a difference as future adults. Here at Siemens, we are taking responsibility and making this vision real. Sometimes we can advance this goal as #TeamSiemens, but sometimes it makes more sense to connect with others to multiply our impact.
Coding&Robotik4Kids, an initiative started by a group of German Telekom employees under the label "IT@school" three years ago, is a shining example of what taking social responsibility looks like. The goal of Coding&Robotik4Kids is to get youth and young people in touch with new technology, such as coding, robotics and programming, and to teach new technology, innovations and media competence in a playful way.
The program is not just for school kids – parents and teachers are all welcome to discover the impact of digitalization, test robot courses and hands-on games, or visit school laboratories and information stands.
Coding&Robotik4Kids has already hosted 10 events in 8 cities in Germany, among them Düsseldorf, Berlin, Nuremberg, Darmstadt, Bonn, and Dresden, attracting on average 800-1,100 kids between the ages of 8 to 14. "With Coding&Robotik4Kids we want to support schools and teachers to find an easy way to bring coding, digital skills and computational thinking to the curriculum of their classes. Therefore, we want to show a variety of different approaches and methods", describes Heike Söll, main driver of the project at Telekom, her engagement. "It is really amazing to see how easy the kids understand technologies and coding."
Alongside Fraunhofer Institute, Intel, Fujitsu, Make Your School, German Museum, Coding for Tomorrow, and many other partners, Siemens has supported Coding&Robotik4Kids events in Leipzig (Nov 11, 2019), Nuremberg (Jan 16, 2020) and Dusseldorf (Feb 4-5, 2020) so far. (And we look forward to more to come).
For Siemens, supporting these events is a great chance to excite youth, especially young girls, about new technologies, such as design, low coding, AI and engineering, but also to demonstrate how Siemens is driving new technologies in the field of digitalization. "Coding&Robotik4Kids events allow us to tell kids what Siemens stands for. 'Ingenuity for Life' (our company motto) means that our solutions are helping people to create great products and provide unique services. What this means concretely, we explained also during our workshops and in the exhibition area", explains Martin Koczmann, summarizing the value of the event for Siemens Digital Industries Software.
Currently, Siemens addresses different topics at the events:
1. The Solid Edge session focusses on 3D CAD design, teaching kids how to create their own name tag, and then getting it printed on a 3D printer. Here, the collaboration with partners like Shining 3D and Siemens Maker Spaces helps to visualize additive manufacturing concepts by incorporating on-site 3D printers and scanners.
2. During the Mendix workshop, kids learn how to create their own picture sharing app without any programming knowledge using Siemens low coding software.
3. During the machine learning and AI workshop, hosted by Siemens AI Lab manager Ulli Waltinger, kids can find out more about computers. They even learn how to create a bot!
In the exhibition area, the so-called market place, Siemens Professional Education (SPE) informs the kids usually on how to step into Siemens as professional by exposing them to different career paths and educational options. SPE is also a spot where Ingenuity for Life can be experienced, no matter if the kids are trying to beat a robot while playing "Connect Four" or traveling the virtual world while testing out VR-glasses.
Formula 1 in schools was certainly one of the highlights in Düsseldorf. Armin Gittinger and his team showed how mini race cars, designed using Solid Edge, would get enough speed to just jump of the 100-meter racing parkour. "Formula 1 in school is just another great example to show that new technology is not boring, but breathtaking and exciting. Of course, the kids have to invest brainpower and time to design and test their model. But in the end, it pays off – you see so many smiling faces that you know the reason for all the hard work and time investment," says Armin. "I couldn't imagine a better motivation for my engagement."
You can find out about upcoming Coding&Robotik4Kids events here.
Interested in knowing more about the Siemens academic program? Check out our free offerings here!
This article first appeared on the Siemens Digital Industries Software blog at https://blogs.sw.siemens.com/academic/codingrobotik4kids-introduces-youth-to-digitization-new-technology/