Your digital future: more flexible, scalable, accessible
An innovator never runs out of ideas: The opportunities for change in this world are endless. But innovators need suppliers and partners, and they need a team to work cohesively in an ecosystem that promotes collaboration. These companies, from the smallest startups to the largest enterprises must be flexible enough to change with every order and have a solution in place that will scale to customer needs and not be forced into a collection of services and solutions where they only use a handful of the offerings.
Imagine the company that is as accessible to its suppliers, vendors, partners and customers. Imagine a company where all your engineers work simultaneously on the next product launch – no matter if it's you product designer, simulation engineer or data analyst.
Is this company you?
Becoming that company just got a lot more feasible with the introduction of Xcelerator Cloud and Software-as-a-Service.
Connection to the cloud and the opportunity to subscribe to software and services based on your needs is the digital future. Companies like yours can take the next leap forward in productivity and gain additional competitive advantage. Small and medium businesses can digitalize their product development processes and help them innovate smart connected products faster and more cost-effectively, while large enterprises can act more flexibly to compete with agile startups.
For the first time it will be realistic for companies of all sizes to embrace the digital transformation.
What companies need for success
Digital transformation is hard to define because no single company is like any other, and therefore the needs of a digital transformation are different. When it comes to product and process design and development, optimization and even company culture, we've found three imperatives that helps lead companies to a successful adoption.
Comprehensive digital twin. Combining the real world and the digital world is how manufacturers will mitigate risk, speed up development times and get their products to market faster. The digital twin is how manufacturers can create a real-time optimization loop, share these changes within their ecosystem and receive feedback.
A digital twin can remove silos and allow multiple engineering domains to work together, simulate the product and make updates and changes in real time over a secure network. This collaboration not only reduces product development time but helps uncover issues early in the process when problems are easier and more cost-effective to fix.
With Xcelerator Cloud, the comprehensive digital twin is accessible to companies of all sizes. They all will benefit from enhanced capabilities for design, manufacturing software and IoT solutions while ensuring secure, formal and ad-hoc collaboration.
Adaptable/personalized solutions. Surf Loch, a company of eight employees, is using digital and automation technologies to revolutionize the surfing industry. A company of eight employees designing wave systems for surfers in a wave pool are far different than a top automaker with hundreds-of-thousands of employees, countless suppliers, and factories located all over the world. Each one requires the solution that best meets their needs.
Being adaptable is more than just changing with the times, it's having the capabilities to meet customization requirements, local regulations and ensure your suppliers' design meet your standards and benefit your customers. Personalization means accessing the software and services for your specific needs and not using a handful of solutions while paying for a large suite of software you don't need. SaaS allows today's companies to access the tools they need, when they need it. It enables engineering capabilities on demand. And it means low-code and cross-platform compatibility empowering even those with little-to-no technical experience to help transform the company into a digital enterprise.
Open ecosystem. What happens when you open the door to collaboration? It means new levels of cooperation. This level of accessibility allows you to rally your teams around a single source of truth and tap into ​high-performance computing from anywhere, at any time.
Engineers can design together under a secure network so everyone works on the latest revisions, regardless of engineering domain, physical location or device. This ease-of-use plants the seeds of innovation freeing engineers to be creative. By breaking down silos, engineering domains will work cohesively, save money and deliver better performance.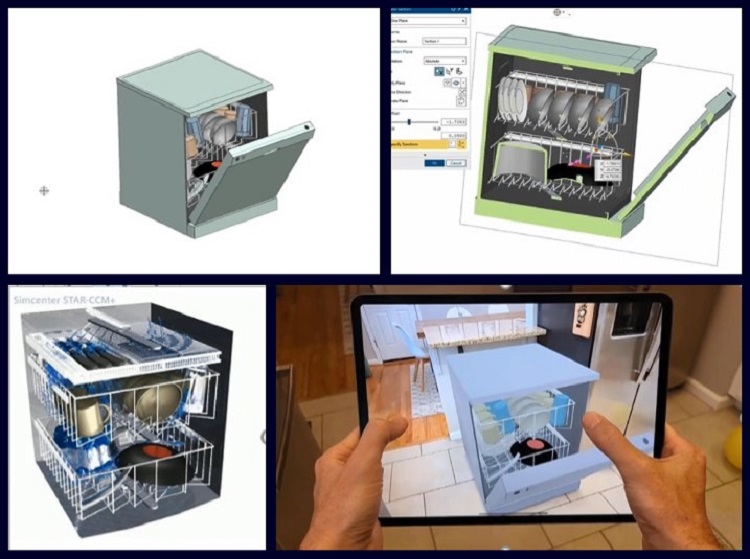 Imagine you're a large appliance manufacturer developing a new dishwasher. The design engineer manages style and functionality and collaborates over the cloud with the designer who works with another engineer​ on simulating performance. An open ecosystem allows them to provide real-time feedback on the latest revisions.
But what about the design engineer's potential customer? ​The team can leverage the digital twin for quick feedback from a customer, including augmented reality so they can experience the product inside their home. As the customer reviews the design, the engineering models will simultaneously get to the company's global supply chain. The supply chain can ramp up software needs quickly to scale up for production all from any device, anywhere, at any time.
Read the second blog in this series, Digital Transformation: Are you the disrupter?, and learn where progressive companies are already finding success in their digital transformation and where you should start yours.
This article first appeared on the Siemens Digital Industries Software blog at https://blogs.sw.siemens.com/xcelerator/2021/06/23/your-digital-future/