How do you feed 9.7 billion people? Building better agricultural equipment with simulation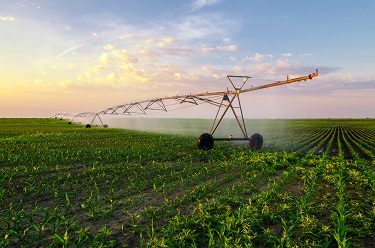 Imposing problems call for serious action. Thirty years hence the world could be filled with 9.7 billion mouths in need of food. While simulation is considered a means for faster, cost-effective innovation to contend against competitors, simulation's capabilities can lead the fight against something more sinister — hunger.
How do you manage food production needs with such a massive population boom? Better farming practices and more efficient, automated machines can ensure agricultural sustainability. But farming machines cannot be a one-size-fits-all, because that doesn't exist in the real world. Instead, agricultural equipment companies must invent more innovative machines and systems capable of adapting to diverse agriculture markets, which includes Australian mega farms, 84,000+ family farms in Iowa and various mountain farming throughout Europe.
Building diverse machines
By championing innovation, AMAZONE consistently brings new, technologically-advanced products to market. Nearly 25 years ago, they adopted field automation technology offering the first satellite-controlled fertilizer spreader via an on-board computer. By taking a customer-centric approach, this German-based company continues innovating with the end-user's needs in mind.
AMAZONE'S product range is diverse and includes self-propelled crop protection sprayers, active and passive cultivators and precision air seeders to landscaping and grounds-keeping equipment. Their full-range of farming information technology packages complements their products and are designed to improve field efficiency and automation processes.
Their UX 01, a trailed crop protection sprayer, which won the machine of the year award at Agritechnica 2017, was created by implementing advanced digital technology from the initial concept to the final product used in the field — a combination of customer-centricity and innovation.
Driving agricultural innovation with simulation
Farmers purchasing crop protection sprayers are making significant investments in massive, complex machines. For those investing upwards of 300,000€, AMAZONE's products must deliver consistent efficiency and performance along with the ability to personalize based on customer needs.
"You might actually say that some of our products are like a Porsche because you can really customize these machines," says Dr. Anna-Gret Borchert, a calculation engineer at AMAZONE. "That could apply to what type of radio you would like, what size and type of sprayer or seeder you need and if you want an active or passive suspension, to what type of computer-controlled or active system is required. We try to consider every type of customer and make sure our products offer above-average performance and precision so they can benefit from their investment."
Four years ago, it was common to create a series of product prototypes when developing agricultural machines. After adopting more simulation practices, Borchert and her team at AMAZONE reduced that number to just one, which saves both time and money.
The same is true for product development. In the past, it took AMAZONE about 12 months from concept to production, whereas their current development time has reduced to three or four months.
But simulation proves to have more benefits than just cost-savings: it allows engineers to see every detail—something not possible when creating a physical prototype and analyzing it based on functionality and efficiency. Because machines must perform as expected, the CAE team at AMAZONE focuses on durability, efficiency and precision.
"One of the main challenges is the motion behavior of the sprayer boom," explains Borchert. "If it is not set correctly, the crop spraying can be uneven. From an engineering perspective, the motion of the sprayer boom is not rigid; it is a flexible motion."
Simulating to the solution involves combining the multi-body systems with the finite element method. Reproducing and modeling motion behavior correctly is one of the main challenges. With agricultural equipment, the machines must meet the established design durability requirements. That involves modeling everything regarding the motion of the boom on a virtual test track, including tires, traction, terrain and other factors that help determine uneven application issues due to the motion of the machine.
Simulation then allows designers to look inside the product and determine what might be causing any issues in the model before building the prototype. In this case, the development team can observe the flexible body of the spray boom dynamically and analyze how vibrations and deflections impact performance. Basically, you're making all your mistakes and optimizing the end-product in simulation, not in reality.
Our first aim is to see what is happening and discover the physics behind the design. We make all the errors in simulation and not in reality. This saves a lot of time and money – Dr. Anna-Gret Borchert, a calculation engineer at AMAZONE
Testing remains a critical piece of development. As AMAZONE continues using simulation, testing helps validate their models.
"We did some tests on the test bench to identify the motions and high frequencies," says Borchert. "This is what we use for validation. Of course, we also do field tests on the test track. That is the main way we validate our models."
Comprehensive simulation software along with predictive engineering analytics can help users create, share and update digital twins of their products. This allows engineers to address specific issues during the simulation phase and optimize the design by balancing between various attributes.
Autonomous heavy equipment vehicles
Although AMAZONE doesn't make tractors, that doesn't mean autonomous capabilities shouldn't be considered. The products they design and create will be used along with an autonomous machine, therefore their products must be able to coordinate and collaborate autonomously with these machines.
For example, an autonomous tractor must be able to communicate its speed to an AMAZONE sprayer to optimize operations and efficiently protect the crops.
For the future of agricultural equipment, it will be critical to define a communication protocol that can measure, collect and analyze the ever-changing situational data. Physical prototypes have disadvantages, such as higher costs, increased time and limiting what the designers and engineers can view, analyze and correct. Adopting a digital strategy using simulation means companies like AMAZONE can continue creating the latest in crop protection technology and help farmers meet the growing demands of food production.
Learn more about how simulation and digital twin technology is advancing heavy equipment and agricultural technology.
This article first appeared on the Siemens Digital Industries Software blog at https://blogs.sw.siemens.com/thought-leadership/2019/11/22/how-do-you-feed-9-7-billion-people-building-better-agricultural-equipment-with-simulation/