Building for the future with additive manufacturing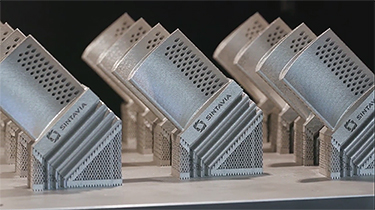 "I think everybody in our industry has an aha moment, where they first see the technology and realize its potential," says Brian Neff, CEO of Sintavia.
For Brian Neff, that "aha moment" came during a visit to an aerospace engine plant in Munich. After seeing a roomful of EOS M270 3D printers, Neff realized that he wanted to transform his career. Convinced that 3D printing was the future of aerospace manufacturing, he started a company named Sintavia in Davies, Florida, just outside Fort Lauderdale.
Today, Sintavia is a global leader in end-to-end additive manufacturing. What separates Neff's company from other 3D printing service providers is their investment in delivering quality. Sintavia offers state-of-the-art laboratories for metallurgy and powder analysis, mechanical testing, post-processing, precision scanning and quality control. "You can have an aerospace part that fits in your hand," says Neff, "and if it's manufactured properly, with all the quality and accreditation, it's a pretty valuable piece of metal. If it doesn't have the quality, it's just a paperweight."
In Munich, at the MTU Plant, there are several amazing EOS M270 3D printers, which can be adapted for the aviation industry because they're conducive for high-value metal parts, produced at scale, in high volume.
Sintavia is at a tipping point of producing not thirty or forty parts, but thousands of high-value production parts for commercial aviation. To meet that volume of demand they must have facilities in place That's why the company recently opened a 55,000 square foot advanced manufacturing facility in Hollywood, Florida.
As vital as that facility is to Sintavia's success, Neff sees another resource as equally critical. "I see the end-to-end solution for software being incredibly important because you can't have a bunch of people running around with these different technology software silos, entering data and making changes – it doesn't work," says Brian.
Siemens suite of software takes the inefficiency out of the process by:


reducing the chance of human error,


reducing the time from receiving the first file to receiving the last file and


allowing for a greater audit trail – especially useful for aviation customers.


Ultimately, there is a focus on production volume at quality each month.
This is part one in a series of several blogs introducing videos and interviews outlining the end-to-end digital additive manufacturing solution from Siemens, provided to Florida-based Sintavia, an additive manufacturing service provider delivering parts to the aerospace industry.
About the author:
Blake Snodgrass is a writer for the Thought Leadership team in Siemens PLM Software, which supports several venues, including the Thought Leadership blog for the company. Blake has a Bachelor of Arts degree in Mass Communications and more than 25 years of experience working for IT companies, with roles in technical writing, marketing communications, user-experience design and content development.
This article first appeared on the Siemens Digital Industries Software blog at https://blogs.sw.siemens.com/thought-leadership/2019/07/02/building-for-the-future-with-additive-manufacturing/